Pretzel Fooler Salad is the perfect dessert for your summer BBQ or party! It's light refreshing taste is full of fresh strawberries and the caramelized pretzels make it a hit no matter where you are. The combination of sweet and salty leaves a heavenly taste in your mouth!
My family absolutely loves this Pretzel Fooler Salad and we serve it all summer long. The recipe is very easy and turns out perfectly every time! It's travels great and is a great addition to any summer party or event. Enjoy!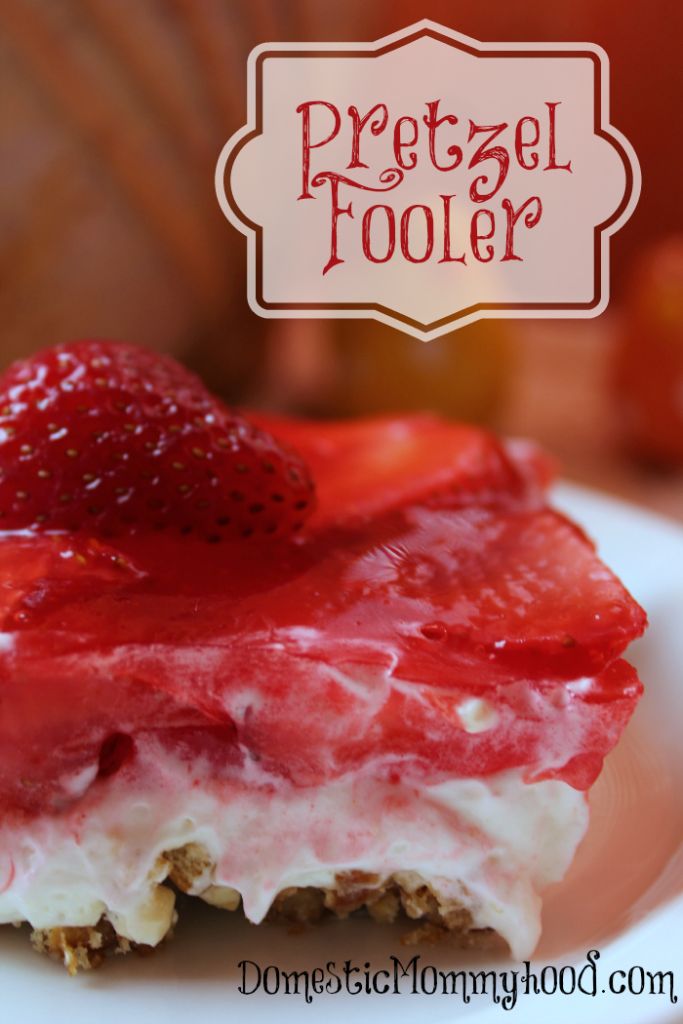 Last year we headed down to my mom's house for the 4th of July weekend and had a fun filled weekend planned! On Friday we headed off to watch fireworks with my brother and sister. Then on Saturday, I had a lunch date with two of my best friends from high school. I had not seen them in about 23 years and we had the best time (I'm showing my age a little here!).
Then on Saturday, we had a mini family reunion/BBQ supper of Grilled Cedar Plank Salmon (<<click to see the recipe), corn on the cob, asparagus, deviled eggs and pretzel fooler! This was the first time Charlee Ann tried Pretzel Fooler and she is now the biggest fan! "Oh, mommy! This is so good!" is what I heard each and every time she had some (which was a lot because she kept asking for more).
Now I do want to tell you that with the pretzels on the bottom you need to make it no sooner than the day before your party and you need to eat it up within 2 days. Pretzel Fooler is soft and squishy on the top but the bottom crust is crisp and crunchy and if you go longer than 2 days it will start to get a little mushy on you. You can still eat it but trust me when I say it will not be as good. So once you get it made
Here it is! The wonderfully spectacular mouth watering Pretzel Fooler Salad! Both sweet and salty… so good and very refreshing!
Ingredients
2 Cups Crushed Pretzels
1 1/2 Stick Butter, melted
1 1/4 Cup Sugar divided
1 Package Cream Cheese 8 oz Softened
1 1/2 Cups Cool Whip
2 packages Strawberry gelatin (3 oz packages)
2 Cups HOT Pineapple juice
20 oz. fresh strawberries (frozen will work also) Cut into slices or bite size pieces
Instructions
Mix pretzels, melted butter and 1/4 cup sugar in a medium bowl. Spread in a 9X13 baking pan and bake at 350 degrees for 10 minutes. Allow to cool.
In a large bowl mix together 1-8oz package of cream cheese (softened), 1 cup sugar and 1 1/2 cups cool whip. Mix well and spread on top of pretzels.Set in the refrigerator to chill.
Dissolve jello in HOT pineapple juice. Add strawberries with any juice that they have created after cutting to the jello.
Refrigerate until partially set. Spread over top of the cream cheese layer.
Refrigerate over night or at least 4 hours.
Enjoy.
http://domesticmommyhood.com/pretzel-fooler-salad/
Did you eat out over the weekend?? Got any good recipes to share with us?
Enter your email below for more future posts at Domestic Mommyhood! 
This post may contain affiliate links. Your cost is the same, but it helps support the site and keep our freebies FREE! Thanks for your support!