5 Star Grilled Cedar Plank Salmon
Summer is in full swing and grilling is just about all we do. Who in their right mind wants to heat up a kitchen on a hot summer day. We have been grilling this 5 star Grilled Cedar plank Salmon for years and it is the best salmon in the world! Well as far as my family is concerned anyway. 🙂 You can find the cedar planks at Walmart in the seasonal grilling section. Ask at any local store they should carry them pretty much anywhere.
Make sure and stick around and check out all of our Easy Dinner Recipes here on our blog!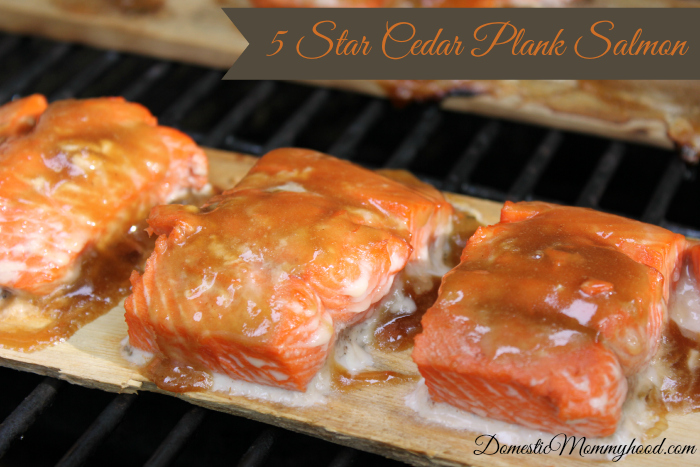 Last year we got together for the Fourth of July and I was having a hankering for the grilled cedar plank salmon. Corn on the cob, asparagus, deviled eggs and Pretzel Fooler were the perfect foods to have for a light refreshing dinner with family and friends. We had a wonderful time grilling out and watching the fireworks. We were unsure if Charlee Ann would like the fireworks or not. She is 8 now and that can be such an iffy age when it comes to loud noises and bright lights. There were a few that she covered her ears on and she got a little ansty at the end but all in all she had a great time at the display. 
Ingredients
Cedar Planks (soaked in water)
Salmon
Dijon Mustard
Brown Sugar
Instructions
Soak cedar planks fully submerged in water for at least 2 hours.
Combine equal amounts of Dijon mustard and light brown sugar in a bowl. We used 1/2 cup of each but it just depends on the amount of salmon that you are going to grill.
Leaving the skin on the salmon. Skin side down place on the wet cedar plank.
Spread the sugar/mustard mixture on the top and sides of salmon.
Place cedar planks directly on the hot grill. Cook on medium heat with the lid closed until fish flakes apart. Do not over cook. The salmon needs to register 145 degrees (according to USDA recommended internal temp.) We did take the smaller thin pieces of before the thicker slices.
http://domesticmommyhood.com/5-star-grilled-cedar-plank-salmon-perfect-summer-recipe/
What have you been grilling this year??
Enter your email below for more future posts at Domestic Mommyhood! 
This post may contain affiliate links. Your cost is the same, but it helps support the site and keep our freebies FREE! Thanks for your support!