When kids have a routine and know what to expect they are much less likely to balk at chores. Whether the reward is money, screen time, or a pat on the back they are going to feel pride in being a part of the family chore time. They are probably not going to do it the way you would, it is probably not going to be perfect, but if they are giving it their all then acknowledge their effort and either gently encourage them to do a little better or touch up when they aren't looking. I am not saying accept sloppy work from no effort but take into account their size and abililty and allow for the learning process.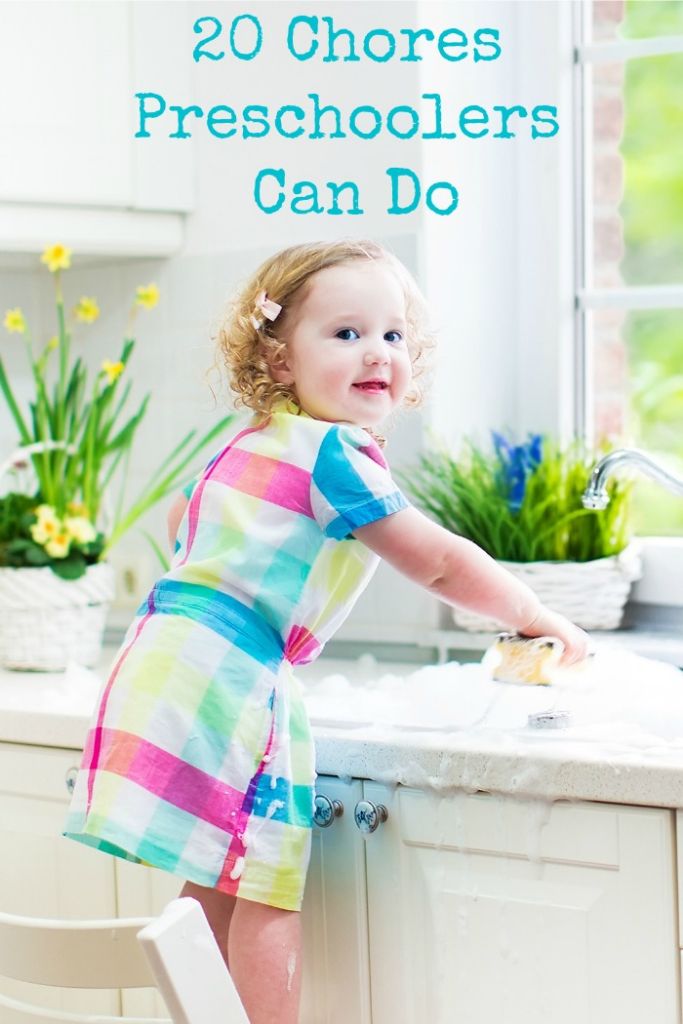 20 Chores Preschoolers Can Do
Empty bathroom trash cans– Light cans are easy for small ones to pick up and bring to the big one.

Bring dirty clothes to laundry room– Place a smaller handled pail or basket in their room than you would normally use so that it is easy for them carry back and forth to bring their dirty clothes to the laundry room.
Mop floors- If you have a swiffer or similar mop, let them go to town. Even if you have to go back over it later, what is it gonna hurt? They will pick up at least some of the mess and learn that helping can be fun.
Dust wood furniture– While I wouldnt let my little one be armed with a spray can of pledge, I make homemade furniture polish from coconut or olive oil, a few drops of citrus essential oils, then dip in a clean soft cloth. Have them wipe down all wood surfaces in their reach.
Fold towels– Towels are one of the first and easiest laundry tasks to master, fold in half, and then fold in half again, and maybe one more time. It doesnt need to be up to hotel standards, just a good effort, they are going in the linen closet anyway right?
Sweep off the porch– While i sometimes find it harder to let the three year old push dirt around the living room the porch is another matter, leaves and other debris are easily swept off porch onto the ground.
Sort laundry– Towels, whites, darks.. even a 4 year old can seperate them easy enough into piles.
Set the table– Besides making family dinner seem special and like an event. Setting the table is a simple task that will give them a sense of accomplishment.
Match up socks– The best part of this is that they actually think its fun, me.. not so much. This is a perfect task for willing (or not so willing) little hands.
Feed pets- If you make the food accesible and provide a scoop that gives the proper measurement of food this task is one a child of even 2 can perform.
Clear dishes – When dinner time is over children can carry dirty plates, cups, and silverware to the counter or the sink.
Help wash the car– Put little ones in charge of scrubbing headlights or wheels on the car. This can show them how to take care of and have pride in belongings.
Pick up toys– Make your child responsible for picking up their own toys in the living room or in their bedroom. Designate baskets for picking up belongings for every evening. If it is too overwhelming a task for them, consider getting rid of or at least storing a good amount of their toys.
Make simple snacks- Preschoolers can spread peanut butter onto crackers with a plastic butter knife, wash grapes and place in a bowl, and even assemble toppings on english muffin pizzas.
Wipe baseboards, walls, and doors– The same little sticky hands that make the mess can help wipe it away. Give them a wrung out wet cloth and let them get crazy, its is right at their height so it works.

Vacuum– If your vacuum is not too heavy little ones can push it around to pick up visible messes. Make a game of how fast they can pick up all the debris on the floor.
Rake up leaves– While this may lead to jumping in said piles, this is an easy enough task that they may not mind doing it over again for the fun of it.
Help load/unload dishwasher– Children can hand you cups, small dishes, and other unbreakable items. They also love to put the liquid or tab into the right spot. Even if she is not helping me load or unload my little one comes running to add the detergent!
Wipe bathroom counters– I use a combo of water and vinegar with essential oils mixed in so I feel pretty safe letting the kids use this cleaner to wipe down surfaces.
Make the bed– they can at the least pull sheets and blankets across the bed to tidy it up, maybe no hospital corners yet but they will learn.
Do you have any chores preschoolers can do that work well in your home?
Enter your email below for more future posts at Domestic Mommyhood! 
This post may contain affiliate links. Your cost is the same, but it helps support the site and keep our freebies FREE! Thanks for your support!