When I first started this post about scrumptious avocado recipes it was supposed to be done by September 16th which is national avocado day…..ooopsie!! I missed the deadline by a long shot but I really did not want you to miss out on these fabulous avocado recipes. Avocado's are so good for us and for those of you that love Avocado recipes I am sure you will be pleased with the ones below. Take your time and browse around and be sure and let me know which ones YOU love!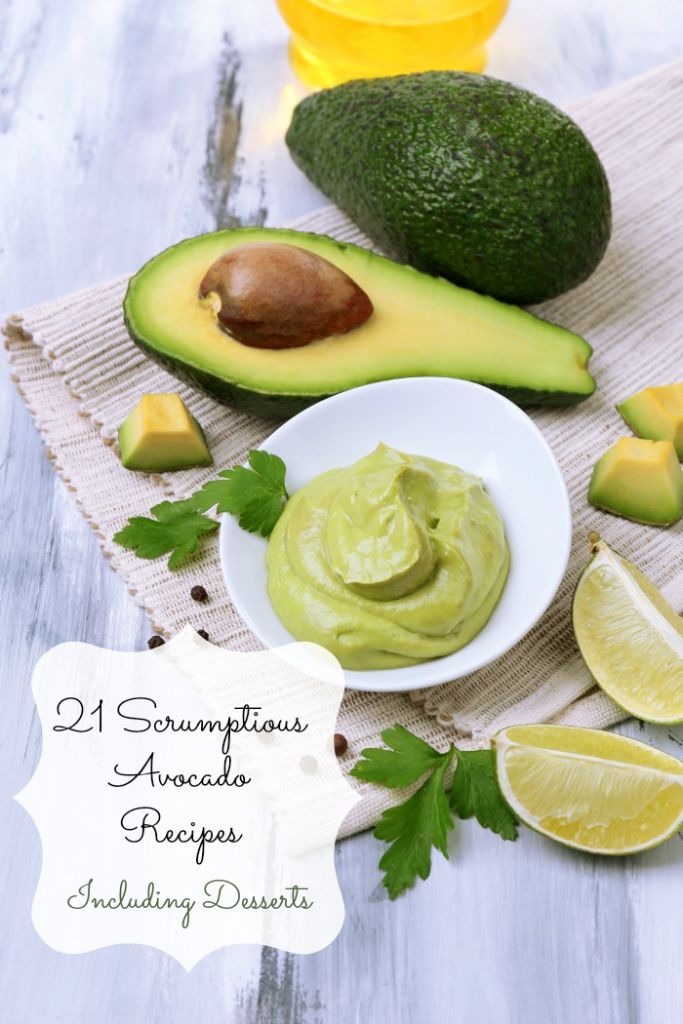 Scrumptious Avocado Recipes
Yummy Avacado Dip by Grinning Like an Idiot
Cucumber Guacamole Bites by Stockpiling Moms
Yummy Guac-Salsa by Just Us Four
Creamy Avocado Dip by Thrifty Recipes
Avocado Fries by Sweet Life
Wholly Guacamole Cheeseburger by Paints and Paws
Easy Homemade Avocado for Two by Paints and Paws
Avocado and Black Bean Taco by Whole Living
How to Make Guacamole by Stockpiling Moms
Scrumptious Green Apple Guacamole by Stockpiling Moms
Homemade Guacamole with Cilantro!! I love Cilantro!! by Just 2 Sisters
Guacamole with BACON! by Just Us Four
Avocado Deviled Eggs by Mimi Avocado
Avocado Egg Rolls with Chipolata Ranch Dipping Sauce by Taste and Tell
Don't forget to check out these awesome Desserts!!!
Avocado Pound Cake by Fake Food Free
Avocado Dulce De Leche Muffins by Sweet Life Bake
Coconut & Avocado Cookies by The 10 Cent Designer
Chocolate Avocado Cupcakes by The Cupcake Daily Blog
 and you really won't want to miss out on these awesome creations by Sunshine and Sippycups!! So Cute and easy to do!!
WOW Super Cool Build your Own Food Stadium with Guacamole of course 🙂 by Sunshine and Sippycups
Just in time for Halloween  SPIDERWEB SPOOKAMOLE RECIPE again by Sunshine and Sippycups
and then she made a really cute Race Track with Cars that would be perfect for watching the races or for a little boys birthday!
Enter your email below for more future posts at Domestic Mommyhood! 
This post may contain affiliate links. Your cost is the same, but it helps support the site and keep our freebies FREE! Thanks for your support!