If you have been looking for some awesome ways to get your child to eat their vegetables than you have come to the right place!!! How about some fabulous desserts recipes with hidden veggies in them!! All kids like desserts and it is fairly easy to get them to eat hidden veggies when they are hidden inside a fabulous cake or muffin!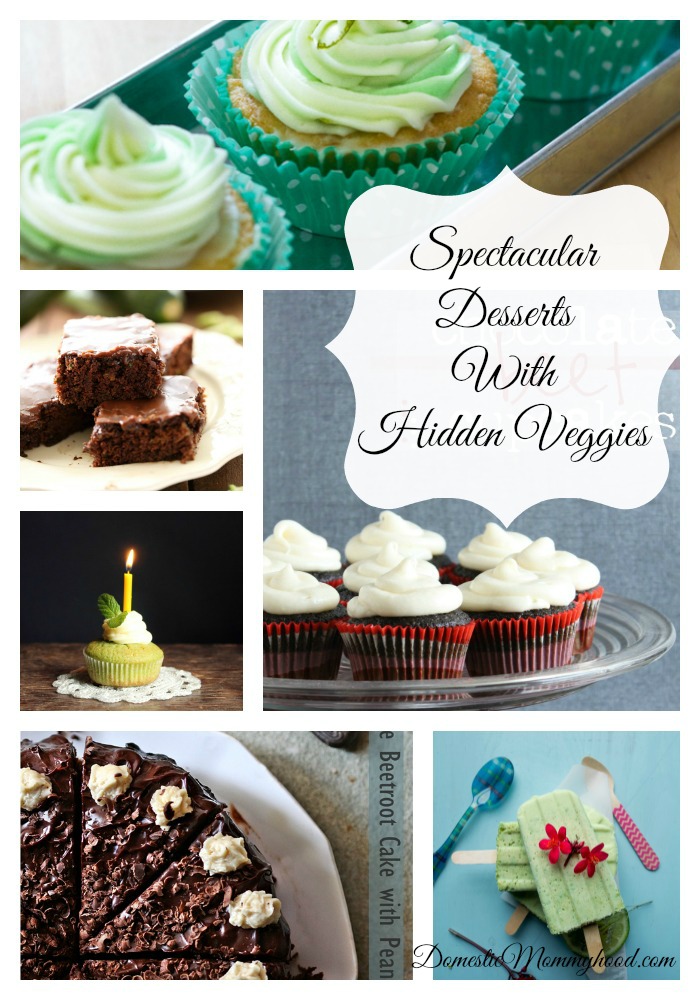 Dessert Recipes with Hidden Vegetables
Sneaky Veggie Double Chocolate Whole Wheat Muggins by Bare Feet on the Dashboard
Sweet Potato Pie Muffins by Tales from a Southern Mom
Avocado on a Stick by The Primlani Kitchen PHOTO
Zucchini Carrot Bread with Yummy Icing by Ann's Entitled Life
Dark Chocolate Peanut Butter Beetroot Cake by Passionate About Baking PHOTO
Zucchini Bread Times 3 by Scrapality
Chocolate Avocado Pistachio Cake with Avocado Creme Anglaise by TasteSpotting
Cucumber and Lime Cupcakes by Icing Sugar PHOTO
Butternut Apple Crisp by Food Hero
Chocolate Brownies with Spinach and Carrots by Chef in Disquise
Zucchini and Carrot Cake by With A Spin
Apple Spice & Cauliflower Cupcakes by Make the Best of Everything
Cucumber and Mint Cupcakes with Rose Water Buttercream by Veggie Desserts PHOTO
Zucchini Chocolate Chip Bread by Ann's Entitled Life
Chocolate Beet Cupcakes by Happy Food Healthy Life PHOTO
Zucchini Brownies by Chef in Training PHOTO
Although pumpkins are not necessarily a vegetable I did find some super fab pumpkin recipes to share with you also!!
Pumpkin Nut Roll Recipe by Ann's Entitled Life
Pumpkin Icebox Cake by Ann's Entitled Life
Pumpkin Spice Candy Bar Brownies with Pumpkin Cream Cheese Icing by Bare Feet on the Dashboard
Frozen Pumpkin Pie Yogurt Dots by Family Centsability
Which dessert recipes with hidden vegetables in them looks good to you??
Enter your email below for more future posts at Domestic Mommyhood! 
This post may contain affiliate links. Your cost is the same, but it helps support the site and keep our freebies FREE! Thanks for your support!