So, you want to get started with vlogging? Wait, what's vlogging – and why do I want to do it?
Let's start with the basics: Vlogging is video blogging. You want to do it because you're ready to take your blog to the next level (and make some money!). Now, we're going to talk about how to get started.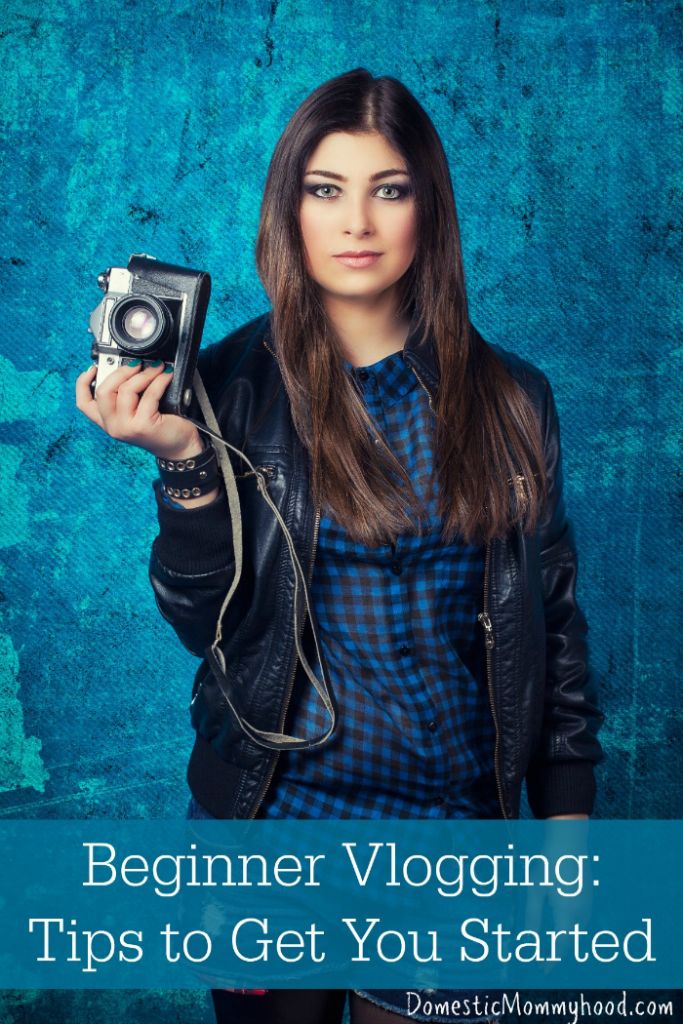 First thing's first, don't stress out about equipment and such. We're going to focus on content. While lighting, equipment, and even your personality are all important, content is the most important so if you don't already have several ideas for videos, it's time to start brainstorming.
What to vlog about: You already have a blog, right? So, hopefully you've got some content ideas. Write down the top three topics that you cover on your blog, that you actually enjoy and are passionate about. When you write a blog post, you might be able to get away with not being passionate. With vlogging, not so much. Within the three topics, create subtopics if general topics are too overwhelming. Then, you're ready to create video titles – or at least more specific ideas.
Put your ideas into action. Narrow your ideas down to just a few for right now. Pick the one that stands out to you the most, and get started. I like to do some research and see if other videos have been done on similar topics. If I like the videos, I mention them to share some love. If I don't like them, I note why, and I make sure I don't make the same mistakes.
Lighting is important. Right now, we aren't focusing on fancy equipment – but we do need to focus on lighting. One trick I learned from Hey Fran Hey: Use daylight and windows instead of artificial lights. The light isn't as harsh when it's natural, and it's free!
You might need to try out different angles and such, so record yourself doing short, 30 second videos to see which one looks best. Different angles will look better/worse at different times of the day, so you might want to write notes down to keep track.
Tip: If you have a few extra bucks, umbrella lights are less than $50 and totally worth the investment!
Shoot it. Be sure to record in landscape mode! You can use your Smart Phone, a web cam, or a digital camera to record yourself. Clear the background, and set your recording device up so it doesn't move around. There's not much worse than a shaky video!
Tip: When you do record, speak slowly and clearly. Record yourself, then re-record it speaking twice as fast (and twice as loud). You want to be upbeat, energetic, and motivational! Nobody wants to watch sad videos (though there are exceptions to this rule).
Edit it. Some people like to edit a lot, while others don't edit much at all. You'll discover your personal preferences over the course of time, as you shoot more and more videos. Use a free editing software (like iMovie). Why? Because they work, and there's no need to purchase a program just to splice together a few videos.
Publish it. Even if you're nervous, just hit publish. Watch it a few times, send the link to your mom, you know the drill. The scariest part (at least for many of us) is just putting it out there to the world. Once you do it a few times, it gets much easier. Stop thinking that you're not good enough, and just hit that button!
Promote it. Just like you'd promote your blog posts, you need to promote your vlogs! Don't spam your readers and friends with constant video links, but when you have one worth sharing – don't be shy.
What's your biggest fear when it comes to vlogging? What's holding you back?
Enter your email below for more future posts at Domestic Mommyhood! 
This post may contain affiliate links. Your cost is the same, but it helps support the site and keep our freebies FREE! Thanks for your support!