There is one thing I remember so fondly as a child and that is a box of Cracker Jacks! It's about as American as apple pie and so yummy and delicious. This homemade CopyCat Cracker Jack Recipe is not only easy to do but just as good (if not better) as the original. So grab up the kiddos and let's introduce them to a great Cracker Jack Recipe that you guys can make together at home in your own kitchen.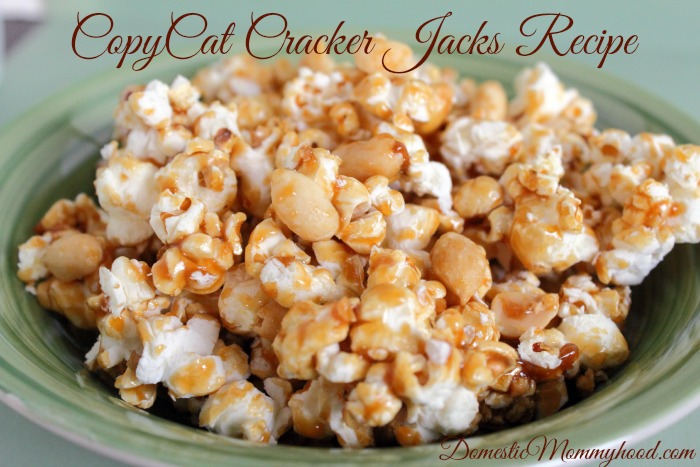 CopyCat Cracker Jack Recipe
Ingredients:
3 Tablespoons Oil
1/2 Cup Popcorn, Unpopped
1 1/2 Cups Roasted Peanuts
4 Tablespoons Butter
1 Cup Brown Sugar
1/2 Cup Light Corn Syrup
2 1/2 Tablespoons Molasses, Unsulphured
1/2 Teaspoon Sea Salt
Directions:
Preheat you oven to 260 degrees F.
Add oil and popcorn to a Dutch oven and cook over medium high heat. Make sure you cover as it cooks. Once the corn begins to pop reduce your heat to medium. Begin to shake the pot back and forth with the lid cracked just a bit to vent off some of the steam.
Once the popping slows down to every 2-3 seconds remove from heat and pour the popcorn to a lightly greased 13×9 inch cake pan keeping the un-popped kernels out if at all possible.
Add the peanuts to the popcorn and place into your pre-heated oven to keep warm.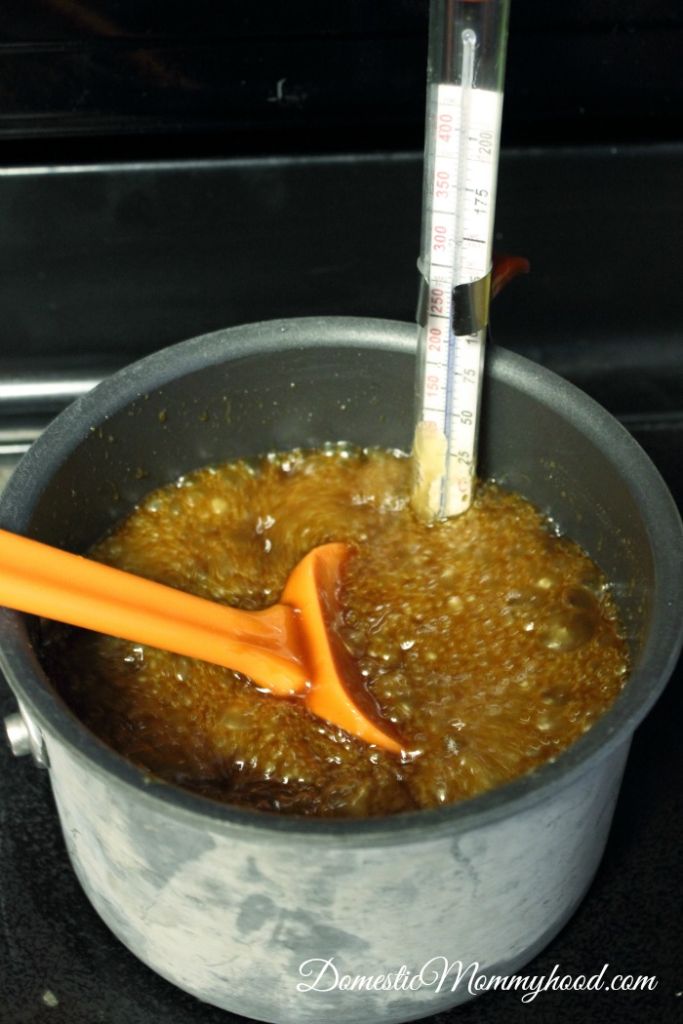 Place a small sauce pan onto your stove top over medium heat. Add in butter, brown sugar, corn syrup, molasses and salt into the sauce pan. Bring to a boil stirring until a candy thermometer reads 260 degrees.
Pour liquid over the warrm popcorn and peanuts and stir to coat evenly. Return to the oven for 10 minutes stirring every 5 minutes. After the first 10 minutes is over raise your oven temperature to 275 degrees F. and continue cooking for an additional 10 minutes again stirring every 5 minutes until done.
Remove from the oven and continue to stir every minute or so as it cools to keep it from hardening into clumps.
Store in an airtight container at room temperature until ready to eat.
Well there you have it!! Your own homemade copycat Cracker Jack Recipe! Now you are ready for a movie night or better yet….. take it to your child's ballgame for a nice little blast from the past.
Make sure you hop over and check out all the great recipes we have on Domestic Mommyhood! Enjoy!
Enter your email below for more future posts at Domestic Mommyhood! 
This post may contain affiliate links. Your cost is the same, but it helps support the site and keep our freebies FREE! Thanks for your support!