I know you have all donated a can or two to help feed the hungry probably a million times in your life. My children love milk and I just found out that there are children in America that have to go without. My children drink 2-3 gallons of milk a week between the two of them and hearing that on the average, food banks can only offer 1 gallon of milk per client PER YEAR.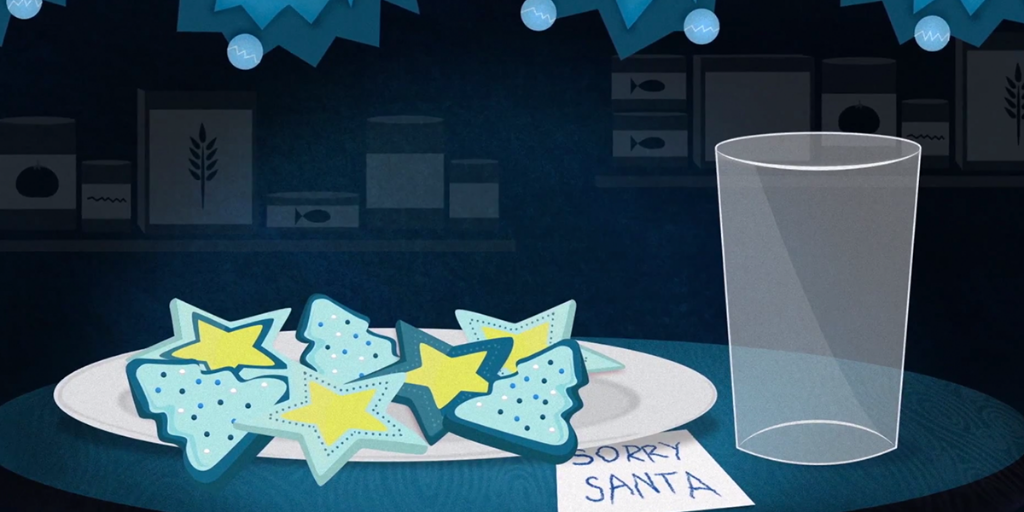 My heart broke when I heard this. Looking at my two children I realized how lucky we are. Times are tough sometimes but there has never been a time when my children had to do without milk. I now thank God everyday that my children are lucky enough to be able to reach into the fridge for a glass of ice cold milk. As I thought about the people who are not lucky enough to have milk on a daily basis I realized that my family must help.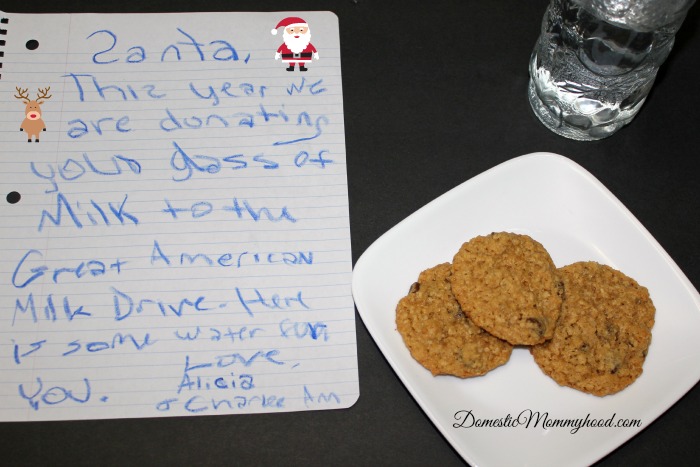 What better way to learn how to give to others during the Holidays and every day for that matter than by donating Santa's glass of milk this year to those that are less fortunate so that they for once do not have to go without.
Then I decided that along with donating Santa's glass of milk this year we would work together as a family to donate a whole gallon. Now my children don't really have money but I talked to them and we decided that we would give up milk for 3 days (the equivalent of a gallon of milk in our house) so that we could better understand how important it is to help the less fortunate get some milk for their families. We will take the money that we saved from not drinking the milk and  donate that to The Great American Milk Drive. This would give my children a way to reach out and help, to learn and and be proud of what they accomplished by the end of our mission.
Some may say this is a little over the top but if I don't accomplish anything in life but to teach my children how to give and understand those that need help then I have succeeded as a mother. My children know about giving and donating because we make sure that they do. Everyone goes through a period in their life where they struggle and it is important to help others.
Day One
My children looked into the refrigerator as we discussed what we could have for breakfast as we looked at our empty gallon of milk. Cereal was out unless they wanted to eat it dry… oatmeal was what they chose. We normally make it with milk but went ahead and made it with water this time. They said it tasted weird but ate it anyway.
Lunch time was a little easier because we made sandwiches and served some apple juice but my kids are milk drinkers and they were already starting to get a little antsy and missing their glasses of milk.
Dinner consisted of cheeseburgers and mac and cheese…… we added a little more butter and a tad bit of water. They said it was gross but ate it anyway. This was probably the first time that they ate more fruit and meat than the mac and cheese. It did taste kind of weird.
Day Two
We ate dry cereal today mixed with yogurt. They longingly looked at the gallon of milk and sighed. My oldest daughter  sat at the breakfast table and said "Mom, people really go without milk all the time?". I answered back "Yes they do babe….. how does that make you feel?"  She answered back with "Sad mom…… it makes me very sad."
The kiddos ate lunch at school today. My youngest had milk with her lunch but my oldest decided to stick with it and took a thermos of water to enjoy with her lunch.  The youngest is three so I surely don't expect her to understand the whole thing. She is going without her bedtime snack of fruit with a glass of milk and that is really a lot for her.
Dinnertime was homemade pizza so we didn't have much to give up there except our drink of choice at the dinner table is milk. It's hard not to run down and grab some but we are sure this is what we are wanting to do. We are really craving our favorite drink now and talking more and more about those that have to go without milk.
Day 3
My youngest is throwing a fit! She wants her milk and my oldest is just looking at me……..
"We can do this guys." I say to them as I'm wanting to have a big glass of milk just as much as they do. They are now looking at me like I have gone crazy. We have toast for breakfast and talk about what it would be like if we had to go all year with no milk. We pray for those who don't have milk and food and we ask God to show us other ways that we could help them.
Lunch was at school and my oldest held out again. She has really begun to understand the mission and is determined to make it.
Dinner was meatloaf, mashed potatoes and corn. I thought to myself…..maybe the next time I have a mission I should re-think the meal plan first. Then I laugh and pull out some butter and sour cream to mix with the potatoes. Wondering the whole time what I would do if I didn't have sour cream. Realizing that we are luckier than we even know.
We had finally completed our mission and I sat down at the computer and called the family in to donate our gallon of milk to The Great American Milk Drive instead of leaving the glass out for Santa. In walks my oldest with tears in her eyes…….. she has $3 in her hand and said "Mom will you add this to what you are donating?"
I realized at that moment how lucky I really am……….
(Please note that my children were not harmed by missing out on milk for three days and I did not do this to be mean to them but to teach them something about helping the less fortunate. We are back to drinking milk just as we did before and the lesson they learned will last a lifetime.)
Making a Difference

On average, food bank clients receive the equivalent of less than one gallon of milk per person per year, leaving many families with limited access to milk's essential nutrients, including 8 grams of high-quality protein per serving and three of the top nutrients most likely to be missing in the American diet – calcium, vitamin D and potassium.
To date, 194,000 gallons have been donated as part of the industry's ongoing commitment to helping families get much-desired nutrient-rich milk.

This holiday season, you can help make the season brighter for hungry families with the gift of milk by donating at www.MilkLife.com/give 

By entering your zip code, you can ensure that milk is delivered to a local food bank to help nourish children in your own community.
I was selected for this opportunity as a member of Clever Girls and the content and opinions expressed here are all my own.
Enter your email below for more future posts at Domestic Mommyhood! 
This post may contain affiliate links. Your cost is the same, but it helps support the site and keep our freebies FREE! Thanks for your support!