Finding Dory was the first movie that we have went to see on opening weekend and it was GREAT!! Dory was my favorite character in Finding Nemo and I was sooo excited when they decided to come out with "Finding Dory". I couldn't believe how cute she was as a baby!
Check it out below! Let me know what you think!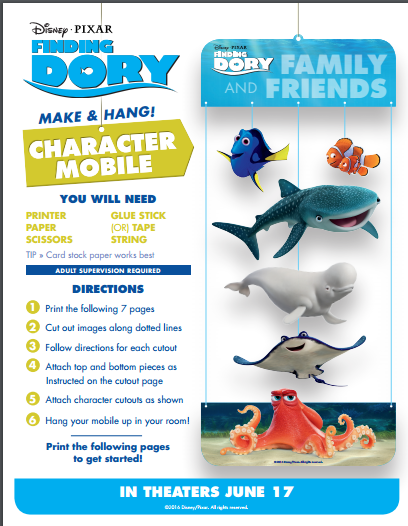 We had fun making this awesome "Finding Dory" mobile this week which is hanging in my daughters room! So cute and fun to make!
Like FINDING DORY on Facebook: https://www.facebook.com/PixarFindingDory
Follow FINDING DORY on Twitter: https://twitter.com/FindingDory
Follow Disney/Pixar on Instagram: https://www.instagram.com/PixarFindingDory/
Follow Disney Studios on Pinterest: https://www.pinterest.com/disneystudios/finding-dory/
Visit Disney/Pixar on Tumblr: http://disneypixar.tumblr.com
Visit the official FINDING DORY website here: https://disney.com/findingdory


Enter your email below for more future posts at Domestic Mommyhood! 
This post may contain affiliate links. Your cost is the same, but it helps support the site and keep our freebies FREE! Thanks for your support!