Do your kids need a little extra help in the sensory department? Squishy Sensory Bags are an inexpensive way to help your child get used to the feel of certain textures. Not only is it great for sensory but they are fun and super easy to do! Charlee Ann had a ball and really like practicing making the letter "C" for Charlee! It had been a super crazy day around our house so I used this time to squish and de-stess by making my own bag!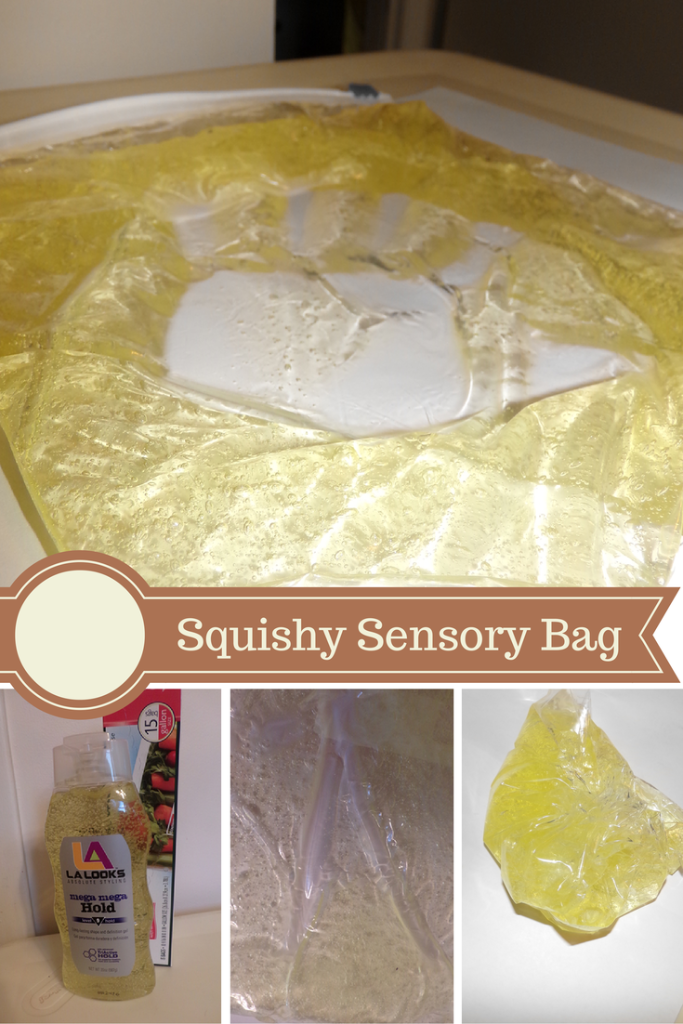 Here is what you will need for your Squishy Sensory Bags.
Supplies needed–
–          Ziploc Baggies
–          Colored hair gel
Directions–
Use a very sturdy Ziploc baggie and squeeze all of the colored hair gel into it. Make sure the Ziploc baggie is sealed tight. You can tape the ends if you'd like to ensure it's a little more secure. Now all you need to do is sit down and have fun playing with the squishy bag.
There are some activities you can do with the Squishy Sensory Bag.
Write Letters
The squishy bag is perfect for practicing letters, numbers, and words. Your child can practice hand and finger movement right on the squishy bag.
Handprints
You can make some awesome handprints using the squishy bag. Pretty much any indent you put into the bag will stay, until you move the bag around again.
Stress Ball
I love using the squishy bag as a stress reliever. You can squish and squash the bag any way you'd like. As long as you don't press too hard, the inside gel should stay without any issues.
To help with any sensory issues, just have your child play with the squishy bag and manipulate it. This bag will help with building up your child's sensory tolerance. You'll notice the bag has sort of a gel like feel, but there is no mess. You can model playing with the bag yourself, so your child feels more comfortable with the process.
I hope you have fun making the  Squishy Sensory Bag with your children? Have you made a sensory bag before? Please leave your ideas in the comments below.
Check out 5 more ways to make sensory bags here. 
Enter your email below for more future posts at Domestic Mommyhood! 
This post may contain affiliate links. Your cost is the same, but it helps support the site and keep our freebies FREE! Thanks for your support!