Snickerdoodle Snack Mix Recipe
Today I want to feature my daughters favorite recipe to make! Her Snickerdoodle Snack Mix will not only satisfy your sweet tooth but you also have that wonderful crunch that you crave so much!
As you all know I have a teenager and kindergartner in the house and boy do they love to get into the kitchen! It's the one time that they don't fight and yes, just so you know, they do fight!
If popcorn is more you style we have a lot of fun finding new popcorn recipes to whip up at night before we settle down for a great family movie! Our favorite is my famous copycat cracker jacks recipe!! Fun, easy and delicious is a pretty good description. 🙂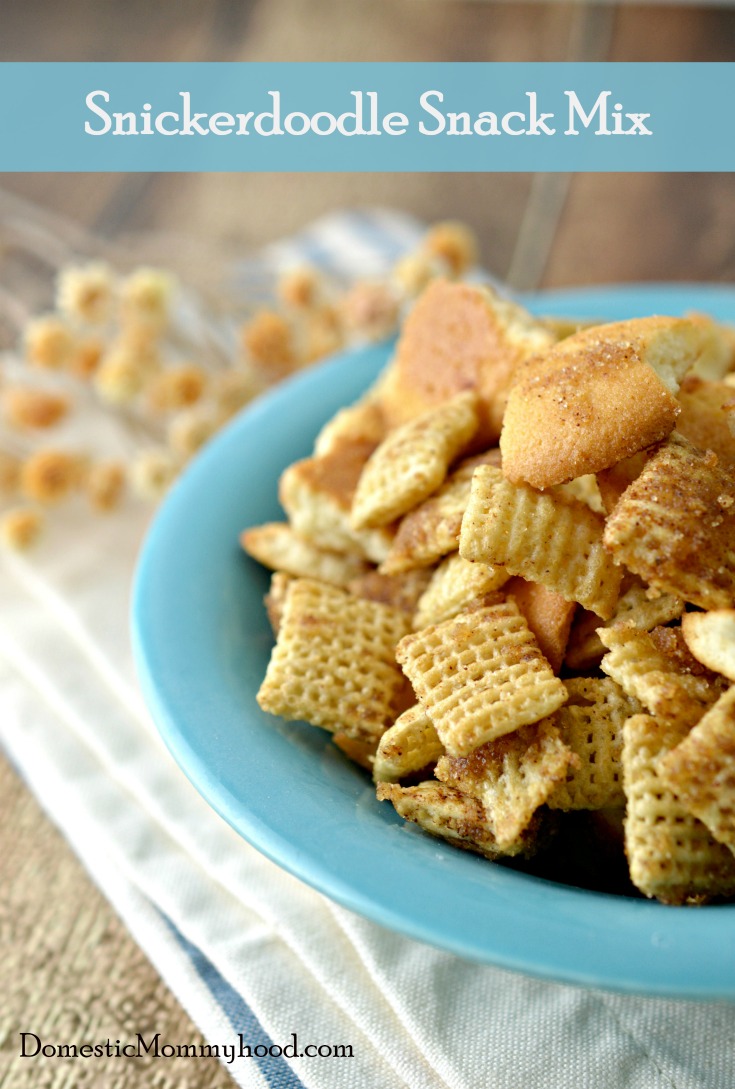 Charlee Ann's turn is first. She takes care of the grunt work. LOL Her job is to chop up the cookies! So now I bet you want to know why I'm letting my 5 year old cut anything up. Ok, I don't go handing her a butcher knife people! She has the choice to chop them 1 of 2 ways…….
Put them in a large Ziploc baggie and pound them.
Use two Ziploc baggies and place one inside the other. This one requires a double layer. Squeeze on the air out of the baggies and seal them up! Now we use the stomping method.
Oh, no we don't! Oh, yes we do!! The choice is Charlee's. I might want to add that the stomping method only takes about 2 or 3 small stomps or steps. Otherwise you will end up with salt sized cookies which may not work out well for a finger food.

Snickerdoodle Snack Mix Recipe! Seriously Delicious!
Ingredients
¼ cup Brown Sugar
1 ½ teaspoons Cinnamon, ground
4 cups Rice Chex Cereal
2 cups Vanilla Wafer Cookies
¼ cup Butter, melted
Instructions
Break up the cookies in a Ziploc baggie using the stomp or pound method above. If your doing this yourself you can translate that into break each cookie into 3 or 4 pieces depending what you consider bite sized.
Pour your Chex cereal into a large bowl and set aside until time for mixing.
Take a small glass bowl and melt the butter in the microwave until melted. You may want to do this in very small increments. Butter melts quickly and may burn. You can also use the stove top if you wish.
Pour the ground cinnamon into the melted butter and mix well. Add in the brown sugar and stir gently.
http://domesticmommyhood.com/snickerdoodle-snack-mix-recipe-seriously-delicious/
Enter your email below for more future posts at Domestic Mommyhood! 
This post may contain affiliate links. Your cost is the same, but it helps support the site and keep our freebies FREE! Thanks for your support!