Summer is in full swing and the kids are already getting bored out of their minds! There are tons of things to keep your children busy this summer but it's really hard for them to come up with ideas on their own. I have created a very cute bucket list printable that should help make getting through the summer a little easier for you.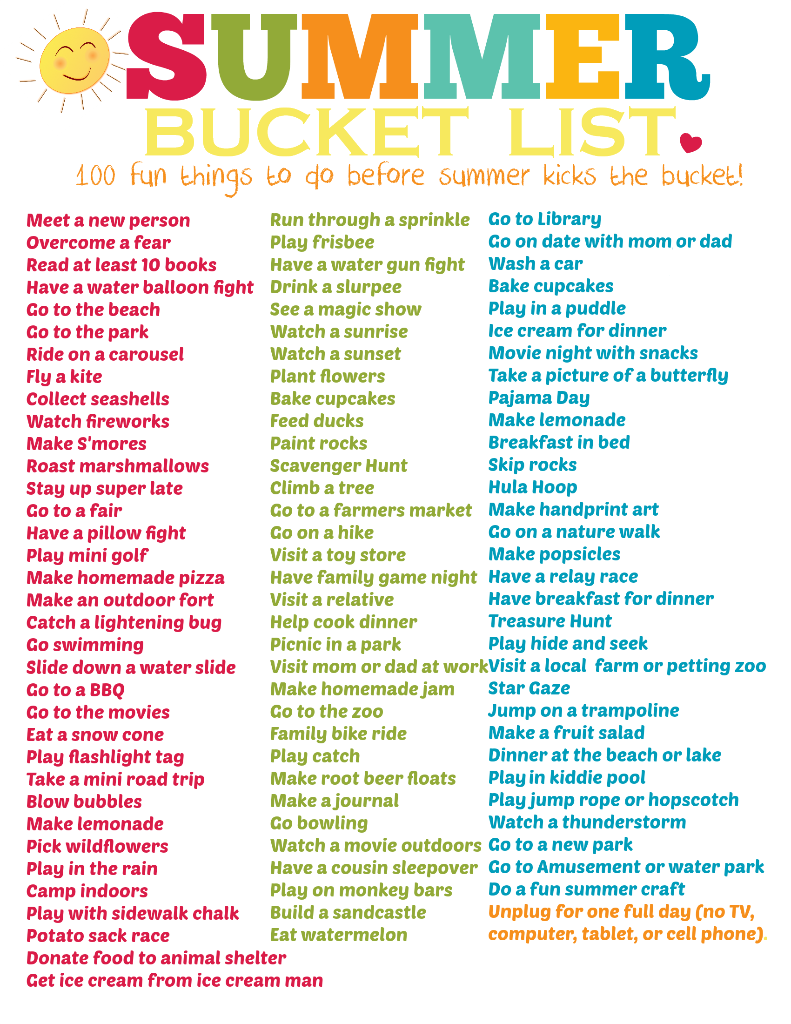 There are many different places for you to put your summer bucket list to keep it handy for your kids to use. The front of the fridge is a prime spot and will keep it in your child's mind and make it easy for them to mark off as they complete each item. Another idea is to put it in an 8×10 frame and use dry erase marker on the glass to mark off each item as completed.
To help get your child motivated on doing the items on their bucket list you can set up a star or sticker system. Have a calendar next to the bucket list and every time that an activity is complete they can get a star. Once they have 10 stars they can get a special treat from mom and dad. We try to refrain from using food as treats in our house and use things like coloring books, new hair pretties, bouncy balls or art supplies as gifts for completing tasks. 
We have already completed…
catch a lightning bug
roast marshmallows (love this one!)
feed ducks
run through a sprinkler
The kids have 2 circled to do later today and it will work out well because it is HOT HOT HOT here. So we are pulling out the kiddie pool and sprinkler for today's activities! 
Most of these items are easily done by your child alone but isn't it more fun to have mom and dad do them with you?? Our kids are only young once so try to take time to complete at least half of these with your child. You will be left with a summer of memories that will last a lifetime for you and your child. Enjoy 🙂
What do you have on your bucket list this year? We are always looking for fun activities to put on our bucket list. Please feel free to leave your ideas in the comments below so we can all benefit and have fun with our kids this summer. 
Enter your email below for more future posts at Domestic Mommyhood! 
This post may contain affiliate links. Your cost is the same, but it helps support the site and keep our freebies FREE! Thanks for your support!