Thanksgiving is right around the corner and having your child help with getting ready for the festivities is the perfect way to bond and spend time with them. Often times, while we are cooking it, came become overwhelming and dangerous to have a child underfoot and that is where this All About My Thanksgiving Printable Activity Book can come in handy.  With a little help, it can be a great Free Pre-school Printable or can be used alone for an elementary aged child.
Print as many All About My Thanksgiving Printable Activity Books for your child or for your classroom! It makes a great keepsake for the years to come and can help your child with their writing skills and has plenty of room to showcase their creativity and artistic abilities.
See below to print off your very own All About My Thanksgiving Printable Activity Book Free of charge for my followers!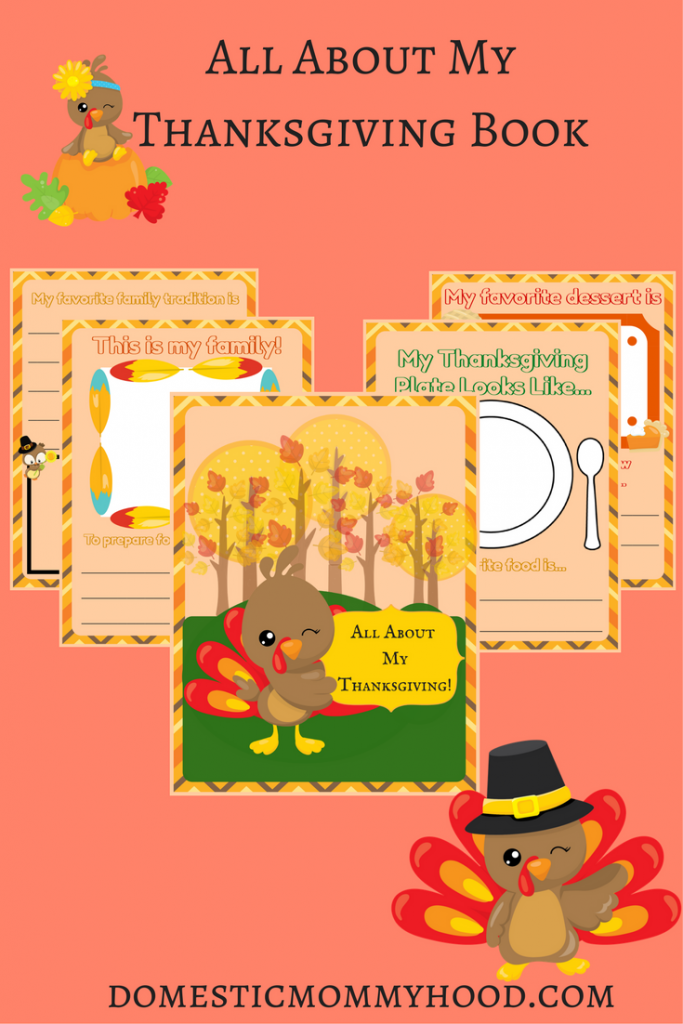 You may download the All About My Thanksgiving Printable Activity Book by clicking here.
The All About My Thanksgiving Printable Activity Book is designed to bring some fun, creativity, and writing practice around the Thanksgiving Holiday. I would love to hear about your experience using this activity book. Feel free to leave pictures and comments in the comment section below.
Directions:
Print out pages (Cardstock is recommended or you may glue regular paper to construction paper)
Bind book together (Either with staples, brads or punch holes and use ribbon)
Have your child fill out the book, (provide help if they cannot write alone.)
Instruct children wherever there is a white box to create their own illustration.
Have fun being creative!
Thanksgiving Books that we recommend reading to your child! 
Fun Thanksgiving Educational Toys!
Don't forget to check out these Fun Fall Kids Activities! 
Enter your email below for more future posts at Domestic Mommyhood! 
This post may contain affiliate links. Your cost is the same, but it helps support the site and keep our freebies FREE! Thanks for your support!