We are smack in the middle of winter and boredom has set in with the kids and I have begun going a little stir crazy myself! Here is a cute Winter Inspired Necklace Kids Craft that will keep the kiddos busy and a little sanity left in your life. We had a blast putting them together and a great time handing them out to friends and family! Read how below…
Don't forget to check out these awesome Kids Activities and Kids Crafts: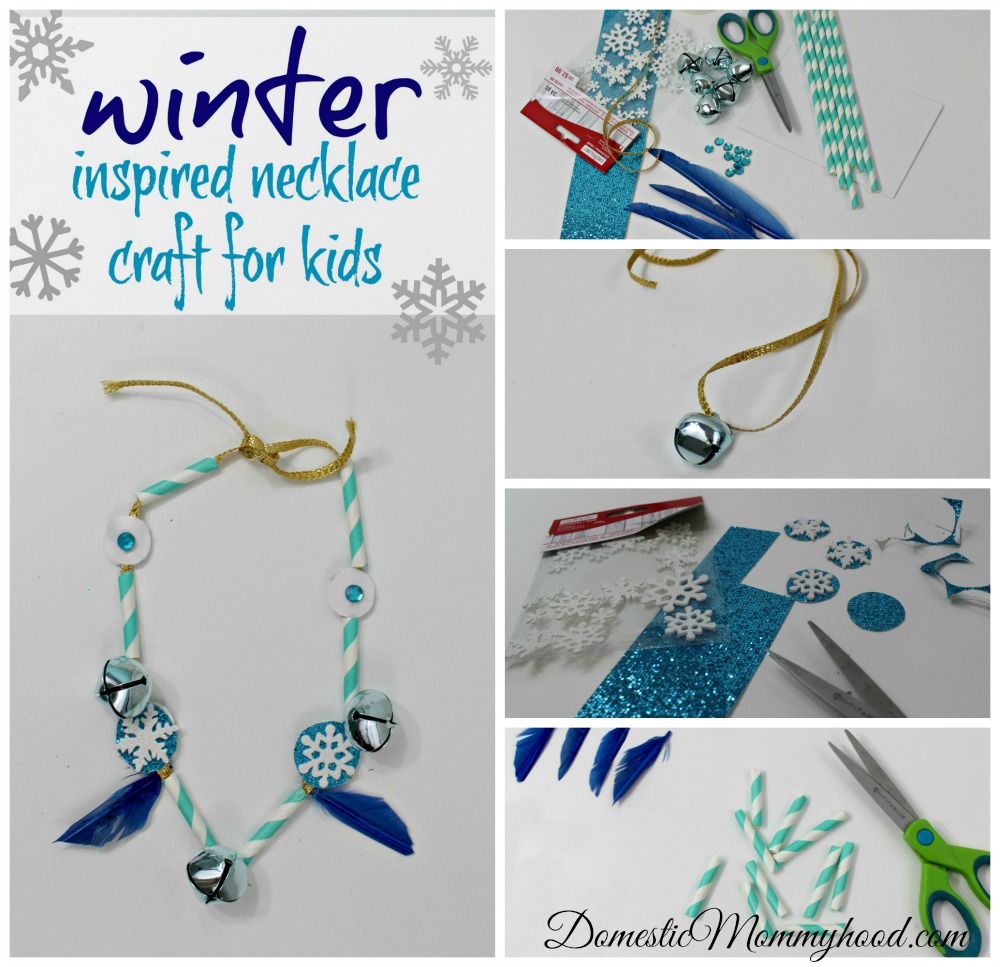 Winter Inspired Necklace Kids Craft
Supplies:
string for the necklace
heavyweight white paper
blue gems
jingle bells
blue craft feathers
blue and white paper straws cut into 1-2 inch pieces
scissors
glue
How to Make:
 1.) Cut out four, 1 inch circles from the glitter blue paper and apply a snowflake sticker to each one.
2.) Cut out 3//4 inch circles from the white paper and glue on a blue gem.
3.) Cut the blue craft feathers down to a length that you like ( 2 – 3 inches long)
4.) Start by threading a jingle bell on the string and move it to the center of the necklace.
5.) From here you can have kids choose which item they want to come next and whether or not the necklace will be symmetrical on both sides. Lett kids thread on the straws and the jingle bells. Have an adult help with gluing on the other elements such as the feathers and the circles.
6.) When the necklace is finished tie it in a bow and enjoy.
TIP: Please remember that this can be a choking hazard for younger children so they will need to be supervised.
If you are looking for some great winter books to enjoy snuggled on your couch with the kiddos these are perfect!!
I hope you enjoyed the Winter Inspired Necklace Kids Craft! Drop me a note and let me know what your favorite winter craft for kids is!
Enter your email below for more future posts at Domestic Mommyhood! 
This post may contain affiliate links. Your cost is the same, but it helps support the site and keep our freebies FREE! Thanks for your support!