Spring has sprung and what better way to bring in the new season than by learning about bugs!! Creepy, crawly, silly bugs!! Last year Charlee Ann had the strongest fear about bugs so we figured we would start a plan to teach her all about bugs to bring down that fear and make her feel more comfortable. It's time to start talking about bugs with her again and we are starting out with a reading list of Books about Bugs!
We actually made Charlee deathly afraid of bugs by making one little parenting mistake (I will tell you here in just a minute so you don't make the same mistake)!
Last year they really helped calm her fear which made going outside and playing a lot easier! Books are a fun way to bring learning into your child's life. Quite a few of this Books about Bugs are interactive and informational making them the perfect way to teach your child all about them.
So hop down and stick around and check out these really cool Books about Bugs for your child to enjoy.
Then make sure you check out the 1 HUGE mistake we made that made Charlee terrified of bugs!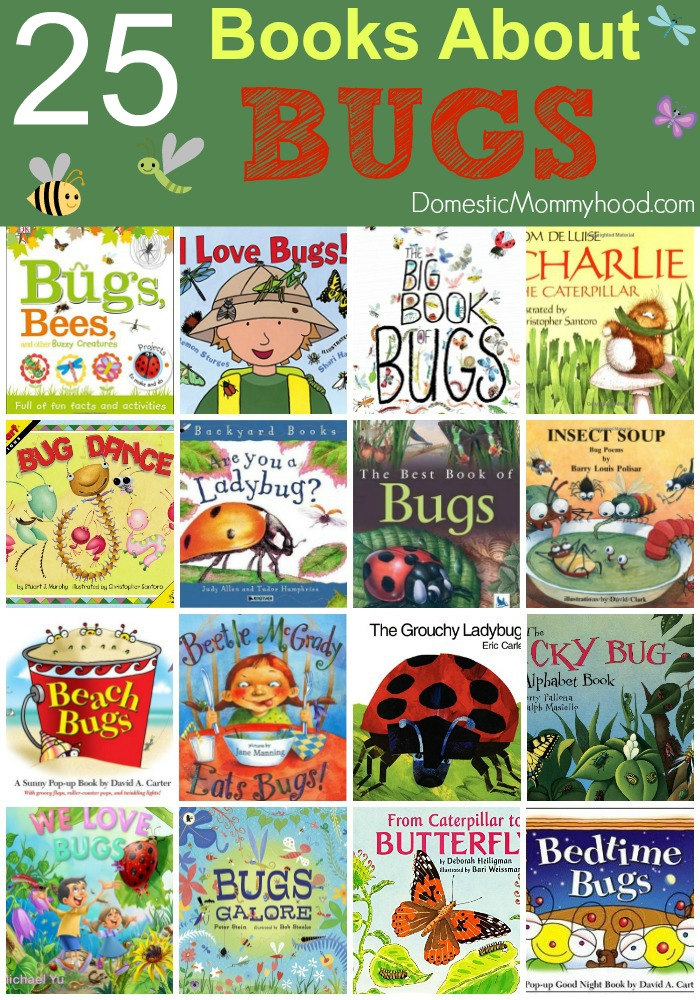 25 Books about Bugs for Kids
Now onto how in the world I scared my kid half to death about bugs!! 
When Charlee was about 2 years old a bee was buzzing around her head. I was scared to death she was going to get stung, I have a huge fear myself of bees because of an allergy to them that I have. Charlee has shown no signs of being allergic but she has only been stung once. So I said to her "Charlee run! That bee is going to sting you!".
Hold on folks that is not the end of the story.
Then later that evening It was time to come in the house, the mosquitos were starting to swarm and I did not want her to get bites all over her and it was time to start winding down for the evening. Then I told her to run!! We needed to get inside and get away from the mosquitos. I was a little over dramatic about the whole thing. I was tired……….. no judging folks! LOL
So every year I pay for those 2 things that I said. She starts screaming when she sees bugs, bees, or mosquitos. Every year it takes a month of reading and learning about bugs to get her back in the groove of summer and into our back yard without running to the house everytime she sees a bug.
The Moral of the Story
Do not tell your kids anything about running from bugs and bees. It will come back to haunt you, I promise!
Enter your email below for more future posts at Domestic Mommyhood! 
This post may contain affiliate links. Your cost is the same, but it helps support the site and keep our freebies FREE! Thanks for your support!