Looking for some awesome Preschool STEM toys??
STEM stands for science, technology, engineering, and mathematics of a curriculum. It is very useful in teaching children of all ages. Children can learn while they play while building their creativity and learning operations to better their learning success.
Here is a list of awesome Preschool Stem Toys for use in a pre-K school setting, homeschool setting, or for parents wanting to help their children learn through play.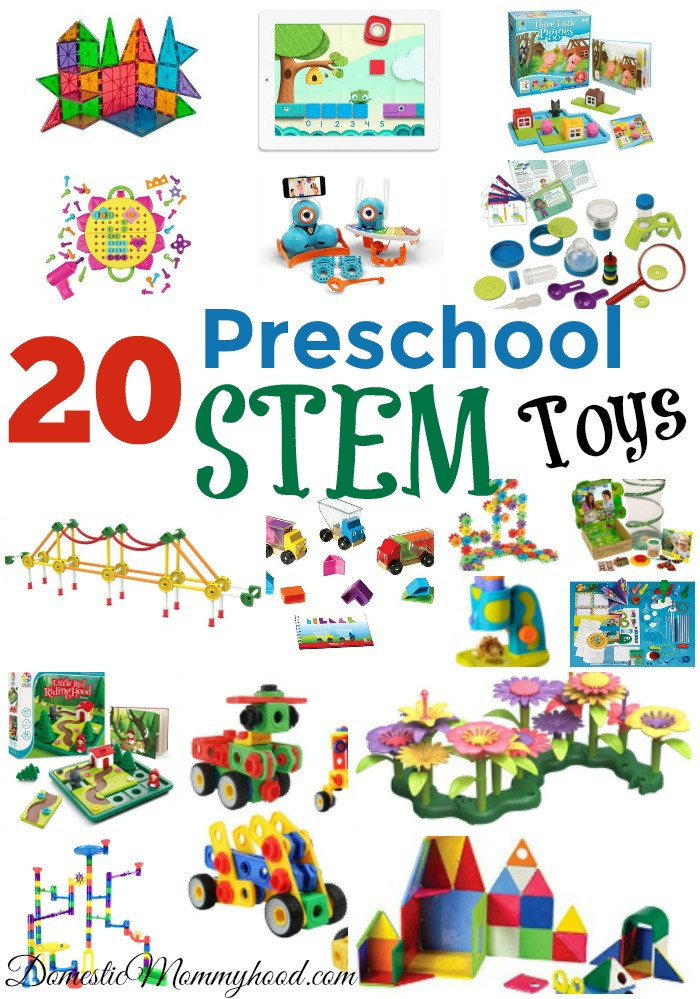 Preschool Stem Toys List
Magna-Tiles have always been one of the most popular for the preschool age! They cost a pretty penny but it's well worth it to pay for the real deal. I have worked with knock-offs before and they really don't stand up in function or safety. Watching your child's ideas change and become more advanced over the years. It is an amazing thing to watch.

This amazing toy consists of different shapes of magnetic pieces that have magnets in them. Your child will work for hours building the most amazing 3-D creations.
Comes in many different sets. The more you have, the more you can build!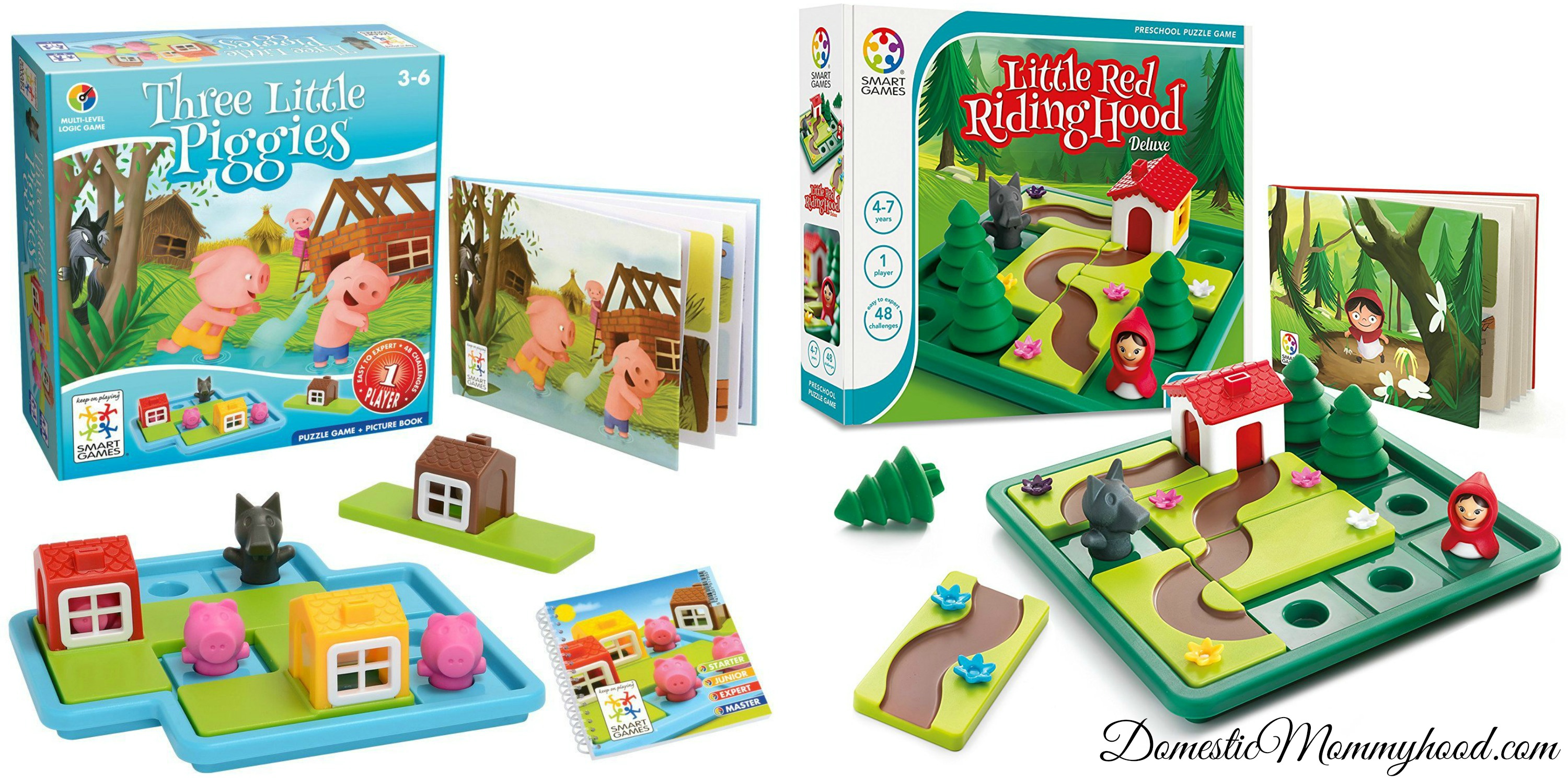 2) SmartGames has 2 games that are great Preschool Stem Toys. These are awesome early logic learning toys. The game comes with a story book and 48 challenges perfect for your child to complete. Besides…. look at them! They are awesome!

3) Learning Resurces has an awesome Gears! Gears! Gears! Super Set that your child can use from 36 mo. to 10 years!! This is an awesome preschool stem toys that will keep your child building and creating for years to come!
4) I know you guys remember playing with TinkerToys when you were small! What we had back then is no comparison to this awesome 200 piece set! I always wanted to build a Ferris Wheel when I was younger. What was your favorite thing to build?
5) This 90 piece Construction Engineering Block Set can be used to build so many different things. Great for learning and having fun! Build your imagination today!
6) How about building an arrangement of flowers!! What a sweet toy to have around for that little Gardner in your life! This Green Toys Build-a-Bouquet Floral Arrangement Play Set is fantastic for learning about flowers and would be a perfect addition to a Spring Theme.

7) Educational Insights GeoSafari Jr. My First Microscope is perfect for small hands. It provides up to 8x magnification and has no glass slides for your child to get cut on. Have fun taking a closer look to shells, rocks, flowers, and just about anything your child can imagine!
8) Need a good table toy for your kids? Something to help them settle down at night. My daughter loves the Educational Insights Design and Drill Activity Center!
9) Another great Design and Drill but with a Flower spin on it!! Same concept as above but with a totally different look!

10) Kids are always drawn to the sliding counting beads toys! This one is a super cute Dinosaur Math themed toy that I'm sure you child will love!
11) I have talked about the Lego Duplo My First Number Train Building Set before on here. We bought one for my daughter 3 years ago and she still loves it! It is well worth the price and really fun to play with!
12) Wooden toys are always awesome! I love the look and feel of the Melissa & Doug Stack & Count Parking Garage! Great for math and small motor skills too!
13) It's a puzzle, it's a truck!! What more can a child ask for? This fun Trucky 3 puzzle set comes with a fun challenge book for your child to try and a way to check to see if they got it right!
14) Tiggly Counts is an award winning math toy that is fun and educational. It covers counting, addition and a number line. Also comes with 3 free learning apps designed to work together.

15) This awesome Peg Board Set is also great for small motor skill development. Works well for color recognition, sorting and counting. Also comes with a 20+ activity pegboard download.
16) This day and age it is very important for children to learn coding. Sounds crazy to a mom who had the first computer come out when I was in 5th grade!! Kids need to learn more than we ever thought about technology this day and age to be able to function in the world as it is today! This Wonder Workshop Dash and Dot Robot Wonder Pack is top of the line in getting your child ready for the future!  If your looking for a more affordable option you can try the Wonder Workshop Dash Robot instead.
17) The Kids First Science Laboratory Experiment Kit is perfect for kids that have a natural curiosity to explore and learn about the world around them through experimentation and observation. What a fun way to play!

18) Every year we use the Butterfly Garden Gift Set to grow live butterflies! It is a favorite time of year when this happens and every year every butterfly has built it's cocoon and grown into a beautiful butterfly! We re-use the habitat every year and just have to order a cup or two of the butterfly larva. So the expense if much less in the years after the first purchase.
19) My 5 year old is literately begging for a Marble Run Set this year! We had one in the preschool classroom and it was the most popular toy each and every day! What's not to love?? You build towers a million different ways and you watch a marble run down it when your done. Fantastic fun!
20) Thames & Kosmos Little Labs Stepping into Science is another awesome science starter kit. Lean, discover, investigate and understand while you play with tons of different objects to learn from.
I hope you enjoyed this list of preschool stem toys! Maybe it will help you choose the best toy for your child this year. So much fun to be had while learning about science, technology, engineering and math!
Enter your email below for more future posts at Domestic Mommyhood! 
This post may contain affiliate links. Your cost is the same, but it helps support the site and keep our freebies FREE! Thanks for your support!