I don't know about you but when it comes to Christmas stocking ideas there are times that I am at a loss. Many years I have looked at the Christmas stocking and wondered how in the world did I spend THAT MUCH!! It can add up very quickly if you are not careful. Something that works well for me is doing all of the stocking stuffer shopping in one trip. That way I can keep track of what I am spending instead of picking up an item here and there. It seems to end up costing less when I do it all at once.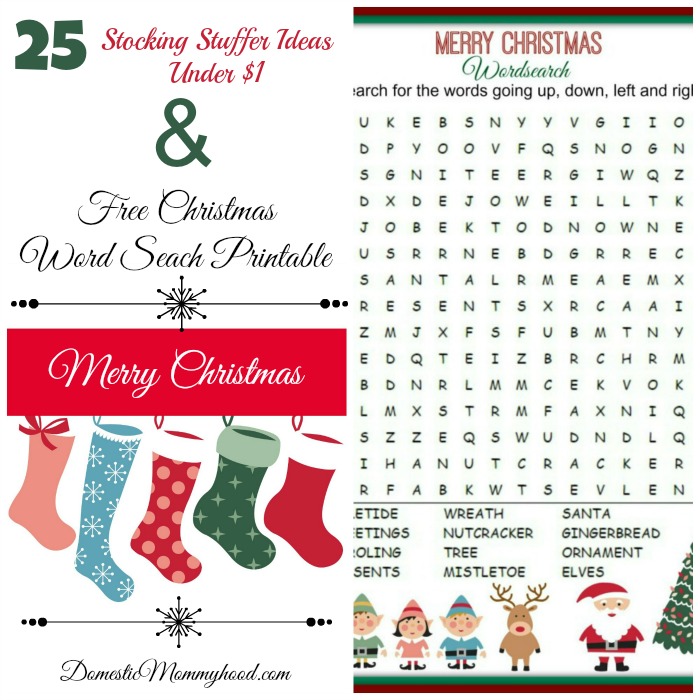 Here are 25 Stocking Stuffer Ideas that you can find for under $1. Many of them can be found at your local Dollar Store. I have also included a Free Christmas Word Search Printable to keep your children busy while you shop! If your sneaky enough they may not even realize what it going on!
Scroll all the way to the bottom to find your Free Christmas Word Search Printable!
25 $1 or Less Stocking Stuffer Ideas
1. Hand Sanitizer
2. Travel Size Tissue
3. Chewing Gum
4. Mini Notebook
5. Holiday Pencils
6. Holiday Erasers
7. Travel Size Lotion
8. Coloring Books
9. Candy Bars
10. Chapstick
11. Socks
12. Hair accessories
13. Nail Polish
14. Nail Files
15. Miniature Toy Cars
16. Playing Cards
17. Mini Washi Tape Rolls
18. Crayons
19. Chalk
20. Bubbles
21. Stickers
22. Key Chains
23. Snack Size Chips, Crackers, Cookies
24. Assorted Kid's Craft Supplies
25. Night Lights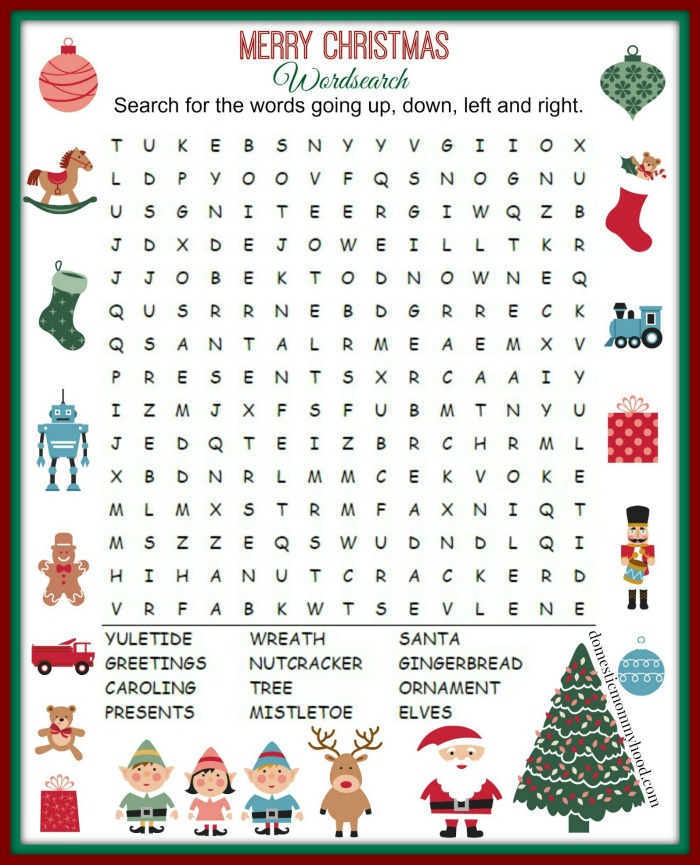 Don't forget to print off your free Christmas Word Search Printable to keep your kiddos busy while you shop! You can even print one off for all the kids to complete on Christmas day while your are cooking dinner!
Enter your email below for more future posts at Domestic Mommyhood! 
This post may contain affiliate links. Your cost is the same, but it helps support the site and keep our freebies FREE! Thanks for your support!