Children develop from inward out. To hlep them do gross motor skills they first need to learn their find motor development. In other words… to learn to throw a ball they first need to be able to hold a small item in their hand and place it into a small opening.
Learning their fine motor development will help them later be able to stack blocks, screw on caps, write words and cut things more easily. Learning to manipulate things in a more controlled fashion will help them throughout their life.  It is important as adults to help your children learn their small motor development to succeed later in life.
There are many free ways to help encourage small motor development with items at home. Here are a few ideas for you to try with your little ones.
Scissor cutting (start small with just drawing a line onto paper and having them try to cut along the line. When this is mastered you may then have them try to cut a curved line that you have drawn on paper for them).
Use tweezers or tongs to pick up small items and place them into a muffin tin. (cotton balls are a good example).
Save an old milk jug and have you child put clothes pins inside the milk jug.
Have 2 cups sitting side by side and have your child move a drinking straw from one to the other.
These may seem like simple tasks but to a small child they are actually reaching a milestone each and every time they learn something new. You can turn these tasks into small games for them. Trust me, they will enjoy it and be proud of their accomplishments.
There are many toys on the market that will help your child with their small motor development. Here are a few of my child's favorites below.
Lauri Tall-Stacker Pegs & Pegboard Set by Lauri
Use your imagination to build colorful designs!

Place pegs in the 36-hole pegboard and build up and out!

Play & Learn: color sorting and matching, adding and subtracting, counting, fine motor skills

Perfect beginning construction set for little hands because it's fun and educational; for ages 2 and up

Includes 25 Tall-Stacker Pegs, Lauri Crepe Rubber 8″ Pegboard, Activity Guide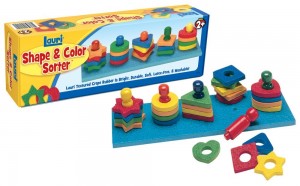 Lauri Shape & Color Sorter by Lauri 
Using the wood pegs and crepe rubber shapes, children can practice color and shape recognition, matching and sorting!

It's an educational toy that will entertain preschoolers and offer years of safe, quiet play!

For ages 2 and up

Includes 11.5″ Lauri crepe rubber sorting board, 5 Wooden Pegs, 25 Lauri Crepe Rubber Shapes (5 of Each Color), Activity Guide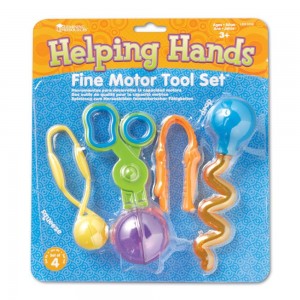 Learning Resources Helping Hands Fine Motor Tool Set
Builds fine-motor skills

Strengthens hand muscles for writing

Ages 3+/Grades PreK+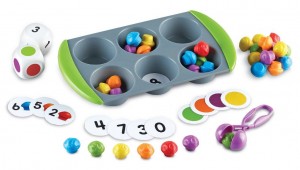 Learning Resources Mini Muffin Match Up
Different sorting-circle inserts boost color recognition, matching, sorting, counting, and early math skills

Included dice feature colors and numbers (0-6) allowing for group activities and game play

Muffin pan measures 10″L x 51/2″H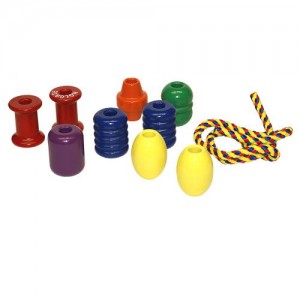 Jumbo Lacing Beads by Holgate
Made in the USA.

A Classic Holgate toy first introduced in 1948.

Set includes 9 beads in bright, non-toxic colors and one 28″ cord.

Selected by Parents Magazine as Best Toy.

Made of 100% natural kiln dried hardwoods and non-toxic paints.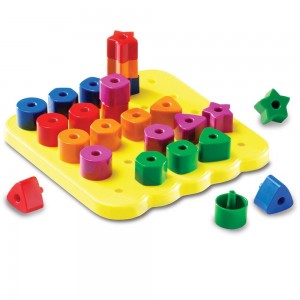 Learning Resources Stacking Shapes Peg Board by Learning Resources 
Five shapes including square, circle, triangle, star and hexagon come in 5 colors

Large sized pegs for small hands to handle

For ages 3-5years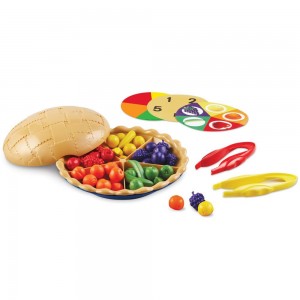 Learning Resources Super Sorting Pie 
Standard Packaging: this version comes in the traditional retail box. The perfect gift!

Teaches early number skills and attributes by providing visual cues that support student success

Top crust becomes a bowl to conveniently hold counters

Includes 60 counters (7 fruits in 5 different colors), durable plastic pie, removable divider, 3 double-sided sorting cards, 2 jumbo tweezers and activity guide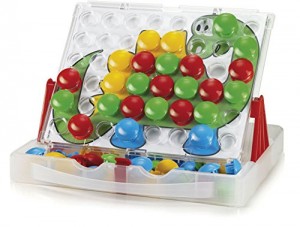 Quercetti Fantacolor Junior Pegboard Set 
Create works of art with easy to follow images

Pictures slide in behind the pegboard

Match the colored peg with the color on the image

Comes with 48 pegs and 16 images

For ages 2 years and up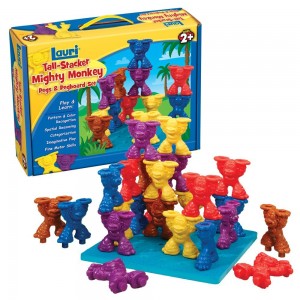 Lauri Toys Tall-Stacker Mighty Monkey Pegs and Pegboard Set
Play and Learn Pattern and Color Recognition, Spatial Reasoning, Categorization, Imaginative Play and Fine Motor Skills

Contents: 25 Tall-Stacker Mighty Monkey Pegs, Lauri Crepe Rubber Pegboard, and an Activity Guide

The Lauri Crepe Rubber is Bright, Durable, Sofe, Latex-Free and Washable

The Lauri Logo Stands for Quality, Fun and Family-Friendly Value

The Mighty Monkey Pages Play Perfectly With All Tall-Stacker Pegs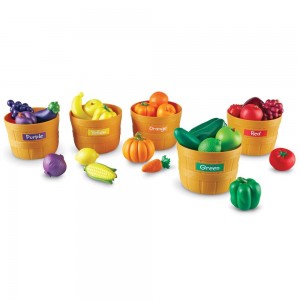 Learning Resources Farmers Market Color Sorting Set
Sort and sell bushels of realistic produce! Perfect for dramatic play and nutritions lessons too

Includes Activity Guide 25 foods and stickers for labeling 5 baskets (red, yellow, orange, green and purple)

Baskets measure 4″ x 5.5″ in diameter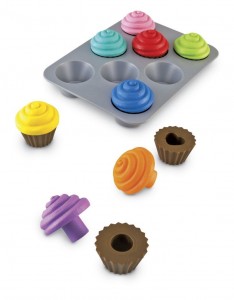 Learning Resources Smart Snacks Shape Sorting Cupcakes
A delicious way to encourage shape and color identification and build fine motor skills

These 8 two-part cupcakes pull apart to reveal a circle, square, triangle, rectangle, oval, hexagon, star and heart

Match the shapes to put them back together; Then match the shape to the pan bottom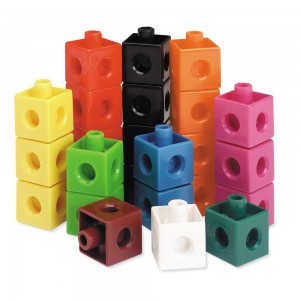 Easy for little hands to connect and twist apart

Set includes an Activity Guide

Set of 100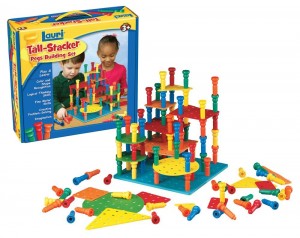 Lauri Tall-Stacker Pegs Building Set
Use your imagination to build large, tall 3D creations!

Start with the 100-hole crepe rubber pegboard and build up using the pegs and tower mats

Play & Learn: color and shape recognition, logical thinking skills, fine motor skills, creative problem-solving, imagination

Perfect beginning construction set for little hands because it's fun and educational; for ages 3 and up

Includes 100 Tall-Stacker Pegs, Lauri Crepe Rubber 11.5″ Pegboard, 17 Lauri Crepe Rubber Tower Mats, Activity Guide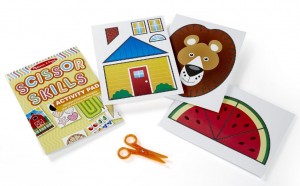 Melissa & Doug Scissor Skills Activity Pad
Paper-cutting project book with pre-printed activity pages

Includes 20 activity pages

Includes plastic safety scissors that naturally encourage proper form

Includes mazes, puzzles, animal art, sequencing activities and much more

Encourages fine motor skills and cognitive skills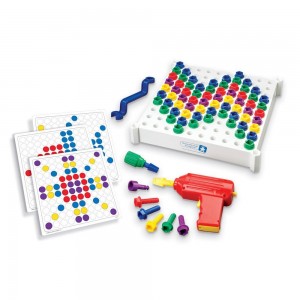 Educational Insights Design & Drill Activity Center
Standard Packaging: this version comes in the traditional retail box. The perfect gift!  

Builds coordination, imagination, creative thinking and fine motor skills

Features 20 Activity Cards with design ideas children can follow for an additional color-matching challenge

Includes plastic bolts, a reversible power drill, a screwdriver, 3 drill bits,a combination wrench and activity board

Requires 3 AA batteries (not included)
Enter your email below for more future posts at Domestic Mommyhood! 
This post may contain affiliate links. Your cost is the same, but it helps support the site and keep our freebies FREE! Thanks for your support!