Is your mud room looking a little rough these days? Maybe shoes and personal items are out of whack. Check out these 5 organizational tips to get your mud room under control.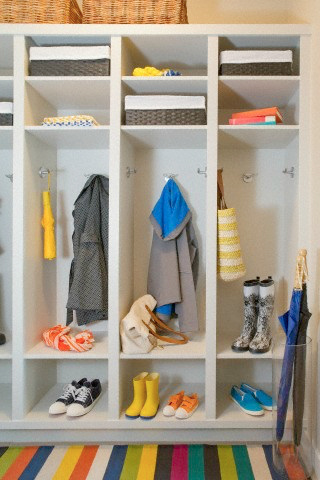 Organizational Tips for Your Mud Room
#1. Hang it up
One way to make your mudroom look fantastic is to hang items up. You probably have more than enough room on your walls for hooks. Spend time hanging up hooks and start organizing away. You will be pleased with the way your mud room looks after this small organizational transformation.
#2. Create a bench
There are so many things you can do with a bench in your mud room. The bench makes a place to sit available, as well as storage underneath. You can actually build your own bench or have one custom made for your mud room. Try to find some cheap wood to complete this project with, sand, prime, paint, and sit!
#3. Make it stylish
You can have an organized mud room and still make it stylish. In fact, part of organizing the room can be part of the style. Be choosy about what types of organizational products you want in your room. Go for bright colors, fun shapes, and unique pieces.
#4. Utilize the space
One of the best ideas for organizing a mud room is to make things work in two ways. The bench mentioned above is one good example, but also make a purpose for every inch of space in your mudroom. Make shelves higher, so that you have more room for things on the floor. Make a table for on top of the washer and dryer, this will help you utilize that empty space. It's also wise to not place junk within drawers and cabinets. Make the mudroom a no junk space.
#5. Baskets and bins
You may have a lot of shelves in your mudroom already, but one way to make things just a little more organized is to use bins and baskets. I love this idea because you don't need to have a specific kind of basket, use baskets of all shapes and sizes. Baskets and bins make it easy to hide your items, but to also pull down when you need something quickly. They're also perfect for carrying around the house to help make organization a little handier.
Making your mud room functional and organized will make you happy. The mud room doesn't need to be extravagant or expensive, but having it organized and well put together will help entering and leaving the home a little faster and fun.
Enter your email below for more future posts at Domestic Mommyhood! 
This post may contain affiliate links. Your cost is the same, but it helps support the site and keep our freebies FREE! Thanks for your support!