From the time your child is first starting to eat you will have fun with airplanes. It seems every parent starts feeding their child by either using the airplane or choo choo method and we all love them to have a healthy kids snack anytime we can.
If you have a toddler in the house you don't want to miss how to make healthy snack Tot Pouches that I have here on the blog. It is so simple to do and saves you loads of money!
I have mixed together a fun airplane theme and a healthy kids snack with this super delicious banana airplane snack! Both my kids loved it at home and the Pre-k children went nuts, especially since we all worked together during cooking time and then were able to enjoy eating it right then and there. Both home and at school the Banana Airplane healthy kids snack were gobbled up and the kids were left smiling and so was I!
It's simple and easy and good for your kids. Please enjoy 🙂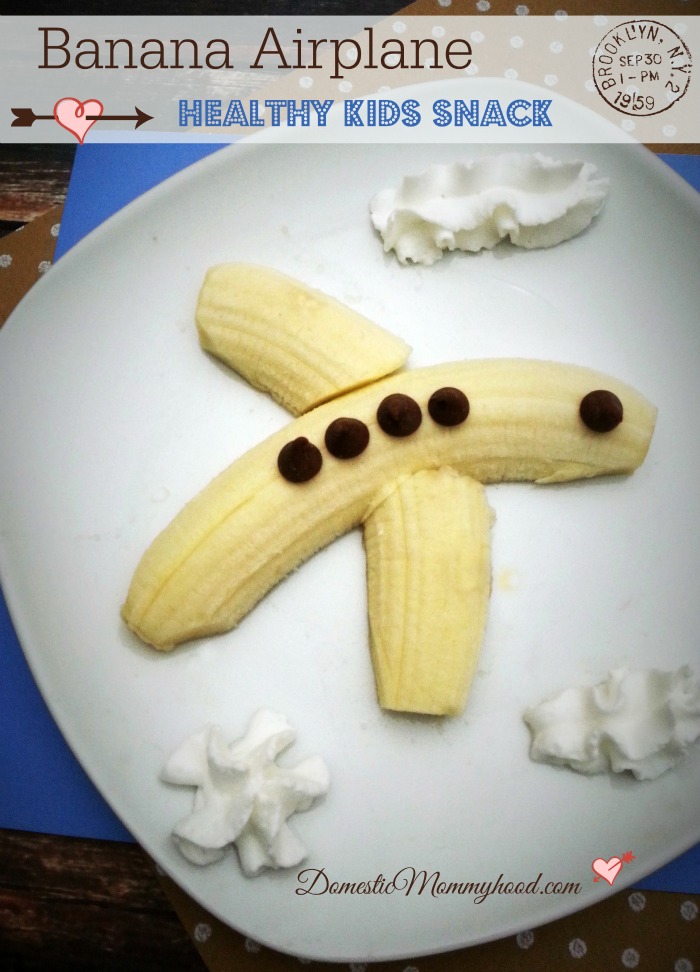 Ingredients:
1 banana
5-6 Chocolate chips
Reddi Whip
Directions:
Holding the curved part of the banana towards you, slice banana in half lengthwise (so it will lay flat on the plate)
Take the peels off each slice
Lay one half of the banana on the plate, flat side down
Cut the other banana half in half (for the wings)
Place on each side of the big banana half
Add chocolate chips for the windows
Add Reddi Whip for clouds
Enjoy
 Here are some fantastic books if your child loves airplanes!
I hope you enjoy today's Healthy Kids Snack Recipe! What are some healthy snacks that you enjoy at your house??
Enter your email below for more future posts at Domestic Mommyhood! 
This post may contain affiliate links. Your cost is the same, but it helps support the site and keep our freebies FREE! Thanks for your support!