Fall and Thanksgiving time is the perfect time to do some corn cob painting. This great kids activity is fun for the kids and can be fun for you too. Really…….. pick one up and try it for yourself! We use field corn for this activity and then we also serve sweet corn for dinner so we can explain the difference to the kiddos. 🙂 Grab your kids and belly up to the art table for some corn cob painting fun!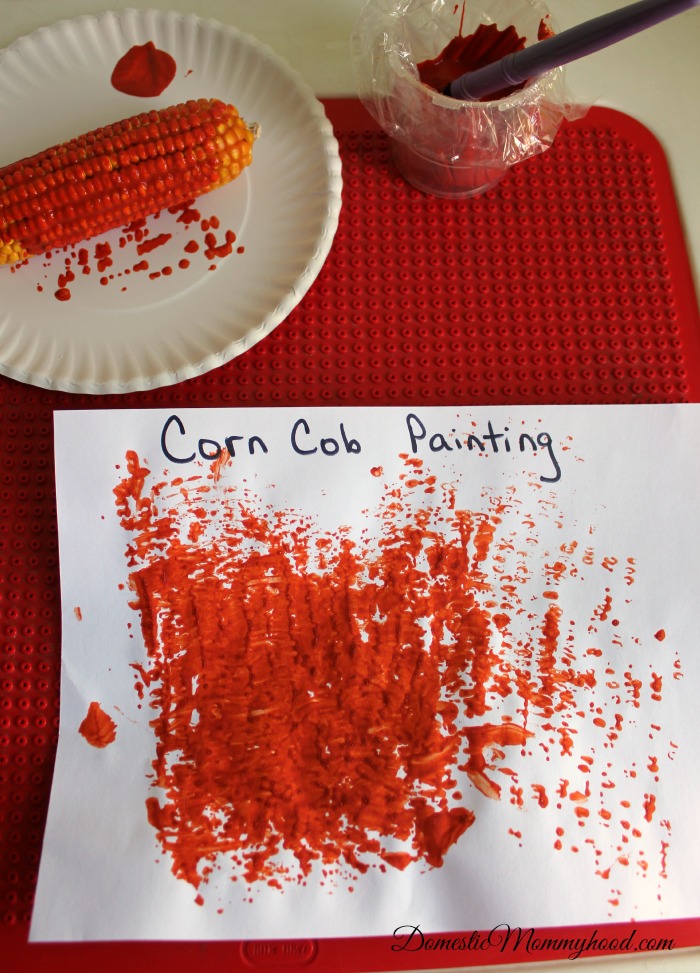 Items Needed:
Paper Plates (to hold messy corn cobs)
Ears of Corn with Kernels Still On
Paint
Paper
Paintbrush
Small Cup or Bowl to Hold Paint
Directions:
Have your child paint the corn cob while it's on the paper plate. Older children can balance it on one end while painting up and down on the kernels. Younger children may do better rolling the cob into the paint on the paper plate.
Have them place the corn cob onto the paper and roll it back and forth to make a very interesting pattern. You can have your child paint with multiple colors using a knew cob for each color. This is a great way to encourage making different colors by mixing them.
Learning Benefits of Corn Cob Painting
Fine Motor Skills
Experimentation
Creative Expression
Imagination
Colors
Color Mixing
After you complete your corn cob painting make sure you clean off the cob and prepare for another kids activity of shucking corn. We save this for later in the week. We don't want to overwhelm them by doing to much in one day.
Have you ever made a corn cob painting before?
Enter your email below for more future posts at Domestic Mommyhood! 
This post may contain affiliate links. Your cost is the same, but it helps support the site and keep our freebies FREE! Thanks for your support!