My mom came up to visit last week and brought a ton of fantastic peaches and I decided it was time to put together a Classic Peach Pie for everyone to enjoy! The weather is atrociously hot so we are stuck inside most of the day. My hubbie was just a little upset that we didn't have any ice cream to go with the classic peach pie but he survived!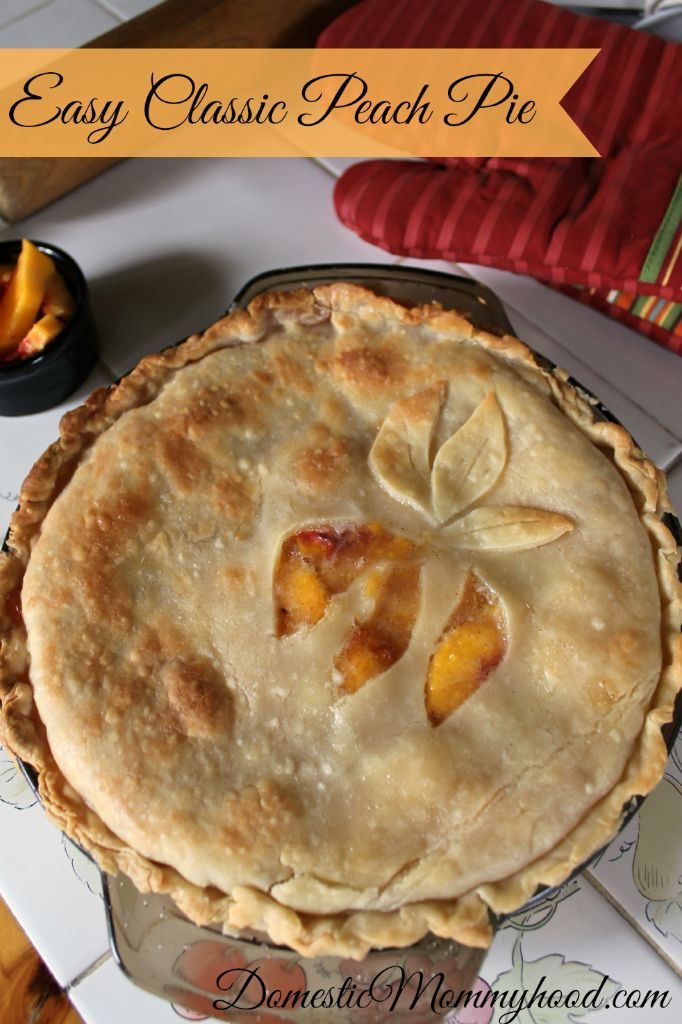 Classic Peach Pie Recipe
Ingredients:
Double 9 inch Pie Crust (we used the ones from the store but you could make your own if you would like)
5 Cups Fresh Peaches, Peeled and Sliced
1 Cup Sugar
1/2 Cup All- Purpose Flour
1/2 Tsp. Cinnamon
4 Tablespoons Butter
2 Tablespoons Sugar (for the top)
Directions:
Pre-heat your oven to 425 degrees F.
Spray bottom and sides of your 9 inch pie pan with pam cooking spray.
Sift together your flour, 1 cup sugar and cinnamon in a large bowl and set aside.
Slice and peel peaches and add them to the dry ingredients and mix well.
Place the first pie crust into your pie pan.
Pour in your peach filling mixture into your pie pan.
Add on the top pie crust, crimp edges and cut slits into the top to vent.
Cover the edges of the pie with foil to keep it from burning around the edges. Pull off the aluminum foil during the last 15 minutes of baking.
Bake 35 to 45 minutes until the crust is browned and the juices begin to bubble.
Enter your email below for more future posts at Domestic Mommyhood! 
This post may contain affiliate links. Your cost is the same, but it helps support the site and keep our freebies FREE! Thanks for your support!