Dinosaurs are all the rage with our Pre-K class so we decided to suprise them and make these super cool Easy to Make Dinosaur Marshmallow Pops and the kids just had a blast! We try to spend time every week on baking, cooking or creating in the kitchen. These would be perfect for a Dinosaur themed birthday party or sleepover. Enjoy 🙂
Ingredients:
1 bag green Wilton Candy Melts
1 bag large marshmallows
1 bag chocolate chips
Chocolate Sandwich Cookies (like Oreos) finely crushed (you'll need 1 cookie for every 5-10 marshmallows)
Paper Straws or Candy Sticks
Empty Cereal Box for Drying Pops (optional)
Directions:
Laying your cereal box on it's side, use a sharp utility knife to cut small "x" marks in the box about 3″ apart. Think of the "x" you see in the lid of a soft drink cup from a fast food restaurant. That's what you want to create to hold your pops while they dry. Stick a pen through your "x" marks to open the space if the cardboard is too stiff. This will be especially helpful if you use thicker straws. Sticks may poke through the box just fine. So test one out before you make the holes too big with a pen!
Place a marshmallow onto a clean counter top. Shove (seriously, use your muscles) a paper straw or candy stick in the center of a marshmallow. I press mine all the way down until I feel it hit the counter. It will squish but pop back out within a few minutes. I do not go all the way through the marshmallow.
I work with about 4-6 marshmallows at a time, because I find that I'm not quick enough and my chocolate is always hardening!
Melt about 1/4 cup of green candy melts in the microwave. In a separate bowl, melt 1/4 cup of chocolate chips. Stir until all lumps are gone and both bowls are smooth.
Place 1-2 dollops of melted chocolate chips into the green candy melts and mix a few times but not a lot, just enough to begin the swirl. You will continue the swirl when you dip your marshmallow in the mix.
Grab a marshmallow and dip it into the green and brown candy mix and swirl the chocolate around the marshmallow. Scrape off excess or let it drip. Sprinkle with crushed cookies.
Place sticks into the pre-made cardboard drying area and let harden.
Serve at your next dinosaur party! Or, store in an airtight container.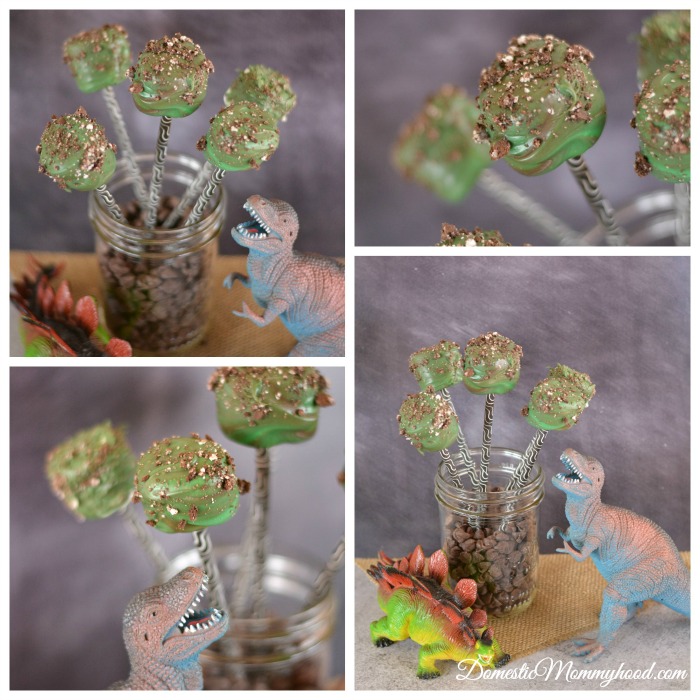 Enter your email below for more future posts at Domestic Mommyhood! 
This post may contain affiliate links. Your cost is the same, but it helps support the site and keep our freebies FREE! Thanks for your support!