Carving a pumpkin is done in many homes across the United States but did you know that you can turn your pumpkin carving time into an educational lesson? There are many teachable moments that pass by you throughout the day, you just need to know how to identify them and use them to teach your children.
Now it's time to gather up your kids and get ready for a pumpkin of a good time!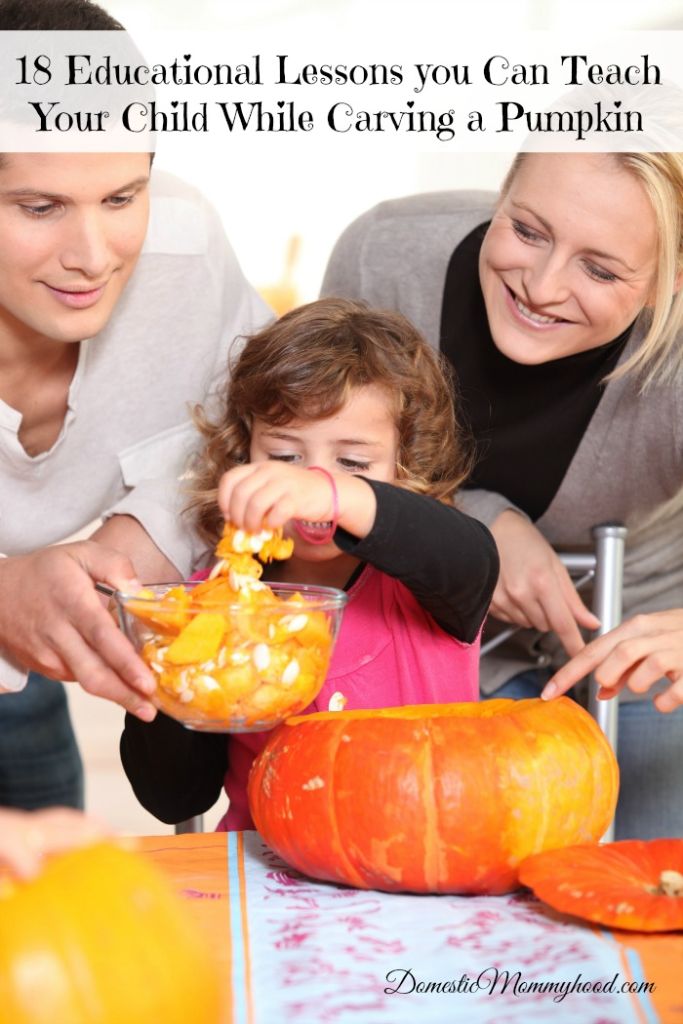 Before Carving
Talk to your child about the color of the pumpkin. (Explain that there are different colors of pumpkins and that some are for eating and some are for display)
Then grab your scale and weight the pumpkin.
How does the pumpkin feel on the outside? Does it feel smooth and hard? (great for sensory)
Talk about what you will find inside the pumpkin when you cut it.
Have them guess how many seeds are in there. How many cups of goo are inside.
While Carving the Pumpkin
Let them reach their hands inside. What does the goo feel like? Can they feel the seeds?
Have them dig the goo out. How many cups of goo are inside (weight and measures)?
Have them separate the seeds from the goo. Is it hard to separate?? Ask them why.
How many seeds are in the pumpkin? Does it equal a cup full or two?
Begin talking to them about the seeds. What can you do with them. Explain that you can cook them to eat or plant them to make more pumpkins.
Do they know that pumpkins grow in patches on the ground not on a tree like an apple??
After they get all the goo out does the pumpkin weigh more or less?
How much does the goo weight? How about the seeds?
What does the inside of a pumpkin feel like after everything is scraped out?
What does it smell like?
Have them draw shapes on the pumpkin for you to carve out. You can use a half circle for the mouth, full circle for the nose and trangles for the eyes. (Save the cut out pieces for another project later)
After Carving the Pumpkin
Take the pieces that you saved from making the eyes nose and mouth. Take a piece of paper and some paint and have your child dip the shape pieces from the eyes, nose and mouth and use them as stamps to create a picture.
Take your seeds and make a great snack out of them.

Here are a few roasted pumpkin seeds recipes over at ThreeLoudKids.com for you to try! 
You may want to hop over and print off my Free Halloween Pack Printables if you have a Pre-K child in the household (great educational lessons) or stop by and see my recommendations for 15 Educational toys for Thanksgiving.
I would like to send a special thank you out to my best friend Laura who helped me compile this wonderful list of educational lessons!
There are plenty of educational lessons for you to try with your little ones while carving a pumpkin. What was their favorite activity?
Enter your email below for more future posts at Domestic Mommyhood! 
This post may contain affiliate links. Your cost is the same, but it helps support the site and keep our freebies FREE! Thanks for your support!