Halloween is right around the corner and it's time to start teaching the kids a little about Halloween safety before we send them out into the spooky world for a fun night of trick or treating! I have made this cute Halloween safety checklist with some rules that come straight from Mr. Pumpkin himself!
Feel free to print off as many copies as you want for all those special little trick or treater's in your life!
Click here to get your halloween safety checklist for your ghouls and boys!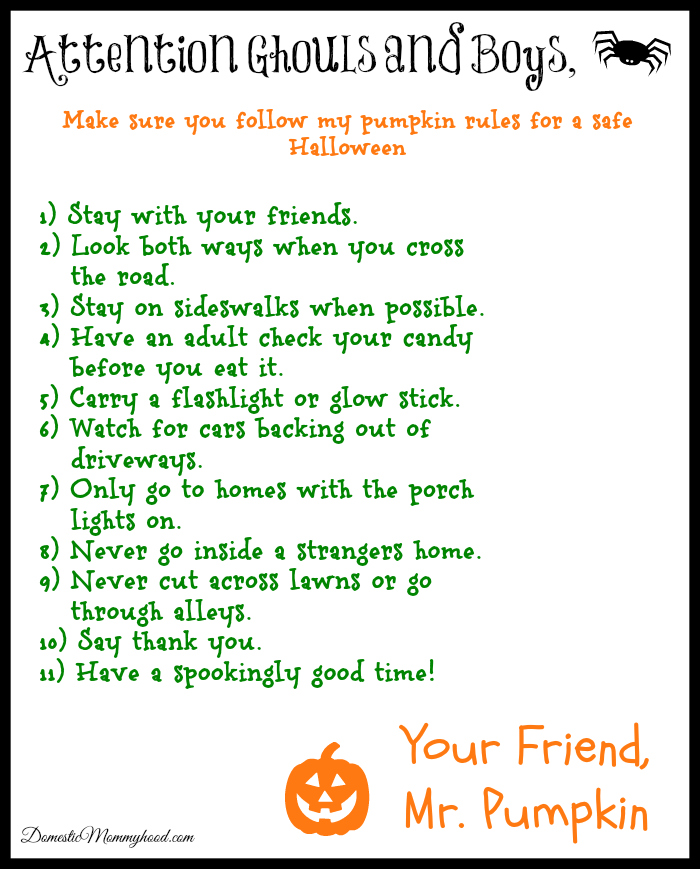 There are some Halloween safety tips that may help you get your children ready for Halloween too!
Avoid long costumes that could cause your little ones to trip.
Make sure shoes are snug and fit comfortably.
Choose bright colored costumes that are light in color or add reflective tape.
Make sure masks do not cover the eyes.
Make sure accessories are soft with no sharp edges.
Make sure Halloween bags are not to large to aid in carrying.
Inspect all candy thoroughly. (stay away from homemade treats unless you know who made them and throw all candy away that is not in it's original wrappers).
There are many Halloween Safety resources available online. Here are our favorites…

Don't Go Bump in the Night by RH Disney

Alphabet All-Stars: Be Safe This Halloween by Scott Gordon (free with KindleUnlimited)

Scaredy Squirrel Prepares for Halloween: A Safety Guide for Scaredies by Melanie Watt

We have also been playing some learning apps in our downtime. Here are a few of our favorites…

Math Bingo and Math Drills Challenge Learning Games (Pre-k -4th Grade)

Halloween Numbers Dot to Dot (Pre-k and up)

Halloween Learning Kids Games– Tons of different ways to learn on this one (Pre-K-1st Grade)
Halloween safety has sure changed over the years since I was a kid. My favorite treats were always the homemade popcorn balls and boy did I get a bunch of them. My neighborhood was a blast and we never had to worry about anything that was homemade but that was….. um let's say over 30 years ago. Things sure have changed since then.
Do you think Halloween Safety Checklists have changed since you were a kid?
Enter your email below for more future posts at Domestic Mommyhood! 
This post may contain affiliate links. Your cost is the same, but it helps support the site and keep our freebies FREE! Thanks for your support!