Are you looking for more easy dinner recipes??
As you all know, I love coming up with new Skillet Recipes to share with you on the blog! My Grandma always cooked in a Cast Iron Skillet and so do I! It's the pan with the seasonings build right in!! I just added this Cast Iron Skillet to my Christmas wish list!!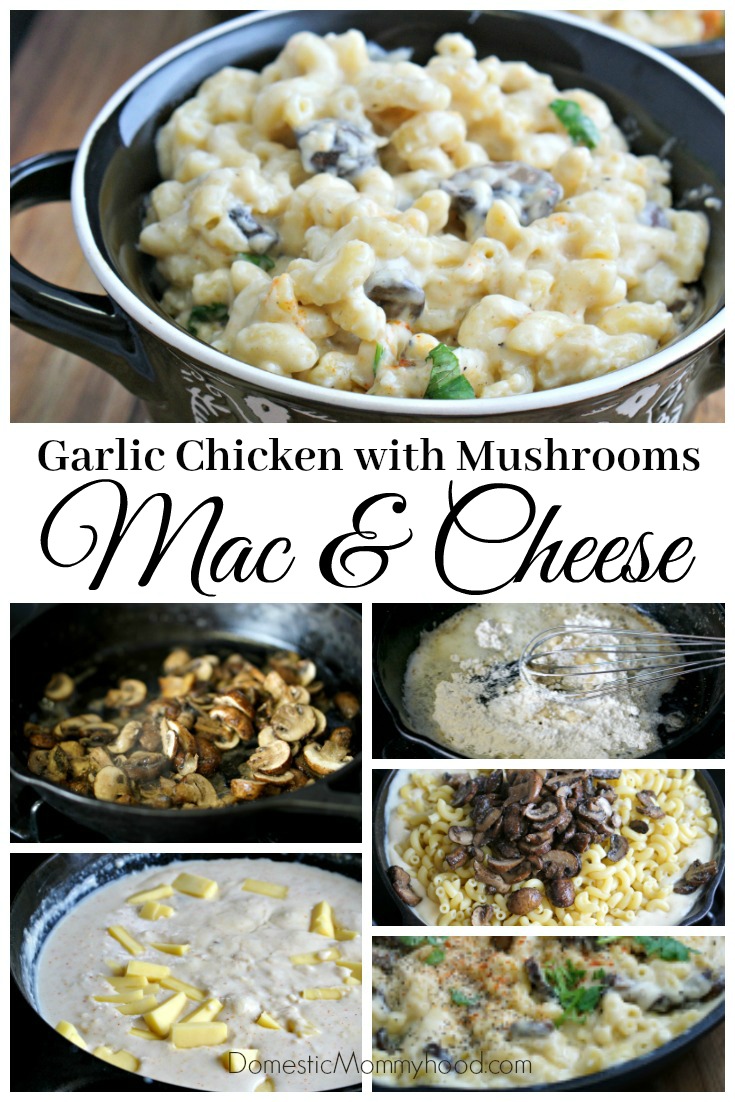 I am really picky when it comes to cooking in the kitchen. Here is the way it has to be.
Dinners have to be easy so I always try to use easy dinner recipes. (I'm a Mom, I don't have time for difficult)
I have a few must-have products to make my life easier. (I know you all know what I'm talking about!)
Here are my favorite products that I used on this meal…
Being in the kitchen is all about making it quick and having good products. Finding good pans is such a difficult thing to do. Inevitably you get them home and something goes wrong. They either warp, get scratched or worse yet…. burn the food. Grab the Pioneer Woman Cookware Set and you won't be sorry. Promise! 😉
Enough babbling about how to be happy in the kitchen!! Let's get on to the recipe folks! Here is one of my favorite easy dinner recipes!
Garlic Chicken with Mushrooms Macaroni and Cheese Skillet Recipe
Garlic Chicken with Mushrooms Macaroni and Cheese Skillet Recipe
Ingredients
3 cloves garlic, minced
4 tablespoons butter, divided
3 tablespoons flour
2 cups milk (whole works best)
1 tablespoon chopped thyme
1 teaspoon salt
? teaspoon cayenne pepper
? teaspoon black pepper
1 cup Gruyere cheese, cubed
8 ounces pasta (we used elbow mac)
Optional: breadcrumbs and cilantro
Instructions
Cook pasta according to package instructions. We boiled our elbow noodles for 9 minutes and they were perfect.
Saute mushrooms and garlic in 1 tablespoon butter for about 5 minutes. Remove from heat and set aside in a bowl.
In skillet, heat 3 tablespoons butter over medium heat. Add in flour, whisking constantly, cooking for about a minute. Add in milk, whisking constantly until it thickens. Add more flour if it doesn't thicken up within 5 minutes. Keep in lower heat as not to burn. Mix in thyme, salt, cayenne, and black pepper.
Remove from heat. Stir in cheese, cooked pasta, and mushroom garlic mixture. Top with breadcrumbs and cilantro.
http://domesticmommyhood.com/garlic-chicken-with-mushrooms-macaroni-and-cheese-skillet-recipe/
I hope you enjoyed the Garlic Chicken with Mushrooms Macaroni and Cheese Skillet Recipe. Make sure to sign up for my email updates to receive all my easy dinner recipes to your inbox!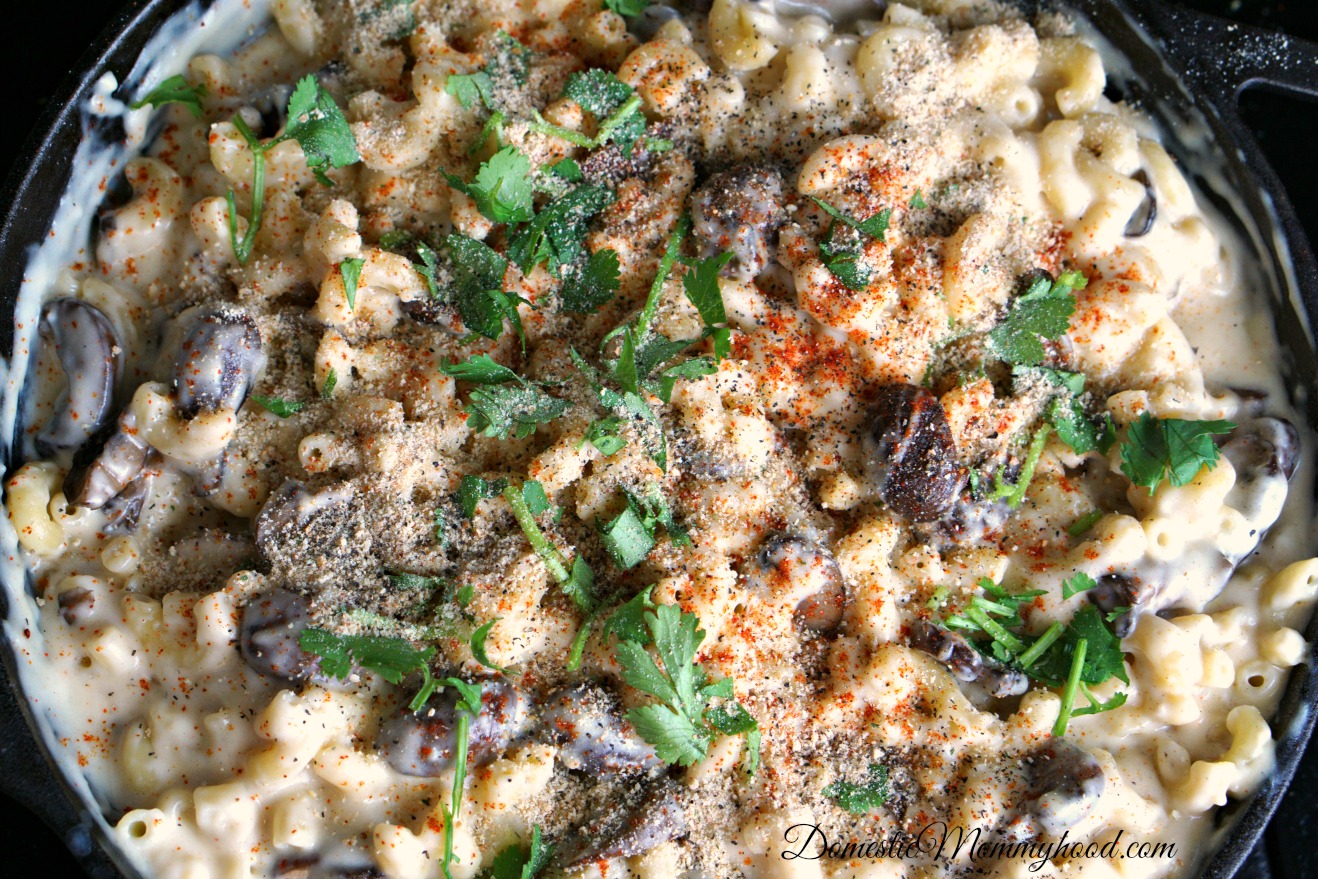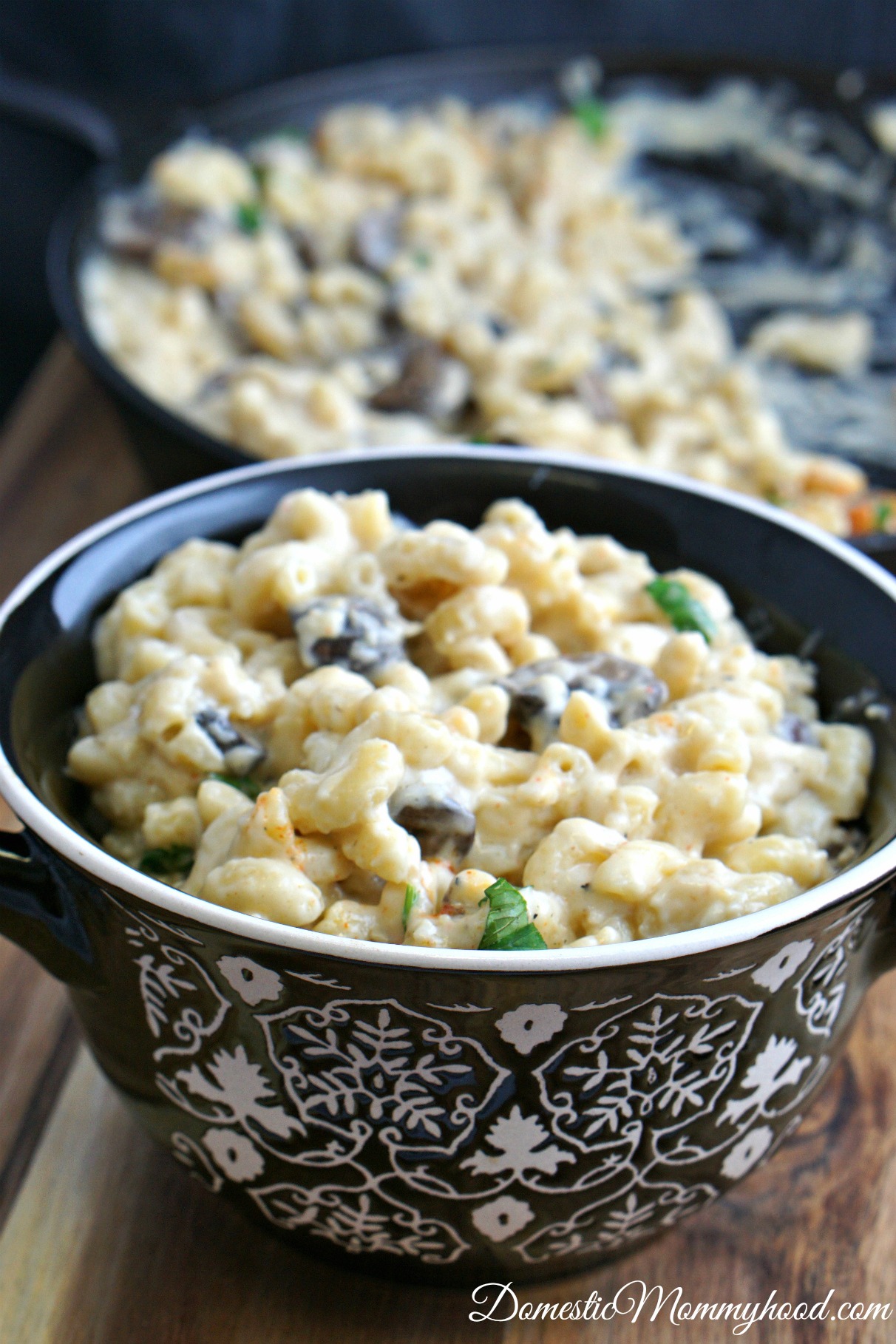 Enter your email below for more future posts at Domestic Mommyhood! 
This post may contain affiliate links. Your cost is the same, but it helps support the site and keep our freebies FREE! Thanks for your support!