Are you looking for a new PineCone Crafts for Kids project to make for the holiday season??
We love to save pinecones through the fall season and use them all year long! Don't worry if you forgot to grab pinecones you can grab some online! PineCone Crafts for Kids are an awesome way to bring the outside in through the long winter months ahead.
I found these while searching. 
I don't want you to miss out on these other awesome Christmas Crafts for Kids…..
Now onto our featured craft today.
PineCone Crafts for Kids for Christmas Ornament Craft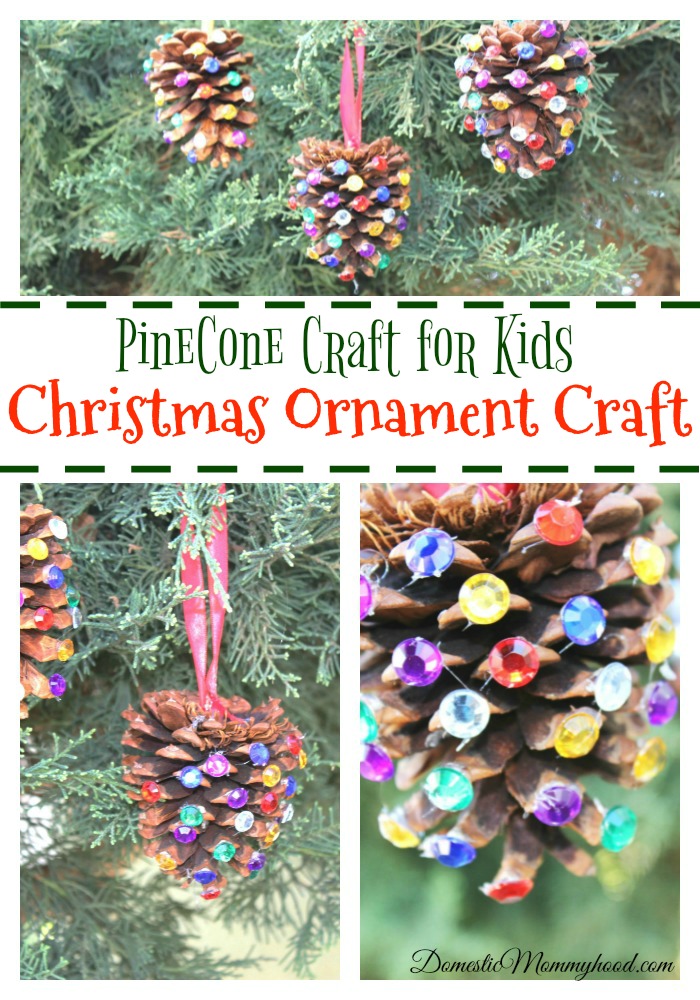 PineCone Crafts for Kids Christmas Ornament
Items Needed (Varies by Age)
PineCone Crafts for Kids
Directions:
Depending on your glue of choice either plug in your glue gun and wait for it to warm up or go ahead and dive right in if you have a young child and use theHot Glue Gun. I did try it using Elmer's glue but had a major problem keeping them on after the glue dried. That is why I prefer Aleen's.
Glue a rhinestone on each end of the stem sticking out from the pinecone. Go all the way around the pinecone (this is great practice for a younger child's small motor skills),
If you have used a hot glue gun (please make sure you monitor your older child, never use a hot glue gun with a younger child) you will just need to make sure the glue is dry before you move on to step 4. If you have used a child's type glue then set your project aside and wait for it to dry overnight.
I used about 6 inches of ribbon for each pinecone. Once you have your ribbon cut glue both ends to the bottom of the pinecone to use as a hanger for your ornament. This needs to have a good amount of glue and needs to dry completely before you try to hang them!
I found some really awesome PineCone Crafts for Kids Kits that you can order! They have some really cute ones on there.


Here are some of my favorite Christmas Books for Kids.



Enter your email below for more future posts at Domestic Mommyhood! 
This post may contain affiliate links. Your cost is the same, but it helps support the site and keep our freebies FREE! Thanks for your support!