Summer is in full swing and we have been coming up with recipes that don't require a stove!! I mean really…..it is so HOT HOT HOT out there. The grill is going nightly and so are the outdoor activities! Every night we head out after it starts to cool off and spend time swinging, catching lightning bugs and doing a little swimming with the kiddos. I try to have all the prep work done in advance when the hubbie gets home from work so we can get our dinner underway. 
I just threw this Herb, Garlic and Parmesan Kabob recipe together last week and thought you guys might want to give it a try. The meat was mouth watering and extremely tender and they only took just a bit to get ready and then of course… the hubbie took care of the rest!
 

Herb, Garlic and Parmesan Kabob Recipe

Ingredients
Stew Meat
Tuscan Garden Herb & Garlic Marinade (picked this up at Aldi)
Parmesan Cheese
Mushrooms
Tomato
Onion
Squash
Fresh Parsley
Skewer Sticks
Instructions
Begin by marinating your stew meat in the Tuscan Garden Herb and Garlic marinade. I put it in the fridge in the morning and let it sit all day but a couple hours would work also if you are pressed for time. I also added a little chopped fresh parsley for added color and flavor.
Chop all your fresh veggies that you have on hand into bite size pieces.
Assemble on your skewer sticks alternating through everything that you have.
Cook for approximately 2-3 minutes each side. Avoid over-flipping them. The time will depend on how hot your grill is and how big your chunks of stew meat are. Enjoy!
http://domesticmommyhood.com/herb-garlic-and-parmesan-kabob-recipe/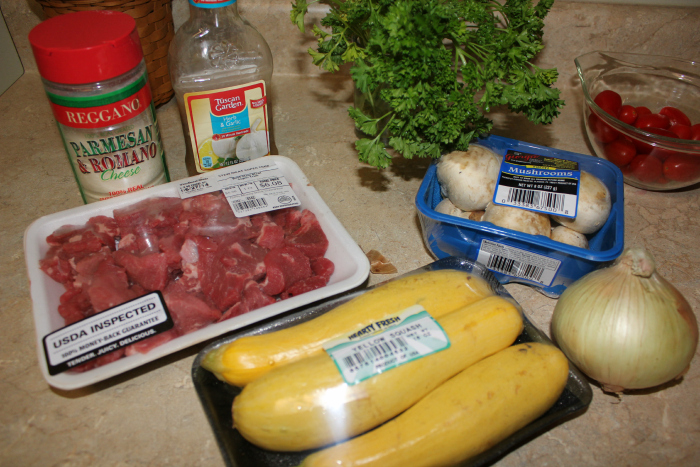 I hope you all have a great 4th of July!! What do you have on your menu for the 4th??
Enter your email below for more future posts at Domestic Mommyhood! 
This post may contain affiliate links. Your cost is the same, but it helps support the site and keep our freebies FREE! Thanks for your support!