The 4th of July is tomorrow and last night daddy had to go out and cut the grass. Well Charlee Ann screams every time to go out there with him and it's just not safe. I'm always afraid something is going to fly out from under the mower and get her!! That and she has allergies bad right now so fresh cut grass…..nah! So we decided to make some beautiful indoor fireworks to display when we go to Grandma Kitty's house this weekend!
Supplies:
Elmer's Glue
Glitter (any color will work but we used silver)
Red, white and blue construction paper (really any color will work, as you can see Charlee wanted green and orange also_
Small Rubbermaid container to contain some of the glitter when shaking
Directions: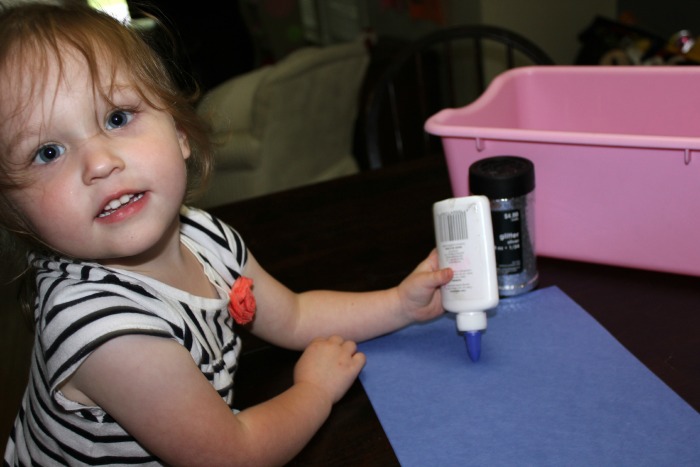 Have the kids squeeeeeeeze the glue out onto the construction paper. The older ones can make it look like a firework shape and the younger ones can just squeeze however they wish. Refrain from trying to force them into making it look like a firework. This is their project after all not yours! If you are crazy about making it look exactly right then make your own!!! Let the budding artist work however they wish to work.
Shake, shake, shake Senora, shake your body line
Shake, shake, shake Senora, shake it all the time
Work, work, work Senora, work your body line
Work, work, work Senora, work it all the time
My girl's name is Senora. I tell you friends I adore her……………..
 OK we got lost on youtube listening to the Jump in line off the Beatle Juice movie. ** Note I said listened because it is definitely not age appropriate for Charlee. 🙂 Now back to the project….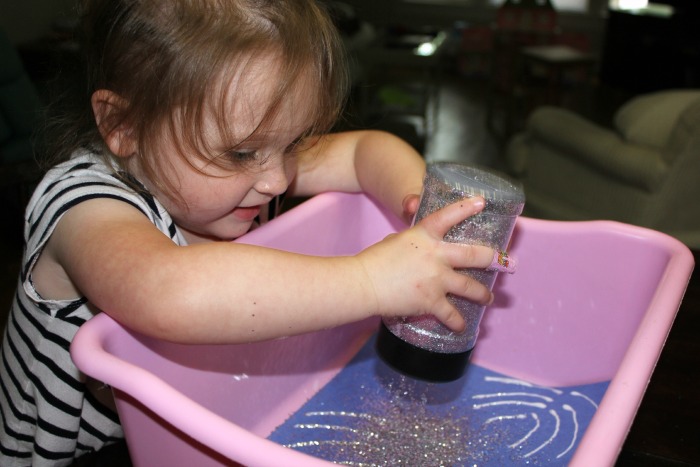 3) Have them shake the glitter over the glue that is already on the construction paper which you have placed inside the Rubbermaid container (*Please note that glitter will fly everywhere anyway…don't worry it will clean up). Now have them grab the edges of the container and shake the glitter around!! Let them reach in and feel the glitter! Have them try pinching the glitter and sprinkling it on top of the artwork. Tons of fun here I'm telling ya!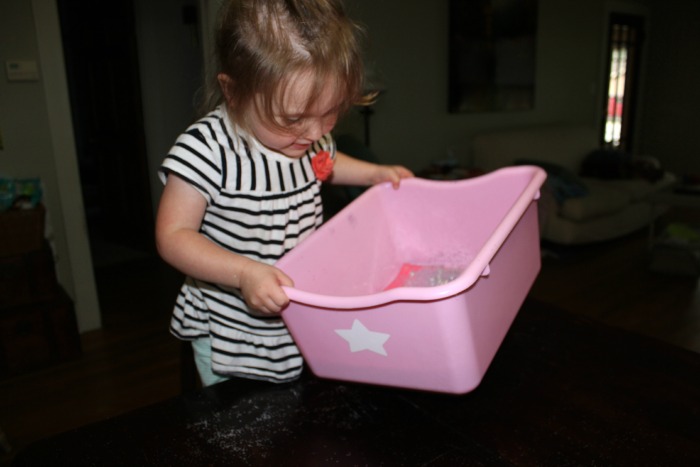 4) Now set your artwork aside until dry and display on the wall. Kids like to see their artwork on display. I hope you enjoyed the firework glitter art today and have a Great 4th Of July all!!
Enter your email below for more future posts at Domestic Mommyhood! 
This post may contain affiliate links. Your cost is the same, but it helps support the site and keep our freebies FREE! Thanks for your support!