I know you have seen the pictures flying around the internet with shapes inside of a cake. They are super cute and actually they are pretty easy to make if you know the secret. We decided to give it a whirl for Easter and the end result was success!!! Read on to see just how easy it is to make a shape inside of a cake. We used a simple pound cake recipe and found that it held together the best. Remember that you can put any shape inside of a cake so it will work well for any Holiday or special occasion.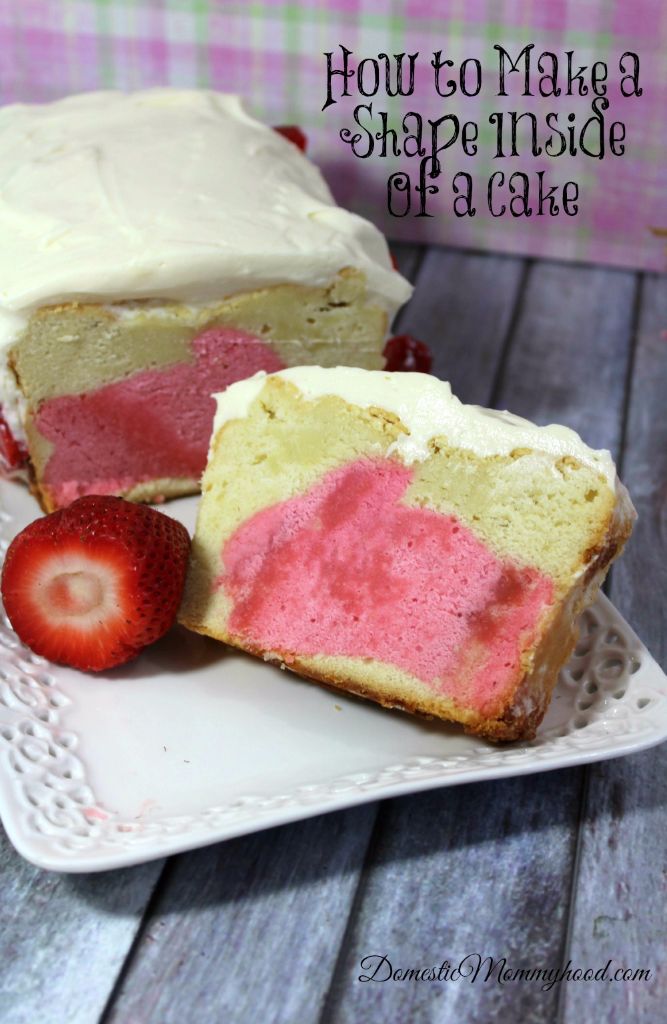 How to Make a Shape Inside of a Cake (pound cake style)
Ingredients:
1 lb softened butter
3 C sugar
6 large eggs
4 C  flour
3/4 C milk
1 tsp almond extract
1 tsp vanilla extract
Several droplets of pink food coloring.
Directions:
-Beat butter at med speed with an electric mixer until creamy. (Look for a  light yellow color.)
-This may take 1 to 7 minutes.
– add sugar, beating at medium speed until light and fluffy. (The butter will turn to a fluffy white.)
-Add eggs, 1 at a time, beating just until yellow yolk disappears.
-Next, add your flour to the creamed mixture. First the flour follow with your milk. 1 C of  flour to 1/4 C of milk ending with your last C of flour.
-Beat at a low speed after each addition.
-If lumps remain gently stir with a rubber spatula.
-Gently stir in the extracts.
-Divide your prepared batter in half.
-Add a few drops of pink food coloring to one half.
-Blend in the pink food coloring to ensure even coloring throughout the batter.
-Treat a medium size cookie sheet.
-Pour/spoon the pink tinted batter unto the prepared cookie sheet.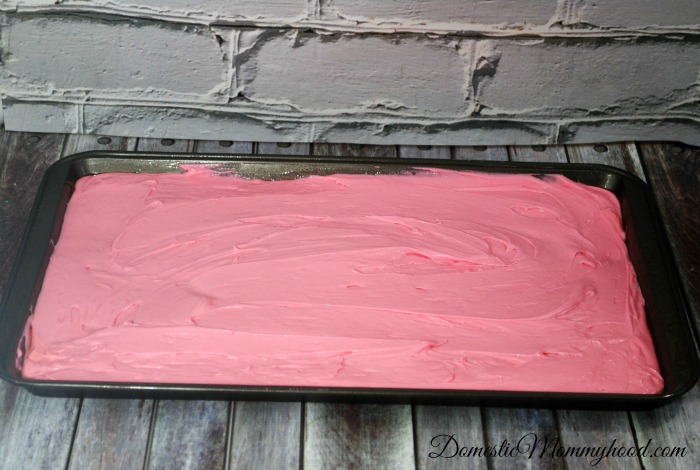 -Bake your batter on the cookie sheet for 1 hr.
-Test it with a toothpick to ensure that it is done.
-Set this aside to cool.
-Measure that your bunny cookie cutter fits within your loaf pan for height and width.
-After your pink batter has cooled use your  bunny cookie cutter to make your bunnies for your loaf pan.
-Treat your loaf pan with baking spray or grease and flour.
-Now pour about 1/3 of your batter into the bottom of your loaf pan.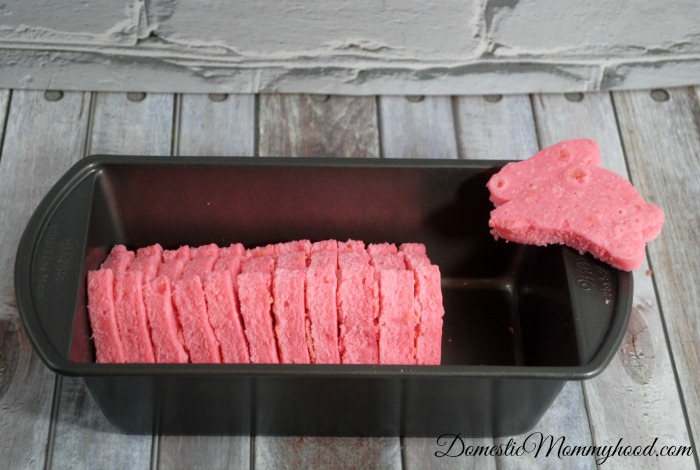 -Gently stand your bunnies in the middle of the loaf pan. Hold them steady until they will stand on their own.
– Gently fill the sides of the pan by spooning the batter into the pan.
-After the sides are filled gently spoon additional batter on top of your bunnies.
-Continue to spoon additional batter on top until it is even.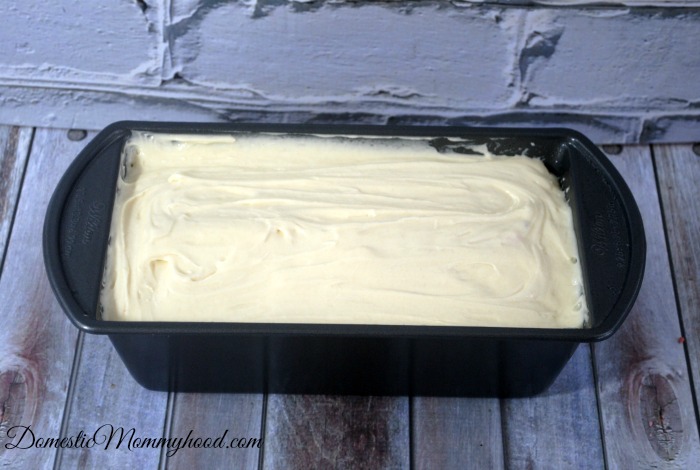 -Bake at 300 degrees for 1 hr and 40 min.
-Check to ensure that your loaf is done by inserting a toothpick.  If it comes out clean then your p0und cake is done.
-Cool on rack for 10-15 minutes.
_Remove from pan.
-If it is difficult to remove run your knife between the edges of the cake and pan to loosen.
-Cool on your wire rack until completely cooled.
Enter your email below for more future posts at Domestic Mommyhood! 
This post may contain affiliate links. Your cost is the same, but it helps support the site and keep our freebies FREE! Thanks for your support!