How to Make S'mores In the Oven
I know that you all are here to see just how you make these fantastic S'mores in the Oven but while you're here I don't want you to miss these other great fall recipes.
Check out this list of 25 S'mores Recipes that you won't want to miss!
Don't forget to check out these recipes! 
I have two recipes that are fantastic on the grill and it is the perfect time to get outdoors with the kiddos! Make sure you hop on over and check out my Sweet and Spicy Orange Marmalade Pork Chop Recipe, or my Cedar Plank Salmon Recipe! Both are to die for! This Glorious Apple Pie Cinnamon Rolls Recipe is heaven in your mouth.
Do you ever crave S'mores??
There are many times throughout the winter that I have a huge craving for S'mores and without a campfire what is a girl to do?? Well here is an easy recipe on how to make S'mores in the oven without a campfire!!
Doesn't that sound great!! 
Now I know that there is nothing better than a warm fire on a cool breezy night after a day full of fishing and outdoor fun but sometimes it's just not possible.
It's the middle of winter and I know that some of you may live in the city and not get the luxury of making your own campfire S'mores.
Read on to find out this quick and easy way to make S'mores in the Oven! 
Most importantly here is a wonderful way for you to bring some of the memories of camping into your own home by making your own S'mores in the oven and it's very easy to do.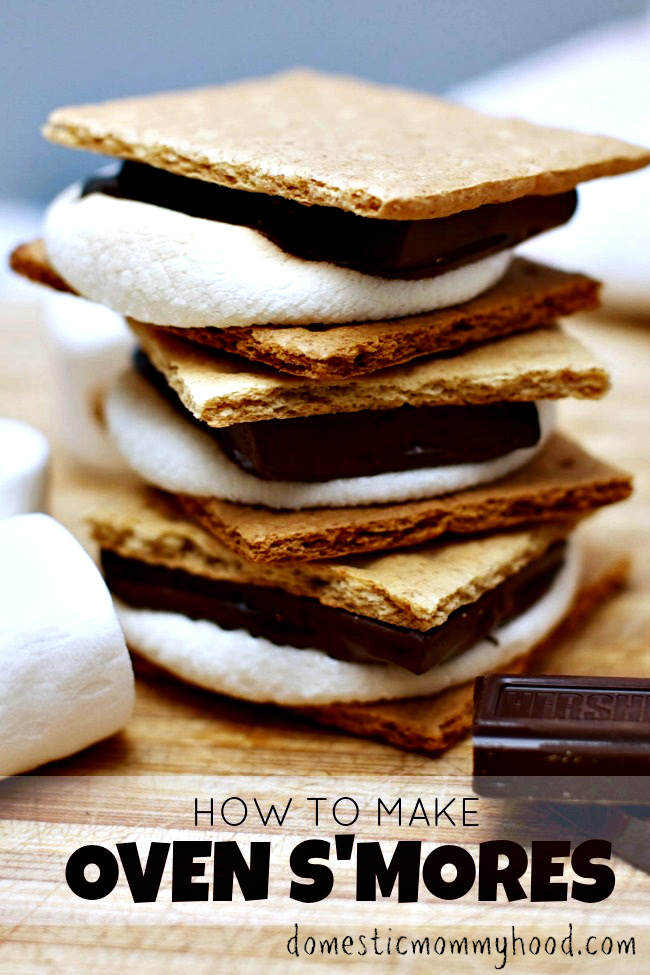 How to make S'mores in the Oven
Ingredients:
Graham Crackers
Bag of Marshmallows
One giant Hershey's bar or several smaller ones
Directions: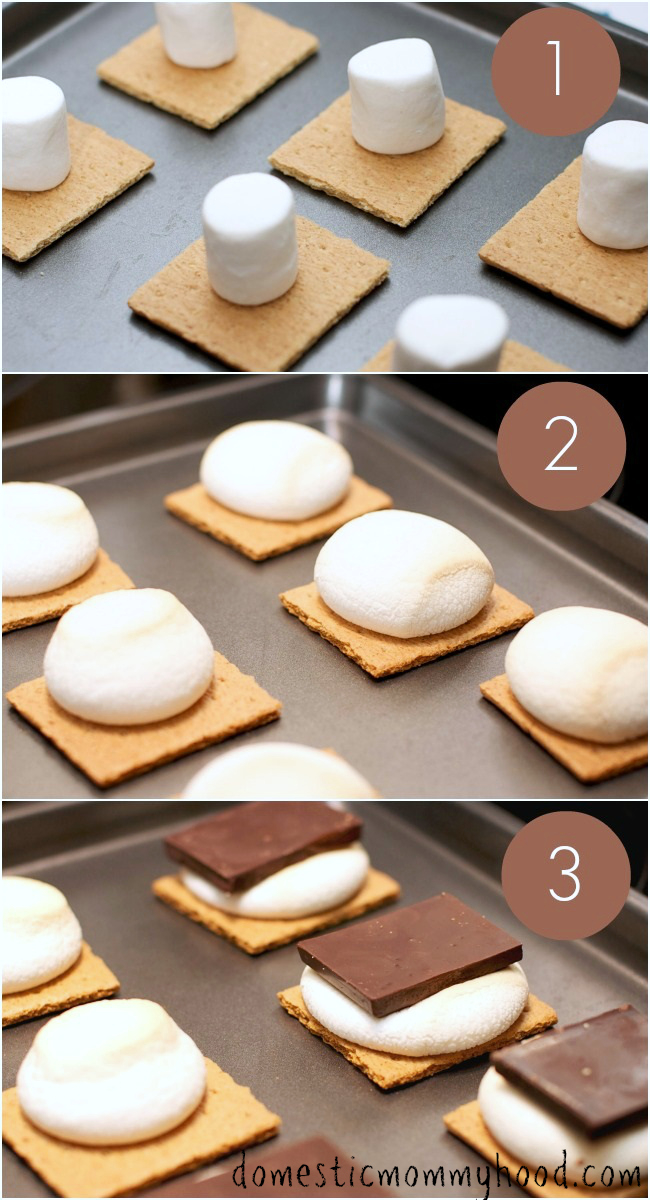 1) Preheat your oven to 450° F and grab out a baking sheet.
2) Break your graham crackers in half and place them a few inches apart. Place one marshmallow onto the top of each graham cracker and bake for 5 minutes or until golden brown.
3) Remove from oven and take a piece of chocolate about the size of the graham cracker and place on top of the marshmallow (be careful it will be very hot).
4) Top with another piece of graham cracker and let sit for 1-2 minutes until you start drooling all over the place! You will still want to be careful when you take your first bite making sure you don't burn yourself. Set back with your family and enjoy!
See there, now didn't I tell you that it was going to be easy!! Here are a few ideas to help you set the mood to have a fun night in with your family cooking S'mores in the oven.
**MUST SEE TIP**
If you are having trouble with your oven smores burning on your baking sheet, try using some parchment paper or baking matsa.
Tips for making an indoor camping night
 First of all, find a location for your indoor campsite – Find somewhere different than where you usually hang out. Maybe in a garage, basement, or spare room of your home.
 Secondly, Build a tent or fort– Grab some chairs or a table and throw a blanket over the top. Throw some pillows and blankets inside for your bed or just to kick back and relax on.
 You might also, Invite Family or Friends– Pick up the phone or send out some invites. It's even nice to make some homemade invites for your immediate family that you live with. Grab some crayons and construction paper and have the invites hanging on the front door when your kids get home from school.
Lastly, Plan some activities– Have some books and a flashlight in a basket. Grab some board games and maybe a small radio for some music. Gather all your supplies and have them ready for your S'mores.
Kids don't necessarily need you to spend a ton of money to make them happy. Use the how to make Smores in the oven recipe from above and spend some quality time with the kids. Your whole family will enjoy a nice quiet evening at home with each other and invited friends can make it even better. Make sure you give plenty of hugs and kisses to your kiddo's!
What fun "camping in" memories do you have that you have done at home with your family or friends?? Leave me a comment below so we can all share in the fun!
 Here are some great recipes I think you may like!

Enter your email below for more future posts at Domestic Mommyhood! 
This post may contain affiliate links. Your cost is the same, but it helps support the site and keep our freebies FREE! Thanks for your support!