Staying home with kids isn't EVERY mom's dream. Let's be honest. However, there are some moms out there who WANT to be a stay at home mom. They know (I know) that these minutes, hours, and days do not last forever. Moms that had small kids ten years ago are now watching them graduate from high school. These years are precious, let's not forget that. But there is this nagging voice in society, you need the best of everything, you need to have the best car, the biggest house, you need credit cards. It's always a "you need" society, but in reality it's what we want. What we need and what our children need– are their parents.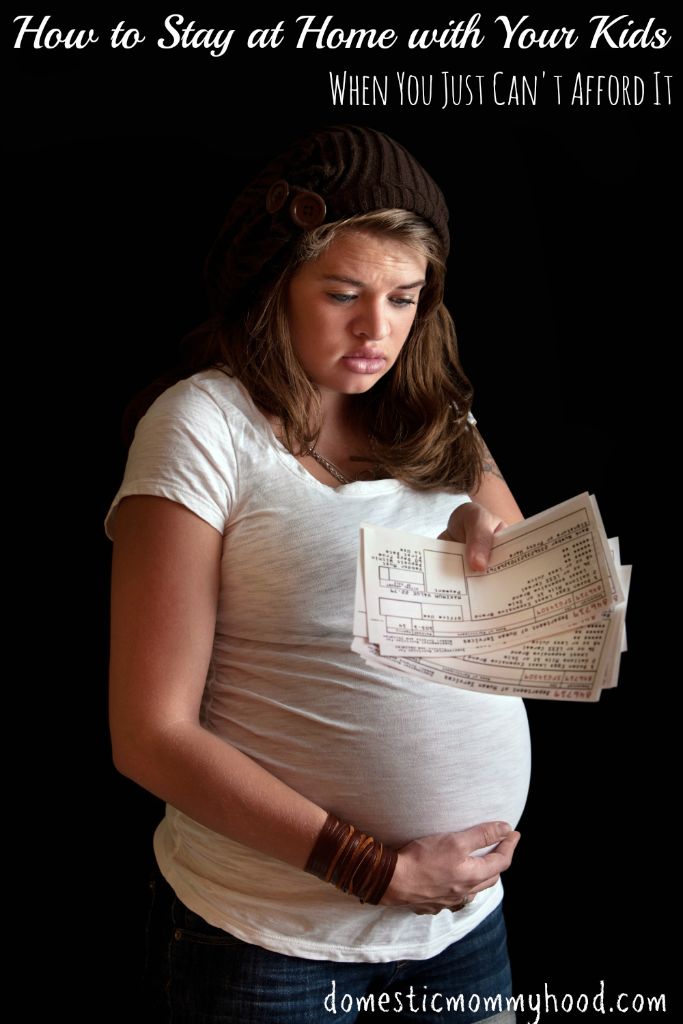 I don't know about you, but I'm tired of making excuses to be away from my children. I'm tired of living in a society that embraces more things and has less love. Now that rant is over, it's time to know how you can stay at home with your kids, when you can barely afford it.
How to Stay Home With Your Kids When You Can't Afford It
Make Sacrifices
I'm standing alone in my kitchen looking at everything we have. We have an abundance of things and more "things" in the garage. I am blessed. My family is blessed. Most Americans do not really know what it's like to make real sacrifices. If you really want to be home with your kids, you might need to forgo that yearly vacation, being in your college friend's wedding, or attending every play date you are invited to. It might mean taking financial assistance at your local YMCA and skipping out on the state of the art gym. Sacrifices to our standards are luxury items. We don't NEED all of these extra things, but staying at home means you will make these sacrifices. Are you up for it?
Side Jobs
If you want to be a stay at home mom, it can be incredibly hard to have a career and raise a family. There are moms out there who make it work though. This career may be a little different than what you're used to hearing about though. I'm talking about side jobs that can be done while the kids sleep or when dad comes home. Tutoring, sewing, cleaning houses, walking dogs, driving other kids back and forth to school are all great examples of side jobs that moms can do.
Cut Back
If you think you can't cut back anymore, try again. Just thinking on my budget, right now, I know I could cut cable, preschool, gas to play dates, air drying more clothing, using my cloth diapers, cutting out eating out all together, and much more. There are ways to cut back; you really just need to do some soul searching. I always say that a way to cut back is to not add more either. Don't add another car payment or buy a newer car that could make your insurance go overboard. Don't start buying coffee everyday or shopping at the more expensive grocery store.
Start from the beginning…
Make this the plan from the start. If you aren't a mom yet and can do it from the beginning, start planning now. Do not wait until you have kids to figure out how to be a stay at home mom. Avoid debt and try living off of your husband's income now.
If you are already a mom that wants to be at home with her babies, all I can say is pray-pray-pray. I know so many moms who took the leap of faith to be home with their kids and God has blessed them so much. It's not always easy and there is penny pinching involved but it's worth every minute.
What's the reality?
Every stay at home mom out there who is not married to Mr. Rich is making some sort of sacrifice to be at home with their children. Some of them are making money on the side to help make ends meet; others are couponing, or even starting an in-home daycare. My advice is to do what you can to be at home with those little ones. Time is ticking and when you're an old person in a nursing home, what are you going to remember most—how much money you made or how beautiful it was to see your child's face every morning?
Enter your email below for more future posts at Domestic Mommyhood! 
This post may contain affiliate links. Your cost is the same, but it helps support the site and keep our freebies FREE! Thanks for your support!