I know you all have seen the cute little Ice Cream Cone Cupcakes all around but did you know they are super easy!! Yup… we tried it and the kids and I had a blast!! They can be personalized for any birthday theme or even for any holiday! It took us about an hour tops and we made these cute little Queen Bee Ice Cream Cone Cupcakes for my little queen bee's. Charelee Ann and Alicia both had a blast!
Ice Cream Cupcakes (Easy Enough for Any Mom To Do)
Ingredients:
1 Pack of Ice Cream Cones
2 Cups Flour
1 tsp. baking powder
Pinch of Salt
1 Stick Butter (softened)
1/2 Cup Shortening
2 Eggs
3/4 Cup Milk
1 tsp Vanilla Extract
Directions:
Preheat oven to 350 degrees F.

Sift flour and baking soda together in a large mixing bowl.  Add salt and sift again.

Take your hand mixer and begin by adding in your butter, shorting and eggs one at a time. 

Add in milk and vanilla and mix well.
Take the mixer and pour into your ice cream cones about half way up then add about a tablespoon more of batter into each one. This should have it come up in a mound on top of the cone to shape the "Ice Cream".
Place cones in a muffin pan and bake about 15 or 20 minutes. The top will be golden brown and a toothpick inserted in the middle should come out clean.
Decorate:
Let cupcakes cool completely before icing. You can either spread or pipe the icing on to the "Ice Cream Cones".
Add sprinkles and edible embellishments to your liking.
Enjoy 🙂
How are you going to decorate your Ice Cream Cone Cupcakes??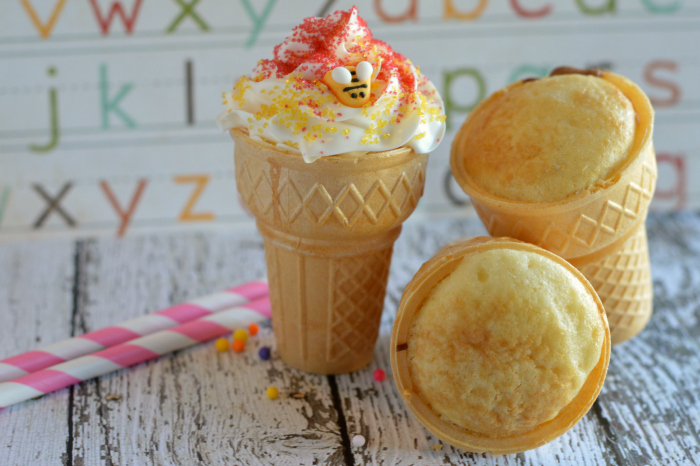 Enter your email below for more future posts at Domestic Mommyhood! 
This post may contain affiliate links. Your cost is the same, but it helps support the site and keep our freebies FREE! Thanks for your support!