Building a blog isn't only about traffic, but if you want your efforts to be profitable, then you have to focus on traffic a bit. You might not have 258 hours a day to devote to your blog, and that's okay. Reading other blogs (like ProBlogger) will help do some of the legwork for you, but there's always more. Follow these tips to increase blog traffic with less effort.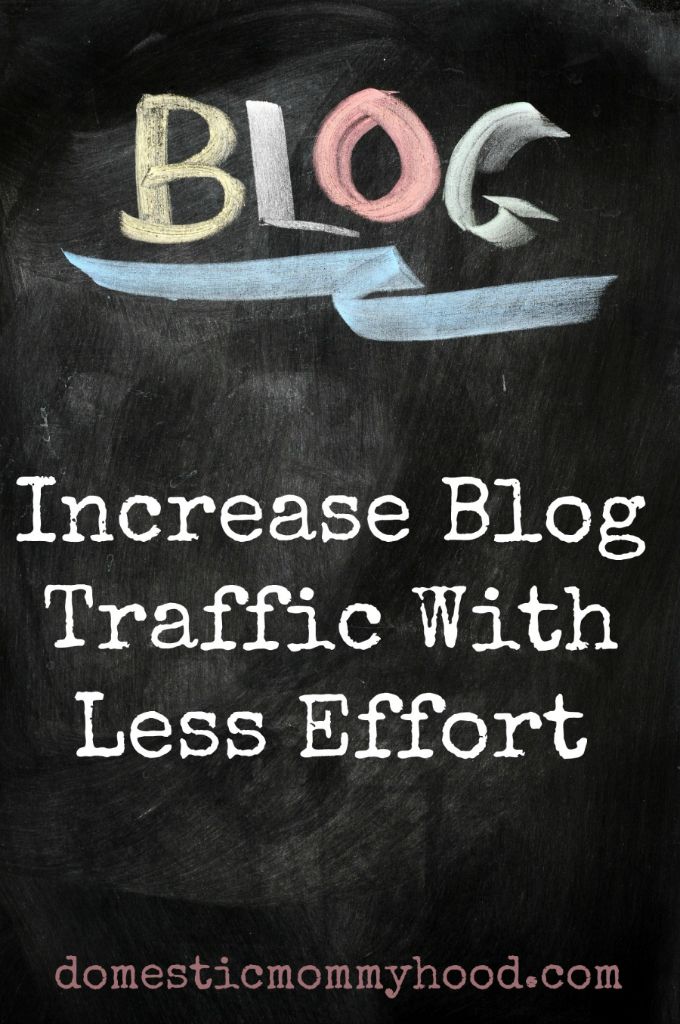 Write the good stuff. Creating shareable content is the big key to increasing blog traffic. This is where you'll put the most work in, and it will yield the best results.
Pick the right titles. Your titles should be descriptive, and catchy. Keep it short and sweet, and don't forget to use keywords.
Link back to others. When someone links to my blog, I get a trackback. When I see that they've linked to me, I visit their blog, leave a comment, etc. Sometimes I'll even tweet or share the post, which helps with their traffic (and mine). Be appreciative when people link to you and try to return the favor.
Automate it. Set up a newsletter. Write a few weeks (or months) worth of newsletters, and have it set to automatically go out. Have a sign up form on your blog so you can get more sign ups without having to spend all day advertising.
Automate your tweets and Facebook posts, too, but not all the time. I would recommend 50% automated on Twitter, and only 25% automated on Facebook. Post live to G+.
Hire out. Instead of spending time and energy to do research and write an amazing post, hire someone else to do it!
Link back… to yourself. While writing your blog posts, link back to your other blog posts. Your readers will click on them, which will increase your traffic – and your backlinks will help your SEO.
Mention someone famous. Do this not just for search traffic, but for sensationalism. People love reading about celebrities. Whether it's the president or a pop singer, someone will be interested.
Connect with other bloggers. Find other bloggers in your niche to connect with. Chances are, they need their posts shared just like you need yours shared. Create a small support tribe and share each other's posts via social media. You can schedule these shares, so you don't have to be online for long periods of time.
What's your best tip for getting blog traffic, without putting in a ton of extra work?
Enter your email below for more future posts at Domestic Mommyhood! 
This post may contain affiliate links. Your cost is the same, but it helps support the site and keep our freebies FREE! Thanks for your support!