Crunchy Baked Onion Rings with Panko Crumbs
Have you ever been to a restaurant and thought to yourself "Why can't I make it taste like this at home?". There are just certain things that you have to go out to eat for and I was TIRED of spending money on onion rings. I've tried my hand at making them on several accounts and while they tasted okay, they didn't have a bite to them and were kinda lifeless. So I decided to experiment in the kitchen one afternoon when I was having an onion ring craving and came up with this delicious Crunchy Baked Onion Rings recipe.
If you have ever had Red Robin onion rings you know they are EXPENSIVE to say the least. They are pretty darn good, but, I refuse to pay the price. So this recipe is a reflection of them. However, they are not a "copy cat"!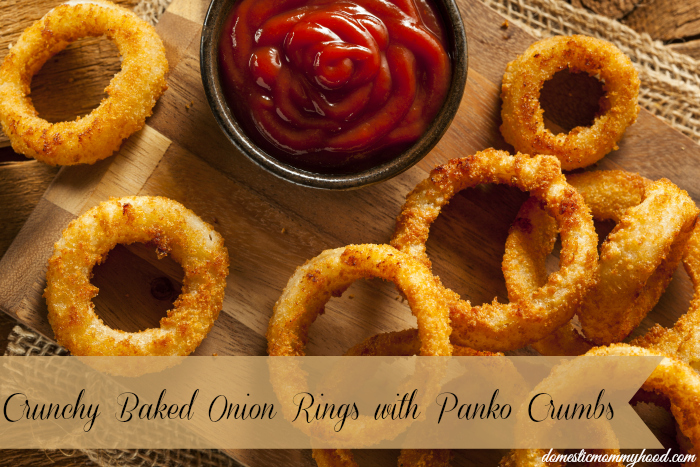 Crunchy Baked Onion Rings with Panko Crumbs
Ingredients
2 c flour
2 tsp salt
2 tsp pepper
3 tbsp paprika
3 Large Yellow Onions, slice 1/2" thick
2 c Panko Crumbs
2 eggs
1/3 c milk (you can subsititue for buttermilk if you have it on hand)
Preheat your oven to 425.
In a large bowl mix together the flour, paprika, salt and pepper.
Using a separate bowl beat together the eggs and milk.
In a third bowl place the Panko Crumbs.
Now lay it all out! No literally, lay out your bowls (or dishes) of flour mixture, egg mixture and Panko Crumbs, in that order! Dredge your onions in the egg, dunk into the flour and shake off any excess. Next, go back to the egg mixture and then into the Panko Crumbs. Be sure to coat the entire onion each time to ensure a nice coating.
Lay your onion rings flat on a baking sheet and bake for 15-20 minutes until they are a nice golden brown color. To ensure they have a nice crunch flip half way through the cooking process!
Serve up warm with a side of ketchup for the perfect finish. I hope you enjoy these as much as I do!

Enter your email below for more future posts at Domestic Mommyhood! 
This post may contain affiliate links. Your cost is the same, but it helps support the site and keep our freebies FREE! Thanks for your support!