With St. Patty's day right around the corner we have been doing a little studying about Ireland. We always like to do a little cooking in the kitchen with the kiddos at Pre-K and boy was this Irish Apple Cake a big hit! It has a great texture and the kids decided that since it had apples in it that it must be healthy for you (we learned about making healthier choices last month)!
Needless to say it was a great recipe that was fun to make and delicious to eat! Let me know what your kids think.
Irish Apple Cake Recipe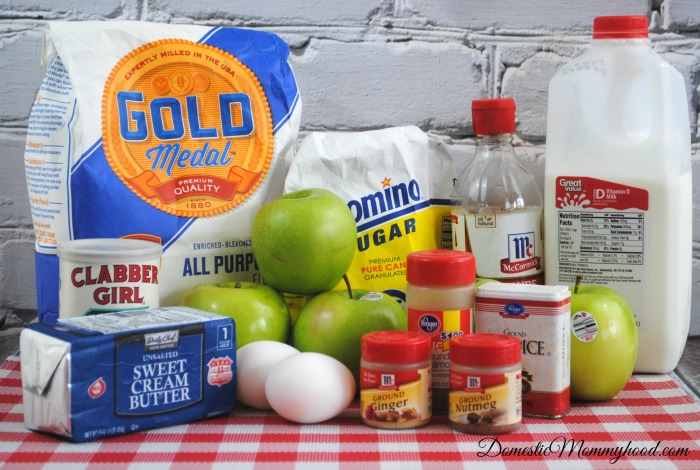 Shopping List:
Cake:
3 C all-purpose flour
1 Tbsp baking powder
1/2 tsp salt
1/4 tsp of ground ginger, nutmeg, and allspice
3/4 C unsalted butter, cold, diced into small pieces
1 C and 2 Tbsp sugar, divided
1 1/2 lbs of granny smith apples (5 med)
3/4 C milk
2 lrge eggs
1 tsp vanilla extract
1/2 tsp ground cinnamon
Instructions:
Cake:
-Preheat oven to 375 degrees.
-Butter and flour a 9-inch spring form pan then set aside.
-In a large mixing bowl whisk together the flour, baking powder, salt, ginger, nutmeg and allspice for about 20 seconds.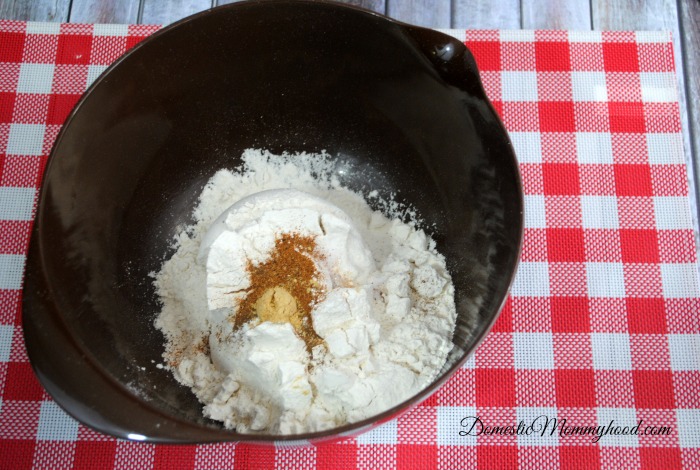 -Add the cut butter pieces and rub them into the mixture using your fingertips until it looks like fine crumbs.
– Stir in 1 C sugar.
-Peel apples, slice in half, core and stem, layer apples on flat side, slice downward into pieces  less than 1/4 inch thick.
-Dice  the apple pieces into smaller chunks  ( about 2 or 3 chunks per slice).
– Add the diced apples to the flour mixture.
– Toss well to evenly coat, work to separate any apples that have stuck together.
– In another bowl, whisk the milk, eggs and vanilla together until they are well combined.
– Pour the milk mixture over the apple and flour mixture.
– Wash your hands next then just toss until combined.  Your batter will be slightly lumpy but that is okay …..just don't over mix.
– Pour your batter into the prepared baking dish, spreading into an even layer.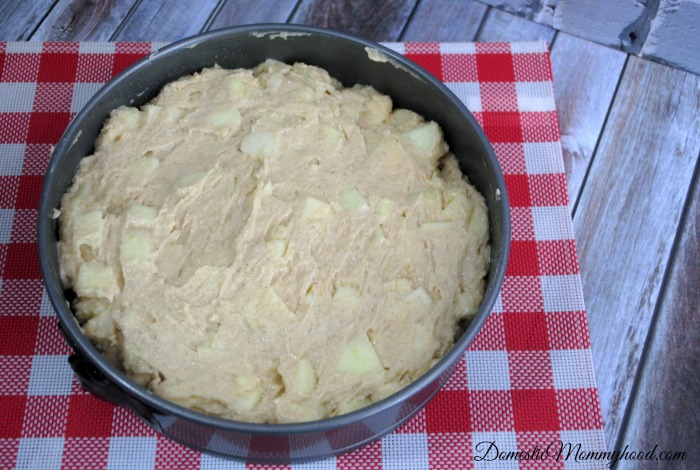 – In a small bowl stir 2 Tbsp sugar plus 1/2 tsp cinnamon to sprinkle evenly over the cake.
– Bake the cake in a preheated oven 45-50 minutes until a toothpick inserted into center comes out clean.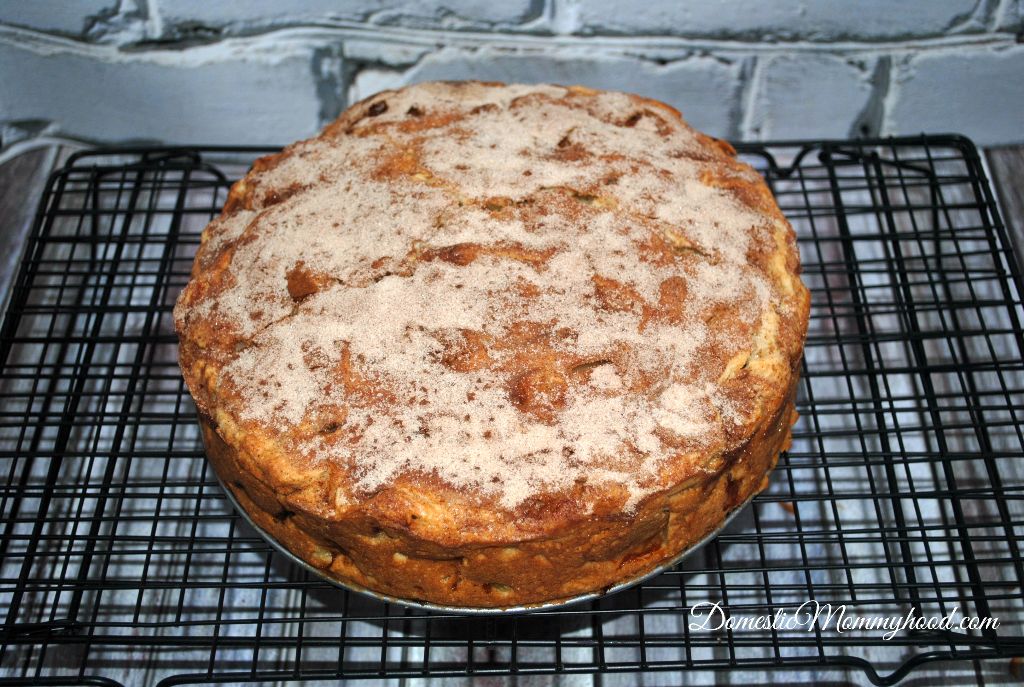 – Now cool the cake for about 5 minutes on a wire rack.
– Remove the ring from the spring form pan allowing  the cake to cool to your desired temperature.
Enter your email below for more future posts at Domestic Mommyhood! 
This post may contain affiliate links. Your cost is the same, but it helps support the site and keep our freebies FREE! Thanks for your support!