If you have been following the blog you may have noticed that we are doing a few activities that involve playing and learning with food….. Gummy Bears to be exact! 🙂 It's never to early to start teaching our children about classification and sorting and this gummy bear activity will only set you back about $1 depending on the cost of gummy bears in your area. The other items you should already have hanging out around the house.
Make sure you stop over and see our Learning with Gummy Bears: Sequencing/Pattern Building by clicking here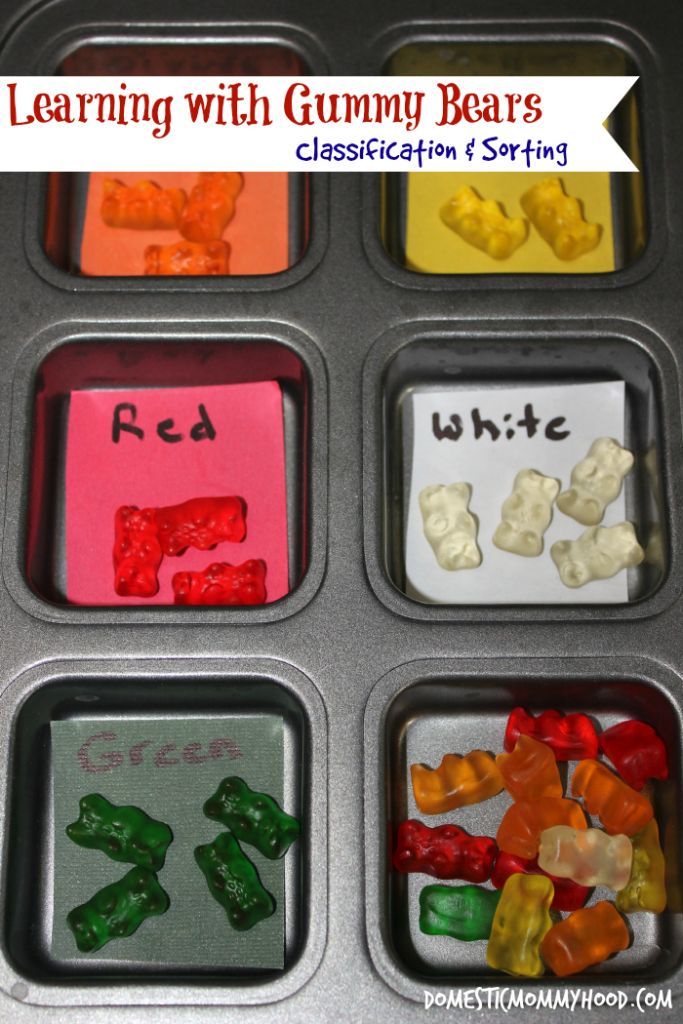 This activity is pretty fun for the kiddos and easy to put together!
Items Needed:
Brownie Pan we love this thing!! It's a brownie pan for corner lovers… use it all the time for baking 😉 You could also use a muffin pan.
Some colored construction paper
Gummy Bears
Directions:
Cut shapes out to fit inside your brownie pan to match the colors of your gummy bears.
Place into each hold of your pan.
Have your child place the matching color into the matching slot in your pan.
When we first started out we were having Charlee Ann use her hands to place the gummy bears into the corresponding spot in the pan. Then I remembered that we had some toy tweezers that came with our Learning Resources Super Sorting Pie (which by the way is another excellent way to learn sorting and classification. We bought it for her for her 2nd birthday and she STILL loves playing with it!! Well worth the money I might add. 🙂 I should probably tell you more about that toy on another day……. Ok back to the gummy bears!!
Learning with Gummy Bears is great for……
Problem Solving – Finding the correct color and placing it where it belongs
Color Recognition
Classification and sorting
Hand/Eye coordination
Small Motor Skills – Either by picking them up with their hands or using the tweezers
What other ways do you work on classification and sorting in your home?
Enter your email below for more future posts at Domestic Mommyhood! 
This post may contain affiliate links. Your cost is the same, but it helps support the site and keep our freebies FREE! Thanks for your support!