Did you know that you can make your own educational activities using FOOD!!! Yes!! For once our children will get to play with their food and to make it even better…..CANDY!!!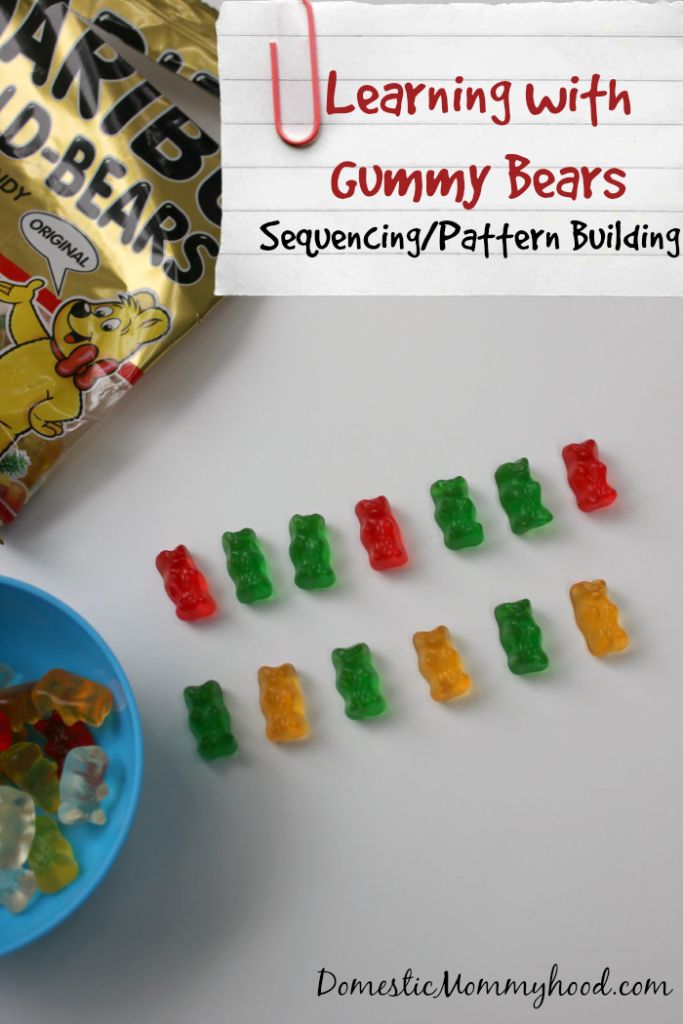 Children will often recognize patterns throughout the day. It may not have anything to do with looking at a pattern but you may notice with a smaller child that they will notice when things are different. Maybe they have had their lunch and then NOTHING is happening and pretty soon they may say "Nap comes after lunch mom". This is them recognizing a pattern. Using educational activities to explore sequencing and pattern building is a must to grow their mathematical abilities and it's fairly simple to do.
Place some gummy bears in a bowl (you can also use skittles, starbursts or anything that has different colors or even shapes) and show them how to make an "AB" pattern such as red/yellow/red/yellow (as seen in the picture).
Then move on to a more difficult pattern called an "ABBA" pattern such as red/green/green/red.. red/green/green/red (see photo). Demonstrate how to create a pattern using the gummy bears and invite your child to try. Create patterns and have them complete it or vice versa.
When you are working on patterns you will begin to notice that they are everywhere. You may find some at the store, in books or even in your own backyard. As a matter of fact the fall season is upon us and you can even make an educational activity out of things you may find on a walk like acorns and pine cones. Sequencing and pattern building can be a very fun activity that you can work on many times during the day.
Some questions you may ask your child…….
Do you see a pattern??
What comes next after the green one?
Can you make a pattern for me?
What would happen to the pattern if we ate the red one?
Some other toys or food that can be used to make a pattern….
Lego's
Building Blocks
Cereal
Candy
Have you been working on educational activities in your home this week?
Enter your email below for more future posts at Domestic Mommyhood! 
This post may contain affiliate links. Your cost is the same, but it helps support the site and keep our freebies FREE! Thanks for your support!