Yes- you can grill fruit and it makes a wonderful side dish. We eat a ton of watermelon in our home and grilling it has become a favorite way to eat it. Even the kiddos love it!! Maybe before we go over how to make grilled watermelon we had better go over how to pick the best watermelon when purchasing. Here are some easy tips to take with you the next time you go to the farmers market or your local store.
Weight – It doesn't matter if your watermelon is big or small but it should always feel heavy for it's size.
Thump it – Tap the watermelon with your fist like you are knocking on a door. If the watermelon is ripe you should hear a deep hollow sound, if it's over-ripe or under-ripe you will here more of a dull thud.
Check this Spot – Watermelons develop a yellow spot where they rest on the ground. This spot will be a creamy yellow color when ripe.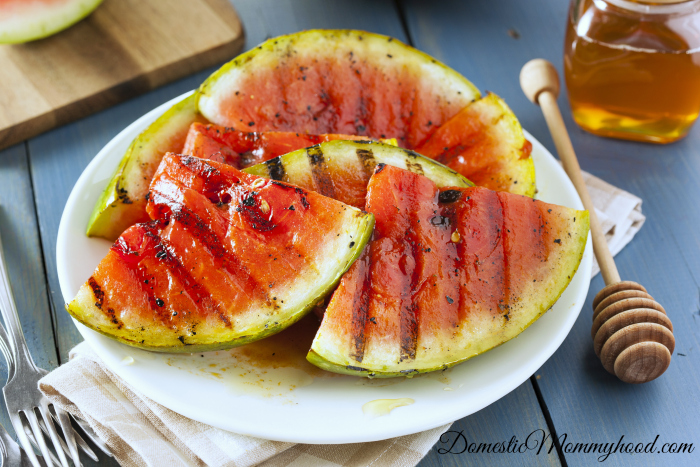 Cantaloupe and honeydew melon make a great companion to grilled watermelon. There are several ways to grill your melon so make sure you try them all to see what works best for your family.
How to make Grilled Watermelon
Basket – A lot of people like this method because you don't have to worry about it falling through the grates or off of a skewer stick. Cut you melon into bite size pieces.  Dice the fruit and place them in a grilling basket. Sprinkle a bit of natural sea salt or salt-free seasoning on top. Grill for about 10 minutes, constantly turning, and then drizzle with honey. This is particularly yummy served with chicken.
On the Grate – This is basically the same as above, instead of cutting them into bite size pieces you will want to keep them in longer strips or triangles to make it easier to flip when cooking straight on the grate.
Kaboom Skewers – Bite size pieces work well with this one. Just make sure you make the pieces a little bigger so that you have enough room to slide the skewers sticks in place without them falling off. We love to alternate honeydew, cantaloupe and watermelon on this one. They work great for serving at BBQ parties!
Enter your email below for more future posts at Domestic Mommyhood! 
This post may contain affiliate links. Your cost is the same, but it helps support the site and keep our freebies FREE! Thanks for your support!