Summer is here and you can find delicious mouth watering watermelon on almost every corner and what better way to enjoy all the wonderful flavor in your melon than by making a gorgeous chilled watermelon soup! This recipe is very easy to make and very refreshing on a hot summers day! My kids actually love eating it and have a great time picking out cute colorful bowls to serve them in. We always make watermelon water to serve with it and end up having a good old fashioned watermelon party.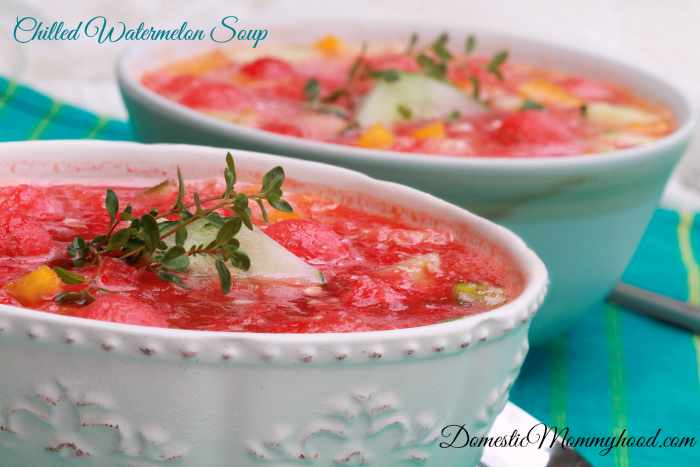 Chilled Watermelon Soup
Ingredients
10 cups red seedless watermelon, diced
2 tablespoons Cayenne Pepper
1 tablespoon sugar
2 tablespoons fresh lime juice
1 cup water mixed with 1 teaspoon sugar
½ cucumber cut into bite size pieces
½ yellow pepper chopped
Thyme for garnish
Preparation
1) To begin making your watermelon soup combine 1 cup of the watermelon with Cayenne, cucumber, yellow pepper and sugar in a bowl.
2) Set this to the side and let marinate a bit.
3) Blend remaining ingredients: watermelon, lime juice, and water mixture, in a blender until smooth.
4) Place all ingredients in the refrigerator and let chill for at least 2 hours.
5) Strain your watermelon soup through a strainer or cheese cloth and place into individual serving bowls.
6) Top each with reserved watermelon and top with thyme. Enjoy!
There are so many ways to enjoy watermelon and the best time is when they are in season. This is when you can get the moist flavor out of them.
Do you have a favorite watermelon soup recipe that you like at your home?
Enter your email below for more future posts at Domestic Mommyhood! 
This post may contain affiliate links. Your cost is the same, but it helps support the site and keep our freebies FREE! Thanks for your support!