Fun and educational activities don't have to be expensive, they just require a little bit of creativity and maybe some paint… and maybe a few silly googly eyes. Muffin tins can be picked up at yard sales, thrift stores, or I picked one up at Dollar Tree.  You can of course find muffin tins with 12 cups if you prefer.  Actually I have bought them quite a few times, they are really good for so many things- baking,games, organization, as a sorting tray, and more. Here I have for you the directions to create this fun Monster Math Game and three different ways to play! It is appropriate for toddlers to elementary to use.  Because the tin is just a solid color you can change out the playing pieces at anytime to match the season, holiday, or theme you choose. The possibilities are endless for what you can use as  counters- marbles, pompoms, paper clips, buttons, small candies, coins, or any tiny toy your child might be interested in.
Supplies:
Muffin tin
Green Spray Paint
Large Googly Eyes
alcohol
newspaper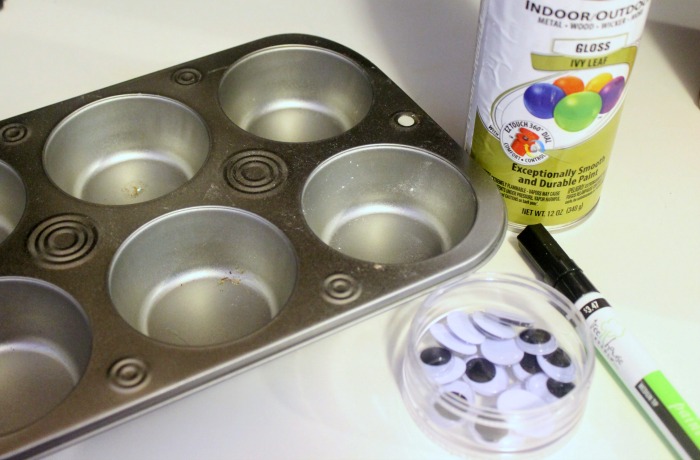 Directions:
Wipe muffin tin all over with alcohol-this will help remove oils and fingerprints, making paint adhere better.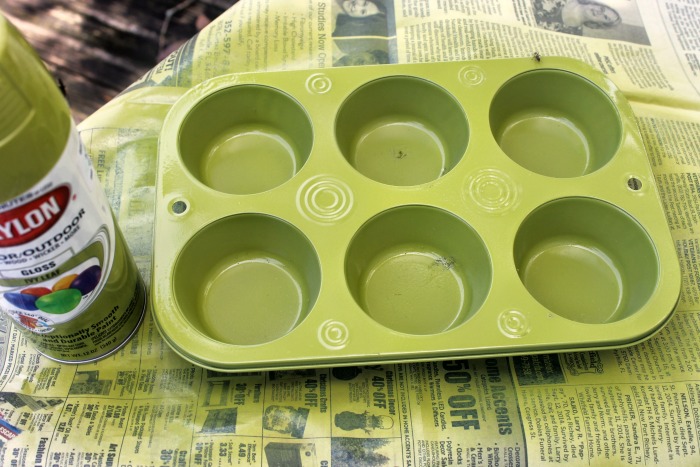 When dry place muffin tin on newspaper in well ventilated area. Paint a light coat of paint on tin and allow to dry for 5 minutes, then add another 1-2 coats to give it a solid coverage. Dry for 2 hours minimum after last coat.
Use black paint pen to draw on numbers 1-5, use the 6th one to hold pieces.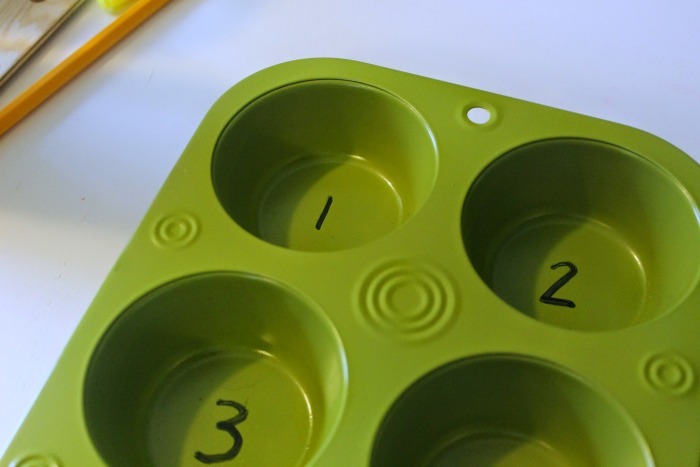 If you have an older child and need more numbers paint 2 or 3 tins to use together, they are stackable and take up no more space.
Let paint pin dry for at least an hour before using.
Here are 3 fun ways to use your Monster Math
Creature Counting– The first is probably obvious but is still a great way to teach your child counting- Have them match the number of objects to the number written in the cup.  You can either have them fill in all cups or call out random numbers to reinforce number recognition and matching.
Roll It Up– For this next game you will need one die, and two muffin tins labeled up  to 10.  Start with one marker in any number.  Have child roll the dice, and either add or subtract that number by moving  the playing piece, continue rolling, and moving die.
Dreadful Drop– Place muffin tin on the floor, have your child drop 2 play pieces, one at a time. The child then adds, subtracts, or multiplies the two numbers. This is a great way to reinforce skills they are working on.
Can you think of other ways to learn using the Monster Math Game??
Enter your email below for more future posts at Domestic Mommyhood! 
This post may contain affiliate links. Your cost is the same, but it helps support the site and keep our freebies FREE! Thanks for your support!