As you all know I am always looking for ways to recycle items into something useful and this DIY Yard Bowling was a great way to reuse old soda bottles! Now we don't drink to much soda in our house but I have a close friend who just cannot do without it and she saved these bottles for me so we could have some fun with some recycled soda bottles!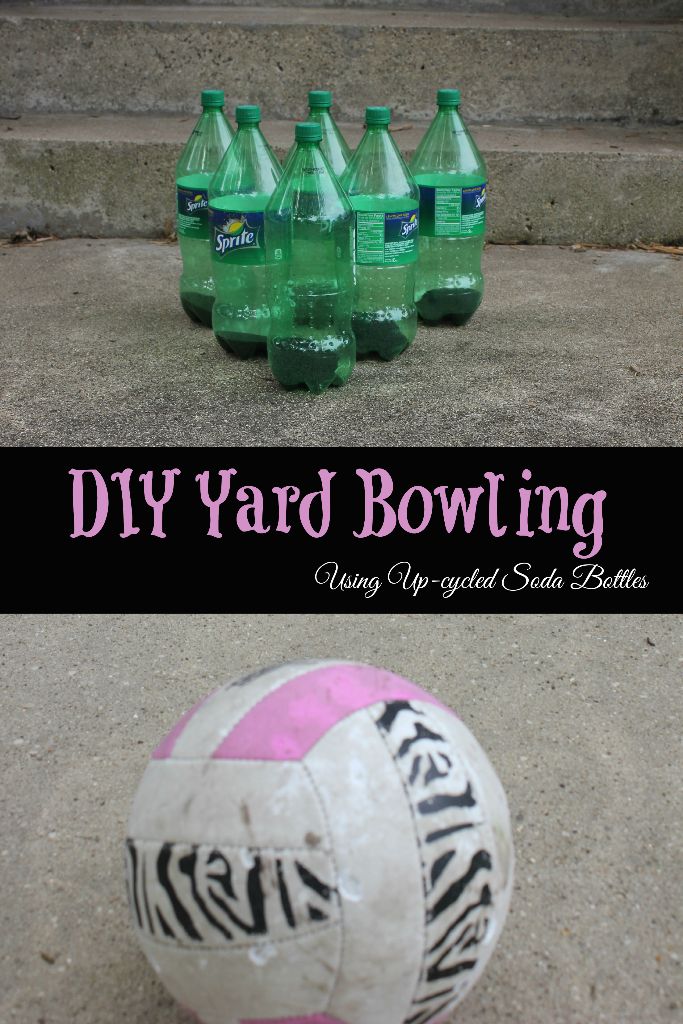 Recycled Soda Bottle Yard Bowling
What you need:
6 Two Litter bottles of Any kind of Soda (cleaned and dried out)
3 Cups of Dirt or Sand (1/2 cup per bottle)
Funnel
Soccer ball (or any other heavy ball)
Elmer's Glue
Directions:
Wash and dry out 6 soda bottles for the "pins".
Once they are completely dried out take a funnel and pour in 1/2 cup sand or dirt (rocks would work too) into the bottles.
Glue the lids onto the bottles to deter your children from pouring them out 🙂
Give the glue time to dry and set your pins up for a fun game with the kiddos!
We had a great time with our recycled soda bottle DIY yard bowling set with the kiddos and it kept them busy for hours!! Every time Charlee Ann's turn rolled around she loved counting the pins that went down and the ones that were still standing which gave us a great reason to work on her counting skills!! Even Alicia had a great time teaching her how to count them. I was pretty proud of her teaching skills!! I'm pretty sure she may end up being a teacher some day!
Take the time to get a little teaching in with this activity! When making the bottles is a great time to teach the kids about recycling and the actual game itself has some awesome teachable moments like counting and math. Learning to roll the ball toward the pins is great for large motor development and getting the pins to stand upright on the ground is great for coordination. 🙂 Hope you all have as much fun as we did.
Do you have any great ways to use recycled soda bottles??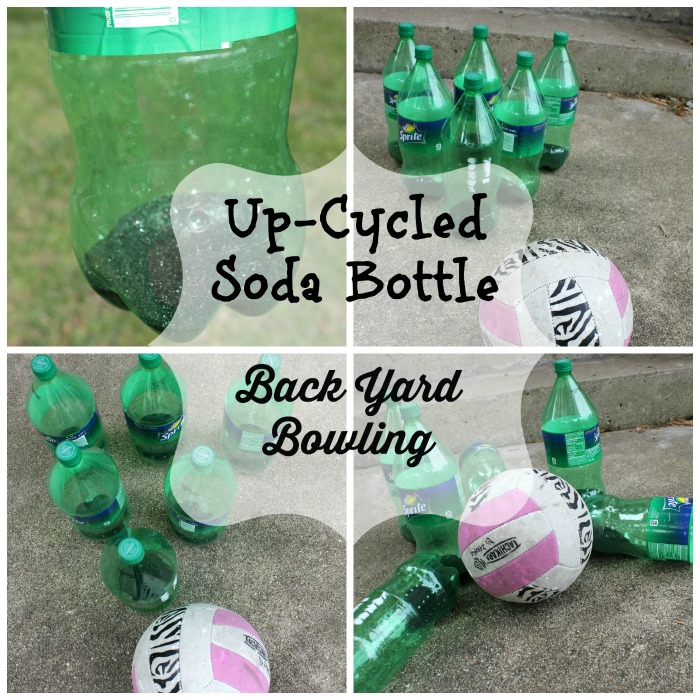 Enter your email below for more future posts at Domestic Mommyhood! 
This post may contain affiliate links. Your cost is the same, but it helps support the site and keep our freebies FREE! Thanks for your support!