When I think of Christmas the first thing that comes to mind is the nativity scene. Here are a couple very cute Nativity Coloring Page Printables for you to enjoy with your little ones.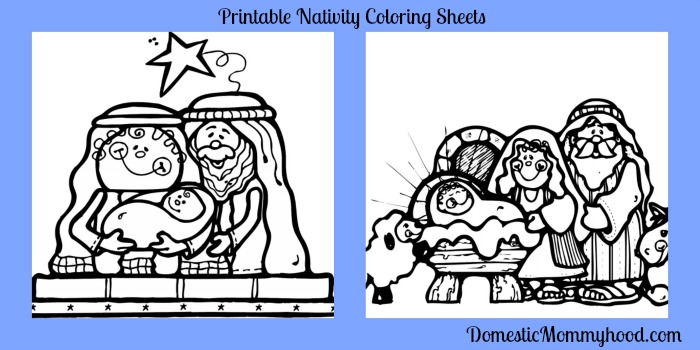 Just click the pink words below to print each one out. These would be a great addition to your Sunday School classroom.
Nativity Coloring page printables 1
Nativity Coloring page printables 2
We do the Santa thing in our household but what I find most important about Christmas is keeping the "True" meaning of Christmas alive in our home. It is very important to me that my children know and understand what Christmas is all about. I'm not talking about Santa here but about Jesus Christ being born in a manger.
Here are a few Christ centered Christmas Traditions that we have adapted over the years.
Every Christmas we have a birthday cake for Jesus on Christmas day. We make a special time for a special story about the birth of Christ and finish it off with a cake with candles that we light as we sing Happy Birthday to Jesus with the kids.
As soon as Thanksgiving ends we begin making a paper chain with verses of The Bible on each individual link. We include enough links in the chain to go from December 1st to December 31st. Then every night before bed we open up a link and read the scripture.
When hanging our Christmas lights we recite John 8:12 and talk with our children about Jesus being the light of the world.
Then Jesus again spoke to them, saying, "I am the Light of the world; he who follows Me will not walk in the darkness, but will have the Light of life."
Every year we set out our Little People Christmas Story Nativity set and play out the story of of the nativity with Charlee Ann after we take her to see a live nativity scene in our local area.
These Nativity Coloring Page Printables are a great way to keep Jesus alive in your Christmas and will look great hanging on your wall or mantel after our children get them colored. Enjoy!
Enter your email below for more future posts at Domestic Mommyhood! 
This post may contain affiliate links. Your cost is the same, but it helps support the site and keep our freebies FREE! Thanks for your support!