We have been working on a Rainbow Theme this week in our household! I have compiled a list of Rainbow Theme Preschool Math Activities that Charlee Ann really enjoyed! Spring is a great time of year to learn about rainbows with all the rain that happens your bound to see one soon enough.
You may also want to check out these Rainbow Themed ideas……
Your child will really enjoy looking for rainbows and have a ton of fun with these math activities this Spring. Children always learn just a little better with a more hands on approach! I hope you and your child enjoy these!
Now onto our feature article today, Rainbow Theme Preschool Math Activities!
Rainbow Theme Preschool Math Activities
Rainbow Chic Peas Color Sorting by Play to Learn Preschool 
Your child will enjoy this fun sorting activity using rainbow colored chic peas and an old muffin tin. You can bump up the learning level a little by having an extra muffin tin that has numbers written on the construction paper for those that are working on counting!
Roll a Rainbow Math Coloring Game by the Stem Laboratory
This great FREE Printable is awesome for counting. Whatever number they roll they color in. When they are done they have a pretty rainbow to display!
Rainbow Fruit Loop Math Game by Housing a Forest
Your child will have a blast rolling the dice, adding the numbers together and placing the correct number on the rainbow!! Great for beginning addition practice.
Popcycle Stick Pattern Making by Playdough to Plato
What a simple concept that teaches so much. This involves a simple free printable and some colored popsicle sticks. Once your child gets good at the pattern matching you can take the cards away and let them build their pattern on their own. Charlee Ann is learning an AAB Pattern now in her Kindergarten class.
Rainbow Number Puzzles Printable by From ABC to ACT's
This awesome free printable is super cute and great for number recognition. All you need to do is print this off and cut them out and your child will have a great game to play. I would suggest printing on card stock or using a laminating machine to make it easier for them handle.
Rainbow Bear Graph by Life Over C's
I love this free printable which includes a homemade dice for them to roll with a different colored bear on each side. The Rainbow Counting Bears can be used for so many different learning activities!
Counting More or Less Farm Animal Rainbow Counters by Stir the Wonder
Understanding more or less can be taught to your child early on! We did this all the time with the kiddos in the preschool class and it really helped prepare Charlee Ann for Kindergarten.
10 Frames Math with Legos by A Little Pinch of Perfect
There are is plenty of math learning with this activity! They have a chance to learn empty and full, rolling the die and filling in the square with the answer, color and number recognition, and making stacks to match the numbers. So many fun ways to learn with Duplo Lego's!
Counting Bears Number Strips by Mom Inspired Life
Here we are with those counting bears again!! I'm telling you, kids love them!! Here is a great way to work on counting with your preschooler.
Color Sorting for Fine Motor by Stay at Home Educator
This is more for colors and fine motor but I loved the blocks and wanted to include them. All you need to do is add in some counting exercises into the mix! Ask your child to stack 5 blocks, or make two piles and have them add them together.
Looking for More Rainbow Theme Preschool Math Activities?
The Rainbow Theme is actually Charlee Ann's favorite theme! It's so bright and colorful in the first place and then you add on all the Rainbow activities and she just has a blast.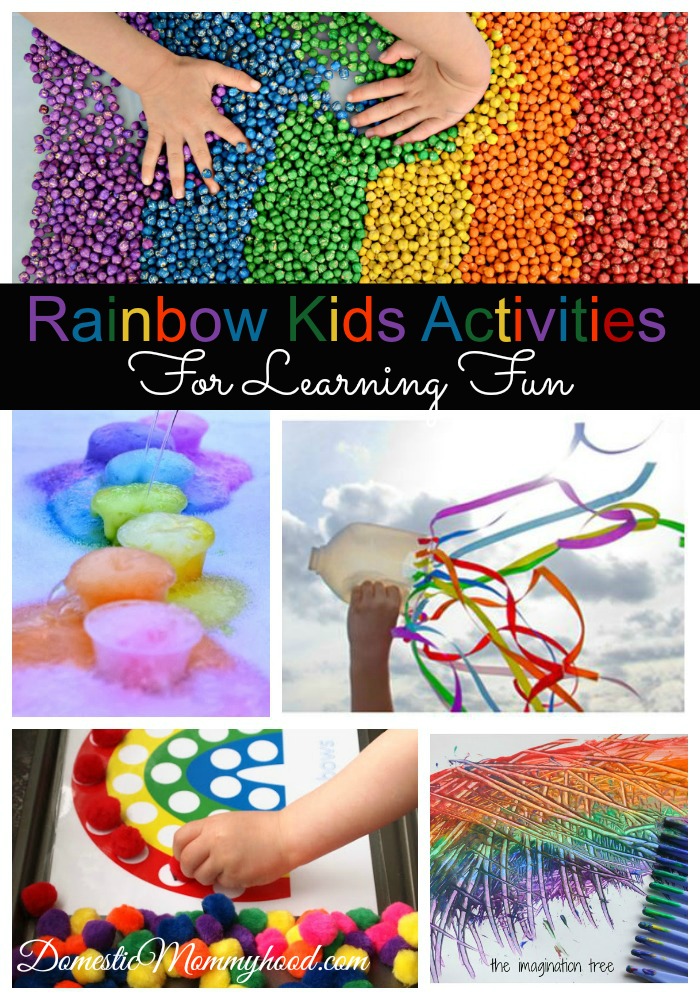 Enter your email below for more future posts at Domestic Mommyhood! 
This post may contain affiliate links. Your cost is the same, but it helps support the site and keep our freebies FREE! Thanks for your support!