There's nothing quite like being stuck inside on a rainy day. If you have kids and want to keep them entertained when the rain hits, then you may want to consider these rainy day activities.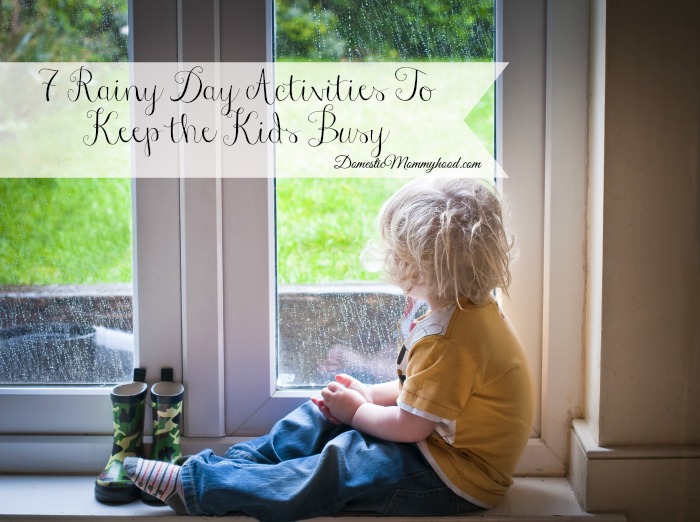 #1. Finger Painting
Finger painting has to be one of the most fun things to do on a rainy day. Keep finger paint and paper in your home for something to do that's quick and easy on a rainy day.
#2. Puppet Show
What's more fun than a puppet show? You can make puppets out of old socks you have lying around your house. You don't need anything fancy to create a puppet show indoors on a dreary rainy day.
#3. Create Your Own Movie Theater
If you and your kids enjoy watching movies, then consider creating your own movie theater right in the comfort of your own home.
#4. Have a Spa Day
You and the kids can treat yourself to a spa day when the next rain day rolls around. Take turns doing makeup, painting fingernails, and doing hair.
#5. Build a City
Since you're going to be rained in for a while, consider building a toy city with all of the toys in your house. If you're not up for building a city, you can always build a fort out of blankets.
#6. Play Outside
Just because it's raining outside it doesn't mean you cannot enjoy the weather. If it's warm outside, consider making your own slip and slide. Jump in puddles or just sing and dang in the rain. The options are endless when you use your imagination and just have fun.
#7.Homemade Slim and Play Dough
It's time to really get creative when you roll out the slime and play dough. Here is a recipe for slime and homemade play dough.
What are some rainy day activities you love to do with your family?
Enter your email below for more future posts at Domestic Mommyhood! 
This post may contain affiliate links. Your cost is the same, but it helps support the site and keep our freebies FREE! Thanks for your support!