Elegant and beautiful decorations for a birthday party, wedding reception or other special occasion can get really pricey. Here are the supplies and tips that were used to create this beautiful shabby chic tablescape on a tiny budget.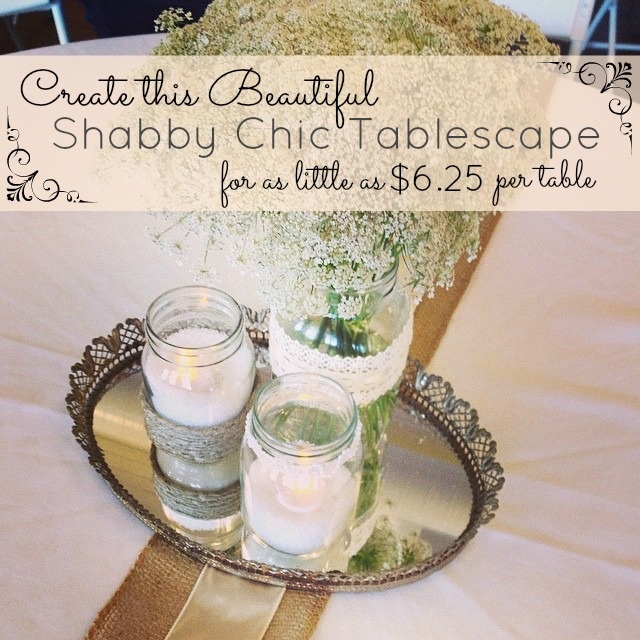 Table Cloths and Runners
Table Cloths: Table linens can be rented from most local party stores for $1 a piece or you could borrow them from your church. Price per Table = Free – $1.00
Burlap Runner: Walmart sells these 5″ wide rolls of burlap for only $3.47 each! Each rolls is 10 yards in length and each was enough burlap for four 60″ round tables with 12″ of hang off on each side. Price per Table = $.87
Ribbon Runner Accent: Amazon has these 2.25″ cream satin ribbon for only $9.99 for a 10-yard spool. This is the same yardage as the burlap runners which means that one spool will cover four tables. Price per Table = $2.50
Total Cost of Linens and Runners = $3.37 – $4.37 per table
Centerpieces
Quart Mason Jars: Most likely you or someone you know has these on hand. If not, Walmart sells a 12-ct for $16.97 which comes to only $1.41 each. Price per Table = Free – $1.74
Pint Mason Jars: These centerpieces require two pint size Mason jars. Walmart carries these in a 12-pack for only $14.97 which makes them only $1.25 each or you may be able to find them at the local Dollar Tree or have some on hand! Price per Table = Free – $1.25
Jar Filler: Epson salt makes a beautiful jar filler! One small bag from Walmart is $.88 which is plenty for both pint sized jars. Price per Table = $.88
Pint Jar Embellishments: One jar is wrapped with jute twine and the other with a pearl embellished ribbon. One roll of this was more than enough for two jars on each table for a total of twenty jars. Amazon sells this for only $8.77. Price per table = $.88
Quart Jar Embellishments: The quart jars here are embellished with a crochet and satin ribbon that was purchased at Walmart. This is sold in stores for $2.47 a roll and one roll was able to embellish four jars. Price per Table = $.62
Tealights: Dollar Tree carries a four pack of battery operated tealight candles for only $1. This centerpiece uses one tealight in each pint jar for a total of two per table. Price per Table = $.50
Total Cost of Centerpieces: $2.88 – $5.60
Frames and Flowers
Frames: These centerpieces are framed using frames that were already owned. Each one had a different frame, mirror or mirrored tray and the mixture gave it a beautiful shabby chic feel. If you don't have many frames to choose from shop your local thrift store where you'll likely find some good ones for $.50 – $1.00 each. Price per Table = Free – $1.00
Flowers: Flowers are abundant and free! These centerpieces use a variety of weed called Queen Anne's Lace which grows wild in most of the South. You could also use flowers from yours a friends flower gardens. An alternative would be baby's breath which is around $8 a bundle at local florists. One bundle would be enough for about four tables. Price per Table = Free – $2.00
Total Cost of Frames and Flowers: Free – $3.00
Final Cost per Table including linens, runners, centerpieces, flowers and embellishments is between $6.25 and $12.97 each! The centerpieces pictured were used for a party of 80 guests with ten arrangements and the total cost of decorations was only $62.50! That is an incredible price for these gorgeous arrangements!
Enter your email below for more future posts at Domestic Mommyhood! 
This post may contain affiliate links. Your cost is the same, but it helps support the site and keep our freebies FREE! Thanks for your support!