Pumpkins… pumpkins….pumpkins are everywhere!! It's the beginning of October and it's time to learn with pumpkins!! Time for the pumpkin patch, falling leaves, and warm cozy nights with the family out in front of a warm beautiful fire!! So now that I have you ready for fall I will bet you are starting to wonder just how in the world your child can learn with pumpkins! Read on my fellow friends…..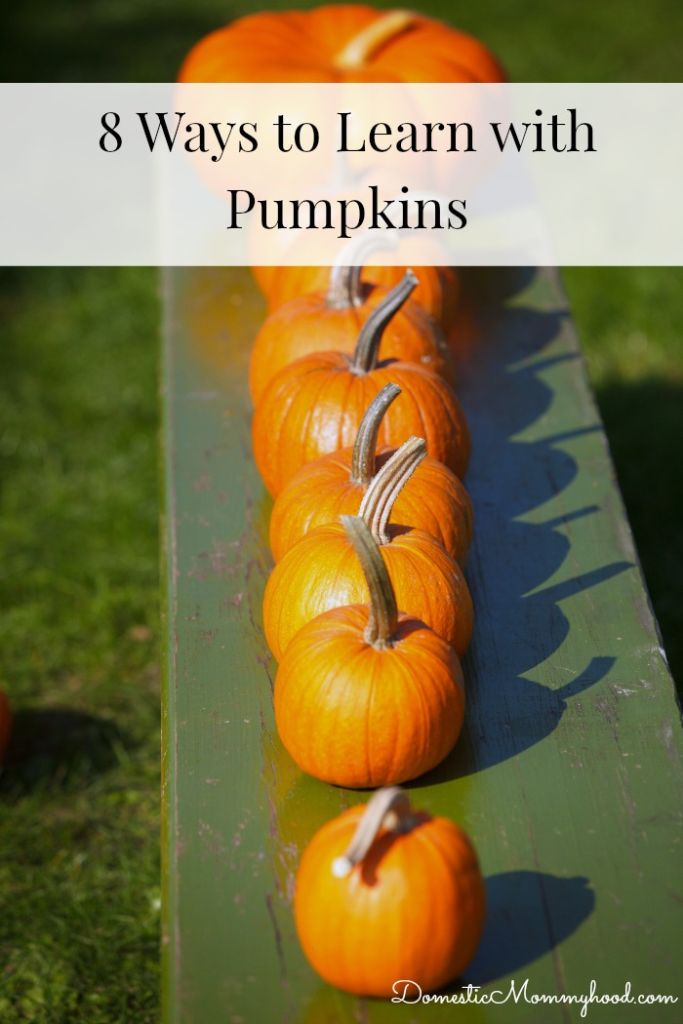 Guessing the Pumpkins Weight – This is a great way to begin to understand just a smidgen about how much things weight. Head on over to your local pumpkin patch and have your child pick out a few pumpkins. Have them pick out three different sizes and write down in a notebook what their best guess is. Then head on up to the pumpkin patch checkout for a little pumpkin weight in festival!! Did you child come close?? Did they understand that the smaller one would weight less than the larger one?
Pumpkin Roll – Find a pumpkin that your child can roll easily and set up a pumpkin roll. It works just like bowling!! Place some toilet paper rolls at the end of you "lane" and have them roll the pumpkins down the lane to knock over the toilet paper pins. Now you are probably wondering how they are learning?? As they are rolling they are already working on their coordination and problem solving skills. Now it's time for you to up the learning process. Have them count the amount of pins they have knocked over and how many they have left. There is a learning lesson in everything when you are a child!
Pumpkins are Weird – Start out with a medium size pumpkin and have your child feel the outside. Ask them what it feels like? Does it smell? Then cut the top off of the pumpkin and show them what is on the inside. Let them feel the googey texture and find the seeds. How does the pulp feel? Does the pumpkin smell now? Then you can start to work on senses! What sense are you using when you smell the pumpkin?? How about when you feel it?? When you thump on it does it make a different noise than one that has not had the top cut off?? There are plenty of ways to learn with pumpkins on this one!
Pumpkin Seed Roasting Fun – This is a double duty learning experience. Take 2 pumpkins and have your child guess which one has the most seeds in them. Then go ahead and cut them open and start digging them out. Grab your supplies and make some delicious pumpkin seeds and then divide them up between everyone…. they can learn how to make a recipe and a little about division with this one.
Playing with Mini Pumpkins – There are plenty of things to do with mini-pumpkins…..
Grab some buckets and wash and dry your pumpkins
Make patterns with different colors of pumpkins
Order them by size biggest to smallest
Place 4 or 5 buckets around and have a pumpkin toss
There are plenty of ways to learn with pumpkins! Please leave your ideas in the comments below!
Enter your email below for more future posts at Domestic Mommyhood! 
This post may contain affiliate links. Your cost is the same, but it helps support the site and keep our freebies FREE! Thanks for your support!