If you are a fan of cookie dough then this fudge is for you! You get a wonderful cookie dough flavor mixed with the creamy fudge texture that will leave your family wanting more! My kids have always loved cookie dough ice cream and were super excited when I brought up the idea of making cookie dough fudge. We had a great time making it and sharing it with our family. The girls even decided they needed to make a second batch for the neighbors. We always have a great time cooking together and made some great memories with this recipe! 
It's summertime so we try to cut way back on using the stove but this easy recipe only took a few minutes to heat up so no super hot kitchen on this one! Both girls kept swiping the chocolate chips out of the bowl!! Of course Charlee Ann kept complaining she wanted cookie dough ice cream and of course I gave her a bowl while the fudge was cooling in the fridge. All in all it was one of the best fudge recipes that I have ever tasted…………. not so good for losing weight but definitely a great special treat!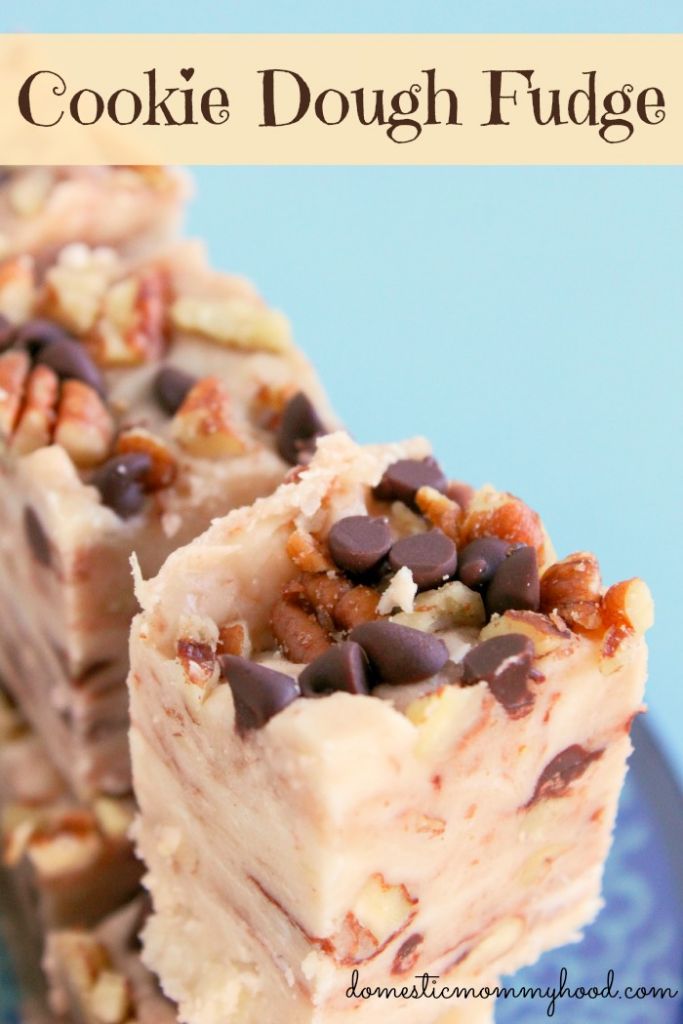 Cookie Dough Fudge with Chocolate Chips and Pecan
Ingredients
1 Cup Softened Butter
1/4 Cup Sugar
3/4 Cup Brown Sugar
1/2 Cup Flour
1 TSP Vanilla
1/2 Cup + 2 TBS Heavy Cream
1/4 TSP Salt
5 Cups Powdered Sugar
1/2 Cup Mini Chocolate Chips
1/2 Cup Chopped Pecans *optional
Instructions
Cream the following ingredient in a medium bowl: 1/4 cup Sugar,1/4 cup brown sugar, and 1/2 cup butter.
Add salt, vanilla and 2 Tbsp. of the heavy cream and mix well.
Add in flour a little at a time until mixed well.
Put 5 cups powdered sugar in a large mixing bowl and set aside.
In a small sauce pan over medium heat add 1/2 cup butter, 1/2 cup brown sugar and 1/2 cup heavy cream. Heat until mixture gets bubbly.
Add the hot creamed mixture to the powdered sugar and beat until smooth. Set aside to cool for at least 5 minutes.
Reserve a tablespoon or so of the mini chocolate chips and pecans to use for topping. Add the flour mixture, mini chocolate chips and pecans to the powdered sugar mixture and stir until well combined.
Place mixture into an 8x8 inch pined that has been lined with wax or parchment paper and press gently.
Sprinkle remaining toppings on top of fudge and gently press down again.
Cover and refrigerate for at least 3 hours. Cut into squares and store in an air tight container. Enjoy!
http://domesticmommyhood.com/cookie-dough-fudge-chocolate-chips-pecan/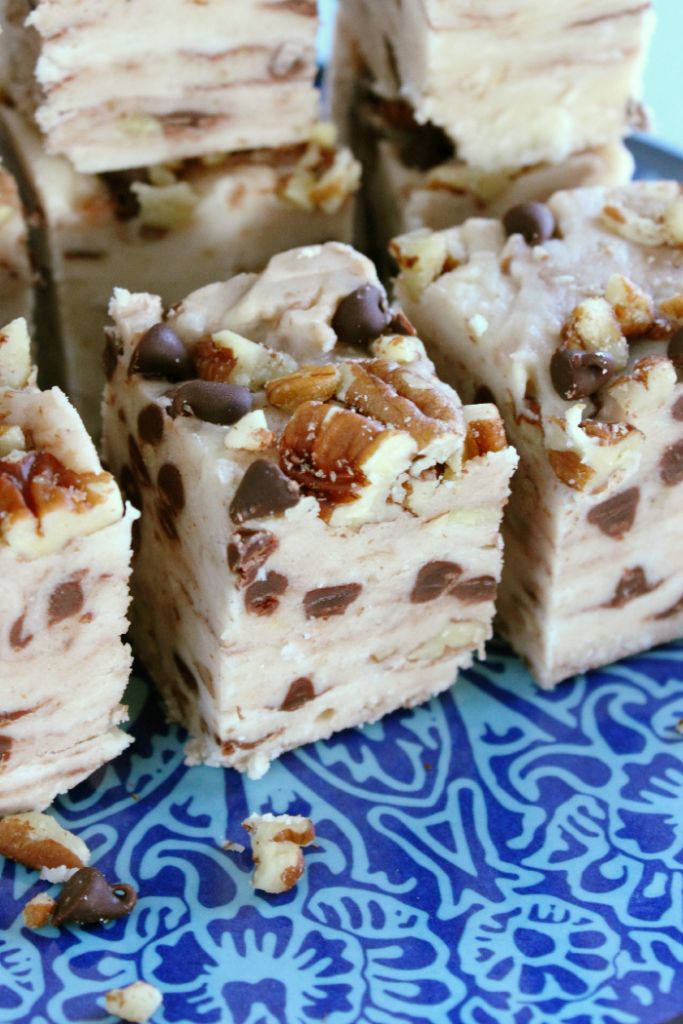 Are you a fan of cookie dough fudge?? What is your favorite fudge to make at your home?
Enter your email below for more future posts at Domestic Mommyhood! 
This post may contain affiliate links. Your cost is the same, but it helps support the site and keep our freebies FREE! Thanks for your support!