Play-doh is a fun and very educational toy for our kids!! The feel of it, the colors and the smell can keep kids entertained for hours on end. I know you understand how much fun Play-doh can be but do you know how much your kids can learn with Play-doh? Make sure you stop over and check out this wonderful DIY Play-doh recipe that I have here on the blog.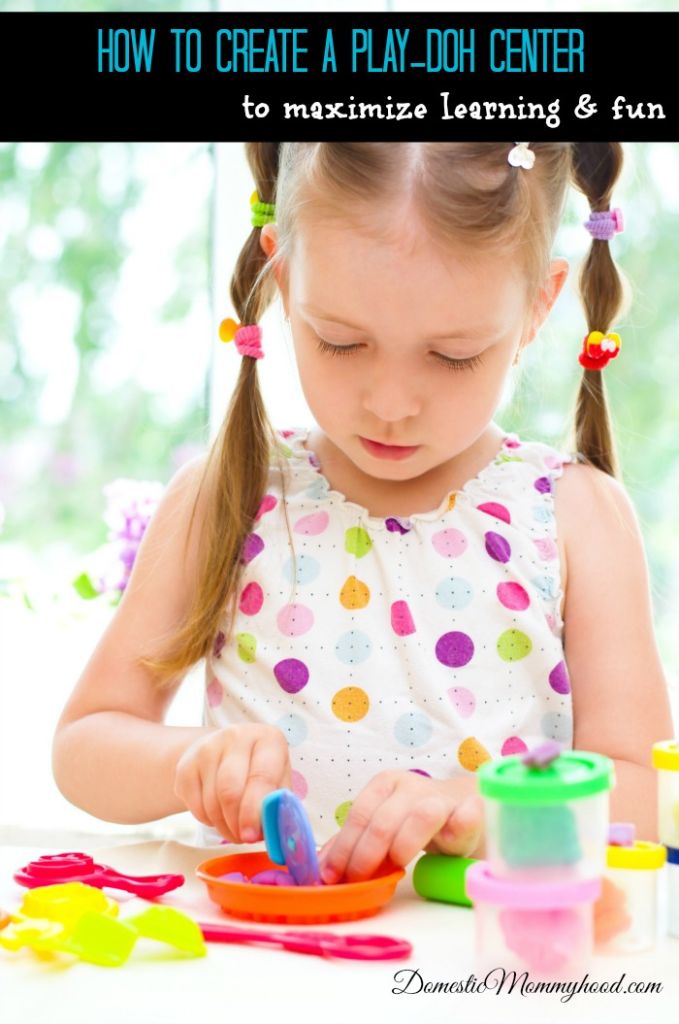 We find it very beneficial to create a Play-doh center to keep all their fun play-doh goodies in one place and make cleanup a breeze. There are plenty of things you will want to include when you are creating a Play-doh Center to better enhance creativity and learning with your child. Here are a list of some of the things we keep in our center.
Things to Add when Creating a Play-doh Center for Your Kids
Rolling Pins
Child Safe Scissors
Bottle Caps
Buttons
Googly Eyes
Rocks
Shells
Outside Goodies like acorns and pine cones
Cookie Cutters (We picked up a set of

Wiltons 101 Piece Cookie Cutter Set

that includes the whole alphabet and tons of shapes for the Holidays!! We absolutely love it!)
Kid Safe Knife
Cupcake Wrappers
Beads
 What do Kids Learn When Playing with Play-doh?
Fine Motor Skills – When kids work with the play-doh they are really giving their fine motor skills a work out. Watch them when they are molding and shaping the play-doh. It really is hard work for their little hands and wrists.
Self- Expression, Imagination and Creativity – It is absolutely amazing the amount of work that goes into a child's artwork and play-doh is no different. Watching the creativity come alive is amazing and boy are they proud of their accomplishments when they are done!
Alphabet and Numbers – When you add in some great cookie cutters you will bump the learning up a notch as they shape and mold their numbers and letters.
Color Recognition –  When working with multiple colors of play-doh you are adding in an excellent time to work on learning their colors with them.
We also find it very beneficial to have some of the Play-doh sets in our center for our daughter to play with. She is a play-doh queen at the young age of 3! Here are her favorites so far but I am sure that will change after Christmas!!
Play-doh Fun Factory (This is a must have for any Play-doh station!)
Play-Doh Doctor Drill N Fill (She is fascinated by the drill)
Melissa & Doug Shape Model and Mold (This one has some great tools to work with)
Creating a Play-doh station worked very well for us with Charlee Ann. She has a great sense of pride when it comes to her station and keeps it very neat and clean. As a matter of fact she makes her older sister ask before she can use it and reminds her that she has to clean it up when she is done! LOL
What do you plan on putting in your play-doh station??
Enter your email below for more future posts at Domestic Mommyhood! 
This post may contain affiliate links. Your cost is the same, but it helps support the site and keep our freebies FREE! Thanks for your support!