If you happen to see my daughter hanging around and you ask her what she wants for Christmas she will yell Play-doh!! She absolutely loves Play-doh sets and we actually love that she loves them. Here is a list of ways that Play-doh sets can help your child with everyday skills. Make sure you swing over and check out how to create a play-doh center in your home. I also have a fantastic recipe for DIY Kook-aid Play-dough and a great recipe and craft for Patriotic Play-doh.
Fine Motor Development – Bending, rolling and manipulating play-doh can really tune up your child's fine motor skills and get them ready for pencil and scissor control as they begin to grow.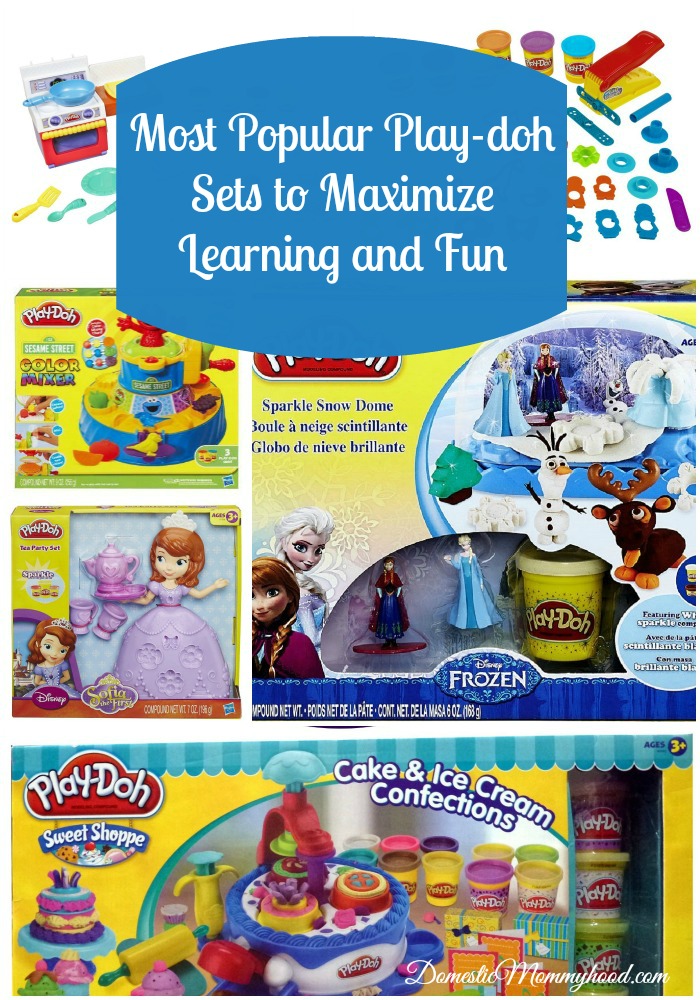 Imagination and Creativity – Set your child down with some Play-doh, cookie cutters, rolling pins and anything else you can find laying around and you can just watch the imagination and creativity at it's best. There are plenty of items that you can find laying around the house that your child can use to be just a little more creative. Here are some great ideas for you.
Small Animals
Cupcake Liners
Cookie Cutters
Cookie Sheets
Muffin Tins
Buttons
Birthday Candles
Feathers
Pine Cones, Leaves, Acorns and Sticks
Small Cups or Bowls
Wooden or Plastic Letters
Toy Cars
Calming and Soothing – If your child is being disruptive and bored Play-doh sets can be a big help. It can help them calm down as they knead and manipulate the dough in there hands.
Math Development – Your child can use cookie cutters to make numbers. Guess how thick the dough is once it's rolled out. Compare length and thickness. There are plenty of ways they can improve on their math skills.
Literacy Development – One of my daughters favorite play-doh activities is to take her cookie cutter letters and make her name. She has a ball when I sit next to her and make letters for her to identify and we even keep a snack of pretzels near by for when she guesses correctly.She can be entertained for hours with this kids activity.
So now that we have discussed just how many ways your child can learn from Play-doh we will move onto her favorite Play-doh sets that are out there this year. There are plenty of them on the market but these are at the top of our list.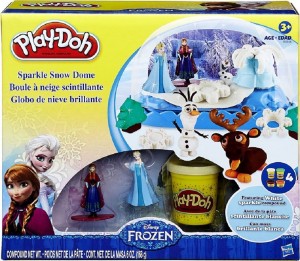 This is a very popular set this year due to the popularity of the movie "Frozen". What a great way for your child to act out scenes from the movie. This comes with 4 different colors of play-doh, 2 figurines, 2 Cookie cutters, Snow dome, and Sphen's antlers. Plenty of ways to learn and play with this one!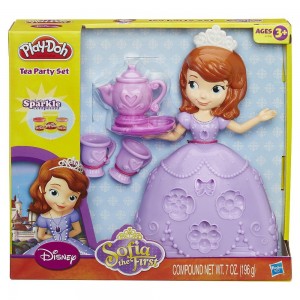 Make your own Disney tea party for Princess Sofia the First with the Tea Party set! The beautiful Sofia character wears a gown and holds a teapot extruder you can use to make pretend tea with the Play-Doh modeling compound! Create her friends and make some Play-Doh treats, then set out the saucer and teacups for the most elegant party ever. There's no end to the magical creativity with the Sofia the First Tea Party set!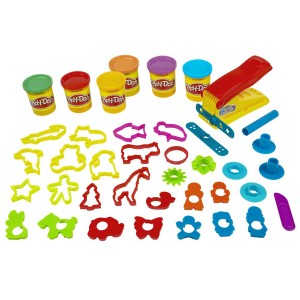 Get ready to unleash your creative juices with this whopping set of Play-Doh compound and more than 30 creativity-inspiring accessories! Extrude different shapes with theFun Factory extruder and shape rails! Fun-shaped cutters and design tools help get you started. Try adding your own imaginative ideas for some really unique creations!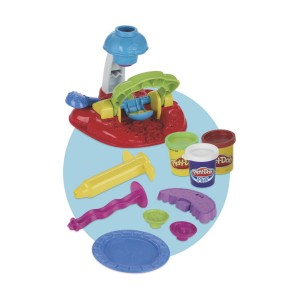 Shape, flip and frost delicious-looking Play-Doh creations with the Flip 'N Frost Cookies set. This set includes everything you need to make tasty-looking Play-Doh treats. Use the cookie molds to make pretend cookies, then make pretend frosting and sprinkles to decorate your creations. Arrange them on a plate to show off to your friends, then mash everything up and start all over. There's no end to the fake-bakin' fun of the Flip 'N Frost Cookies set.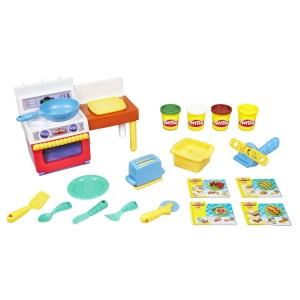 Mold and make Play-Doh foods with the Meal Makin' Kitchen! Serve up some fun with Play-Doh foods made your way. The Meal Makin' Kitchen has all the tools you need to make, slice and serve your own cooking creations. Mold chicken and steak in the baking pan. Mold ham, french fries and vegetables too. The cooking tools store on hooks in the back of the toy kitchen. The garlic press creates bacon, string beans, toppings and more. Don't forget the toast for the toaster! Includes four colors of molding compound, 10 "recipe" cards and more than 20 accessories for Play-Doh cookin' fun.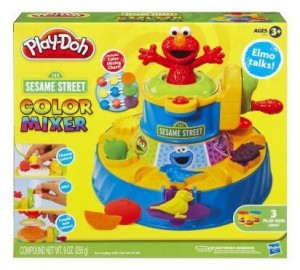 Your child can put two colors of PLAY-DOH compound in the mixer, crank the handle and create whole new color!

With all those new colors, your child can then mold, stamp and create fun designs out of the PLAY-DOH compound, or use it to match objects on the playmat.

With this creative playset, your child has four ways to play and learn: color recognition, color mixing, molding and open-ended play!

This 3-in-1 playset is all about colors! Elmo calls out color names, describes colors and encourFor Ages your child to mix different combinations of PLAY-DOH* compound to create all new colors!

Includes playmat, molds and stampers for creating fun designs! Color Mixer playset (3 pieces) comes with playmat, plastic knife, instructions and three-ounce cans of PLAY-DOH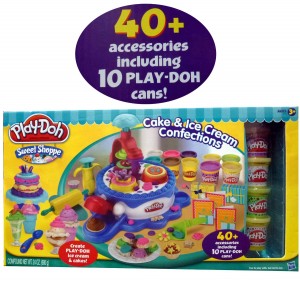 Play-Doh Sweet Shoppe Cake & Ice Cream Confections 40+ Accessoried + 10 Cans of Play Doh is on the top of my daughters Christmas list…. it's a little pricey so we are not sure but you do get 2 sets in this one.  I have heard that it goes for a lot cheaper at Walmart so we will be checking it out. This seems to be the Cadillac of Play-doh sets and looks like it would keep her busy for hours.
Enter your email below for more future posts at Domestic Mommyhood! 
This post may contain affiliate links. Your cost is the same, but it helps support the site and keep our freebies FREE! Thanks for your support!